The SilenX EFZ-120HA5 heatsink is a CPU cooler we seem to review over and over again - kind of like Bill Murray's movie "Groundhog day ". The same basic heatsink design has been marketed by at least a half dozen companies, almost all of whom use the poorly designed rubber fan posts that slot into little channels formed from the aluminum fin stack. In each case, the spacing of these rubber posts for a typical 120mm fan is just barely close together enough for the 107mm tall fin stack, or just a little bit wider. Inevitably, the fan mounts start to slip down or pop loose. For what seems like the 10th time, Frostytech is pointing out this design oversight, perhaps one day the OEM will fix it. Probably not.
In any event, SilenX's EFZ-120HA5 tower heatsink is built around three 6mm diameter exposed base copper heatpipes that pass through a sharp-edged stack of dimpled raw aluminum fins. A 120mm fan capable of rotating at 1600-800RPM ships with the cooler, additional fan mounts are supplied for a second rear fan can be installed (not included).
The SilenX EFZ-120HA5 stands 157mm tall and weighs a modest 648 grams. It installs onto Intel socket LGA2011/1366/1155/1156/775 and AMD socket 754/939/940/AM2/AM3/FM1 processors and retails for around $35USD.
SilenX EFZ-120HA5 Heatsink

---

heatsink specsheet
manufacturer: silenx
model no.: efz-120ha5 performa
materials: aluminum fins, copper heatpipes, aluminum base with exposed heatpipes.
fan mfg: silenx efz-120ha
fan spec: 1600-800rpm, 12v, 0.2a
fan airflow: 32-86cfm,
fan dim: 25x120x120mm
heatsink & fan dim: 157x126x89mm
weight: 648 grams
includes: multi-socket socket mounting hardware, thermal compound, instructions

---

Compatible with Sockets:
AMD - 754/939/940/AM2/AM3/FM1
Intel - LGA2011/1366/1155/1156/775
Pricing: $35USD ($35CDN)
Each aluminum fin in the SilenX EFZ-120HA5 heatsink is slightly dimpled on both surfaces to help brake up laminar airflow over the metal and (supposedly) improve heat conduction to the passing air stream. What we noticed on closer look at this photo below was the large gap around the heatpipes, indicating a sloppy job swagging the heatpipes snugly in place.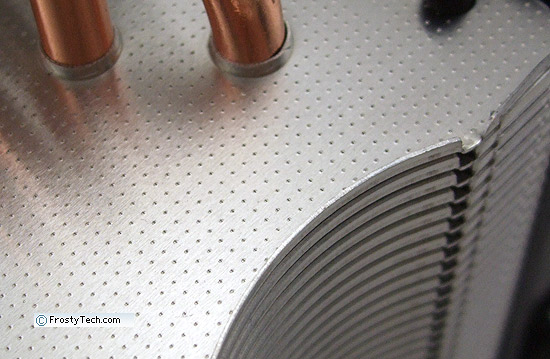 The leading and trailing edges of the aluminum fins on the SilenX EFZ-120HA5 heatsink are heavily scalloped to break up the profile somewhat and make it easier for air to enter into the fin stack. The aluminum is raw from the press used to form this edge and somewhat sharp.

The fan mount design oversight
A common problem we've noticed with all heatsinks based on this design is the aluminum tower is a bit too short for the 120mm fan to properly fit with this style of rubber fan post. The problem is that while there's a 120mm worth of fan to mount, the aluminium fin stack is only 107mm tall. If the top of the fan is aligned with the top of the aluminum fin stack, this is what happens: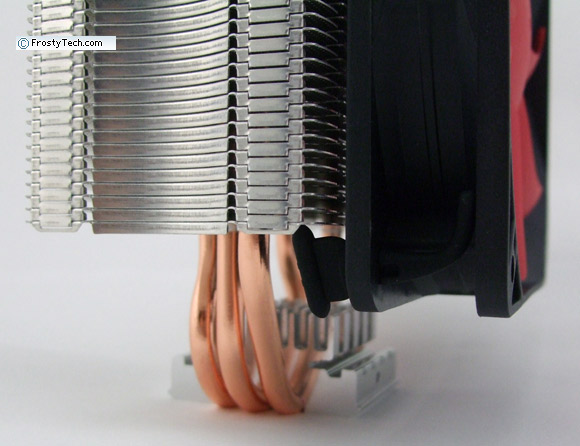 Consequently, if you aren't careful one half of the rubber mount will fall out from the groove it's supposed to slide into. We were able to get around this by bending both rubber posts inward, but as that material stretches it's bound to cause issues later on.
The annoying thing for us here at Frostytech is that we mention this every single time we test a heatsink built on this design. Along with SilenX/PCcooler, Spire use the same fan mounting system. It's just a poor design, really.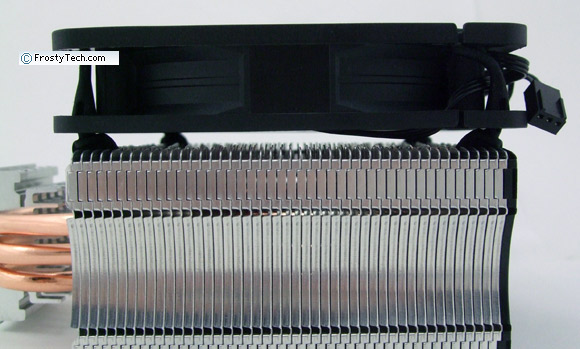 Rubber need to be bent inward to get both tabs fully seated in the aluminum fin stack. However, the force will most likely stretch the rubber or pull the tab from the aluminum slot with time.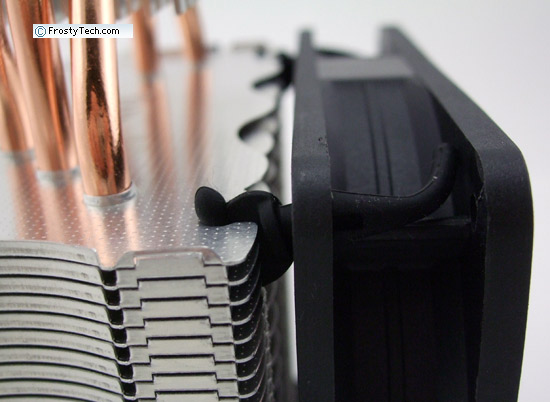 On top of those recurring issues, the rubber mounting feet are a little too wide for the holes in the plastic frame of the SilenX Effizio fan and one unit snapped off during installation (due to the great amount of force required to pull it through the hole.
Heatsink Mounting Hardware
SilenX's EFZ-120HA5 heatsink ships with a bracket that accommodates Intel socket LGA2011/1366/1155/1156/775 and AMD socket 754/939/940/AM2/AM3/FM1 processors. The heatsink mounts to both Intel and AMD motherboards using the same metal bracket that screws into the side of the heatsinks' aluminum base.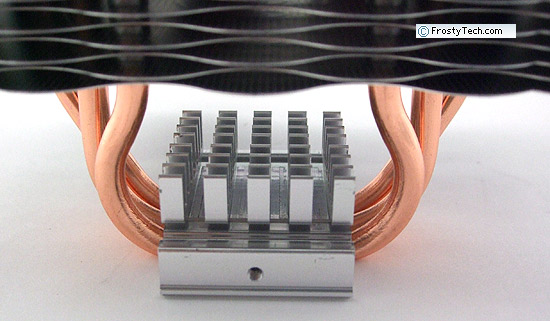 A collection of screws and spring-tensioned nuts accommodate the variety of hole patterns for the range of processors the heatsink is compatible with. Eight rubber vibration absorbing fan posts are supplied (only one fan included, two can be attached). Installation requires access to the rear of the motherboard.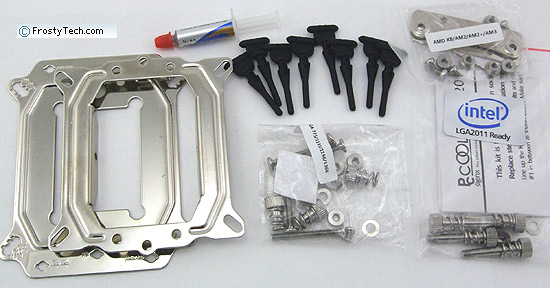 FrostyTech's Test Methodologies are outlined in detail here if you care to know what equipment is used, and the parameters under which the tests are conducted. Now let's move forward and take a closer look at this heatsink, its acoustic characteristics, and of course its performance in the thermal tests!