The Zalman CNPS10X Optima heatsink is a fairly standard tower cooler in most respects; it offers pretty good thermal performance, accomodates a front and rear fan and has an exposed copper heatpipe base. The CNPS10X Optima CPU cooler stands 153mm tall so it should fit into most mid tower chassis and weighs in at moderate 630 grams.
The heatsink ships with a single 120mm PWM fan (Zalman's "Shark's fin blade fan") that ranges in speed from 1700RPM to 1000RPM. For users who like to run their heatsink fans slowly, but double them up, an extra set of wire fan clips is supplied so a rear mounted exhaust fan can be attached.
Frostytech has tested a number of Zalman heatsinks recently which employed the companies composite heatpipes; heatpipes with grooved and sintered metal wicks. Perhaps to keep this heatsink amenable to budget minded users, the CNPS10X Optima instead uses (standard) 6mm diameter copper heatpipes of undisclosed wick type. It's interesting that Zalman opted not to apply the dual wick variety heatpipe that we've seen used to such advantage on its other heatsinks.
Retailing for around $40 USD/CDN, Zalman's CNPS10X Optima is an economical Intel socket LGA1366/1155/1156/775 and AMD socket FM1/AM2/AM3 heatsink. At the time of this review, it was not compatible with LGA2011 CPUs.
Zalman CNPS10X Optima Heatsink

---

heatsink specsheet
manufacturer: zalman
model no.: cnps10x optima
materials: aluminum fins, copper heatpipes, aluminum base
fan mfg: n/a
fan spec: 1700-1000rpm, 12v, 0.20a
fan dim: 25x120x120mm
heatsink & fan dim: 153x130x85mm
weight: 630 grams
includes: multi-socket mounting hardware, thermal compound, instructions.

---

Compatible with Sockets:
AMD - FM1/AM2/AM3
Intel - 1366/1155/1156/775
Est. Pricing: $40USD ($40CDN)
The CNPS10X Optima's raw aluminum fins are punctuated by the four copper heatpipes which intersect the fins in the region receiving the highest airflow from the fan. Like many tower heatsinks, Zalman have conspicuously staggered the heatpipes where they intersect the cooling fins to ensure heat conduction is over a broader area of fin.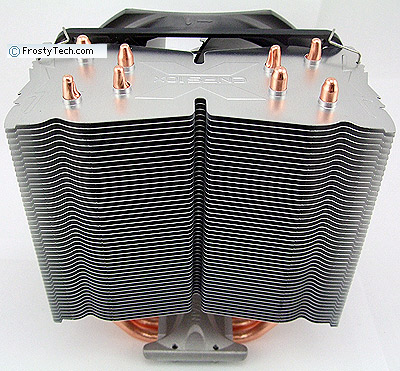 Zalman call the style of fan shipped with the CNPS10X Optima a "shark's fin blade". The little winglets on the impeller blades are supposed to help reduce noise from air turbulence.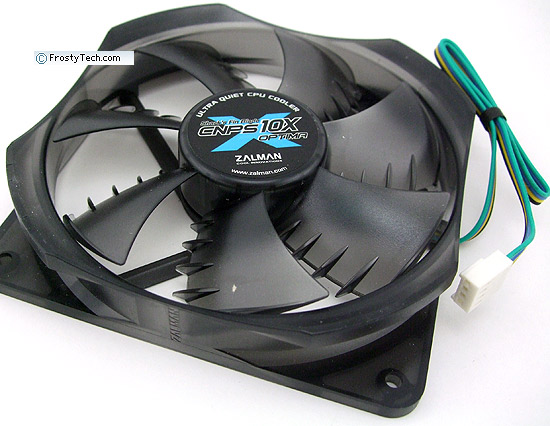 Mounting Method and Hardware
Zalman's CNPS10X Optima heatsink can be installed on Intel socket LGA1366/1155/1156/775 processors and the full range of AMD chips from socket AM2/AM3 right through to socket FM1. Installation is straightforward, although access to the rear of the motherboard is required for a metal support plate.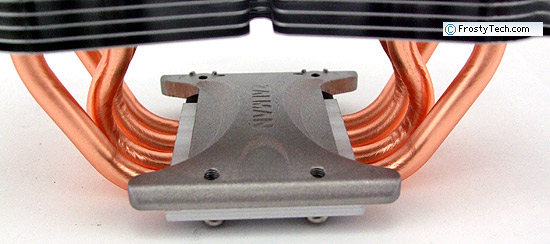 Both AMD and Intel mounting brackets use metal clips which slot into the space between the cast aluminum base cap and aluminum base plate.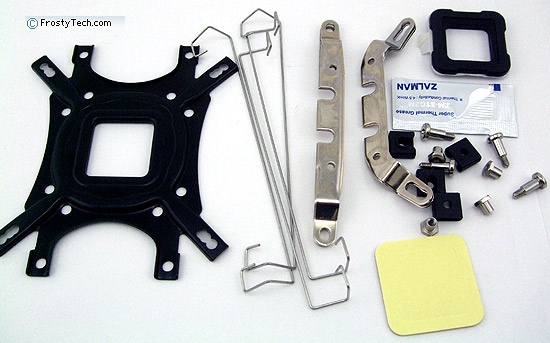 Generally speaking, the heatsink should be oriented with airflow exhausting towards the rear of the case if that's possible. If not, the next best position is the fan exhausting up towards the power supply. A small pack of Zalman ZM-STG2M thermal compound is also supplied.
This heatsink will be tested on FrostyTech's Intel and AMD version of the Mk.II synthetic thermal temperature test platform, and compared against a couple hundred reference heatsinks. The whole test methodology is outlined in detail here if you'd like to know what equipment is used, and the parameters under which the tests are conducted.