On the test bench today is one of Zalman's economical 'Performa' heatsinks. The 'Performa' series tend to use bare aluminum fins and skip on fancy things like fan speed controllers, colourful LED lights and nickel plated bling, all with an eye towards keeping costs down for budget minded users.
The Zalman CNPS11X Performa is an exposed heatpipe base tower cooler, it supports Intel socket LGA2011/1366/1155/1156/775 and AMD socket FM1/AM2/AM3 processors. The CNPS11X Performa stands 154mm tall so it should fit in most mid-tower cases and weighs a pretty feathery 450 grams. The cooler is built around four exposed 6mm diameter, composite wick copper heatpipes and a slightly different take on the traditional 'tower heatsink' format.
Rather than a monolithic aluminum fin stack, what we have here are composite wick heatpipes conducting heat to twin, 23mm wide aluminum fin towers. From the top, the CNPS11X Performa looks triangular in shape, but much of its volume is hollow, with this space acting as a large plenum to distribute air from the fan evenly through the closely spaced aluminum fins.
Unlike tower heatsinks that use two or more fans running at slow speed to overcome back pressure issues, this unique approach of Zalman's allows the CNPS11X Performa to get away with a single 120mm PWM fan that rotates at 1600-1000PM. Exhaust air from the 120mm fan enters the plenum space and then passes through the aluminum fin towers which are set at approximately 80-degress to each other. The Zalman CNPS11X Performa retails for around $41USD.
Zalman CNPS11X Performa Heatsink

---

heatsink specsheet
manufacturer: zalman
model no.: cnps11x performa
materials: aluminum fins, copper heatpipes
fan mfg: zalman zp1225all
fan spec: 1600-1000rpm, 12v, 0.20a
fan dim: 25x120x120mm
heatsink & fan dim: 154x134x94mm
weight: 450 grams
includes: multi-socket mounting hardware, thermal compound, instructions

---

Compatible with Sockets:
AMD - AM2+/AM3+/FM1
Intel - 775/1156/1155/1366/2011
Est. Pricing: $41USD/$41CAD
Below is a photo of the CNPS11X Performa heatsink with the fan removed so you can clearly see the two, separate 23mm deep aluminum fin towers. Not the vents cut into the bottom aluminum plate which direct some airflow down towards MOSFETs and motherboard VRM circuitry.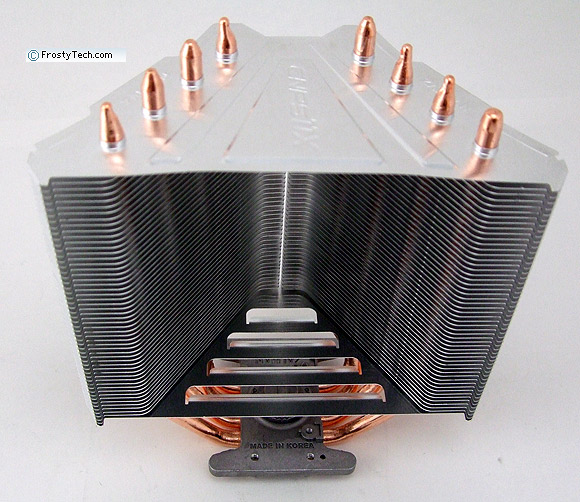 The heatsink's approach is unique even by Zalman standards, principally because a large plenum behind the fan naturally distributes airflow through the two separate fin stacks. One comparably quiet 120mm fan gets the job done with little noise.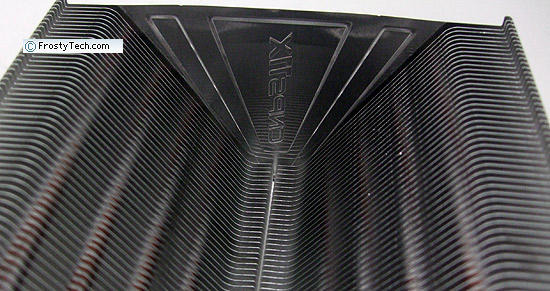 The Zalman CNPS11X Performa may be a budget minded CPU cooler, but the thermal design is well thought out.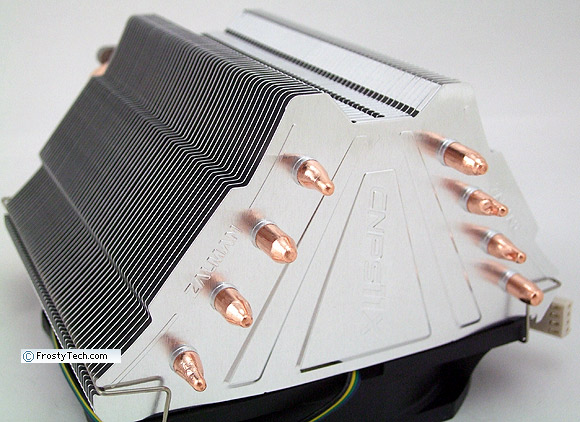 Testing the Heatpipes
Zalman use the same composite wick copper heatpipes on the CNPS11X Performa heatsink as the enthusiast oriented CNPS11X Extreme model. This type of 6mm diameter heatpipe contains a dual wick structure of grooved and sintered metal that makes it more efficient than the standard metal mesh wick. Frostytech cut apart one of the Composite Wick heatpipes used in the Zalman CNPS11X Extreme heatsink we tested a while back. A section is shown below under magnification with part of the sintered copper power removed to reveal the grooves.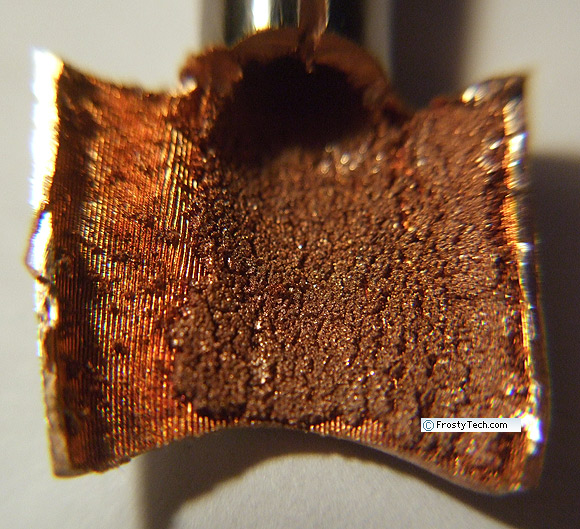 Here's a photo of that dissected heatpipe. Note the grooved and sintered metal wicks. The sintered copper powder layer is about 0.4mm thick. The outside of the CNPS11X Performa's heatpipes are not nickel plated, of course.
Heatsink Installation Hardware:
Zalman's CNPS11X Performa heatsink can be installed on Intel socket LGA2011/1366/1155/1156/775 processors and the full range of AMD socket AM2/AM2+/AM3/AM3+/FM1 CPUs. Installation is straightforward, although there are those pesky clearance issues to be aware of. Generally speaking, the CNPS11X Performa will fit any modern case with at least 160mm space above the CPU, although the heatsink Frostytech tested measured only 154mm tall.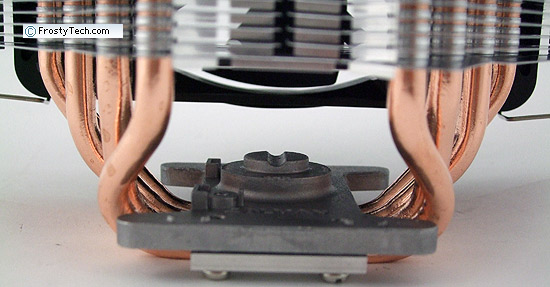 The AMD mounting bracket installs directly to the motherboard so the stock AMD heatsink retention frame will need to be removed. The heatsink should generally be oriented with airflow exhausting towards the rear of the case if possible. If not, the next best position is the fan exhausting up towards the power supply.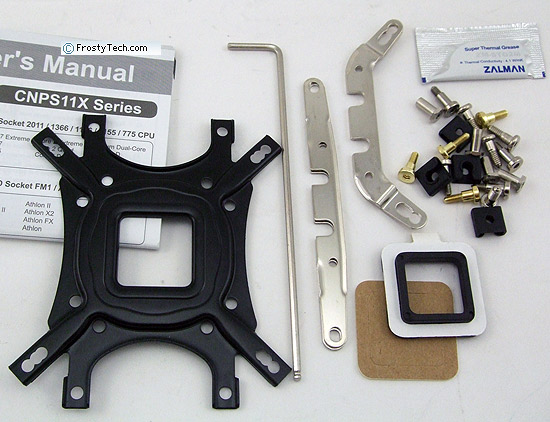 Intel socket LGA2011/1366/1155/1156/775 processors make use of metal clips which slot into the space between the cast aluminum base cap and aluminum base plate that supports the exposed heatpipes. A rear metal motherboard support plate and mounting posts are then used to hold everything in position quite firmly. Access to the back of the board is necessary to apply a rear support plate.
FrostyTech's Test Methodologies are outlined in detail here if you care to know what equipment is used, and the parameters under which the tests are conducted. Now let's move forward and take a closer look at this heatsink, its acoustic characteristics, and of course its performance in the thermal tests!