In this review Frostytech will be testing Coolermaster's Hyper 212 Evo heatsink, an exposed heatpipe base tower cooler. Naturally, the Hyper 212 Evo supports Intel socket LGA1366/1155/1156/775 and AMD socket FM1/AM2/AM3 processors.
Coolermaster's Hyper 212 Evo heatsink stands 160mm tall, weighs in at moderate 569 grams and packs in four exposed 6mm diameter copper heatpipes on its base. Otherwise the Hyper 212 Evo is a pretty standard 'tower' heatsink.
A 600-2000RPM, 120mm PWM fan is supplied with swept-forward impeller blades. Between the fan and aluminum fins of the heatsink are vibration absorbing pads to cut down on rattling noises which is always welcome. Extra fan brackets are included so users can mount an additional fan if desired. The Hyper 212 Evo retails for about $32USD.
Heatpipe direct touch, or exposed heatpipe base heatsinks are dead common these days because the technique has proven so effective. Particularly among the current crop of processors which feature integrated heat spreaders. With the Hyper 212 Evo, Coolermaster has selected four 6mm diameter heatpipes which are swagged into a small aluminum block.
Coolermaster Hyper 212 Evo Heatsink

---

heatsink specsheet
manufacturer: coolermaster
model no.: hyper 212 evo
materials: aluminum fins & base cap, copper heatpipes
fan mfg: coolermaster a12025-20cb-4bp-f1
fan spec: 2000-600rpm, 12v, 0.37a
fan airflow: 25-83 cfm, 0.3-2.7mmh20
fan dim: 25x120x120mm
heatsink & fan dim: 160x116x80mm
weight: 569 grams
includes: mounting brackets, thermal compound, instructions

---

Compatible with Sockets:
AMD - FM1/AM2/AM3
Intel - 1366/1155/1156/775
Est. Pricing: $32USD ($32CDN)
There's not a lot of mass at the base of the Hyper 212 Evo, so in addition to keeping its weight under 600 grams, heat is rapidly conducted to the fin portion of the heatsink.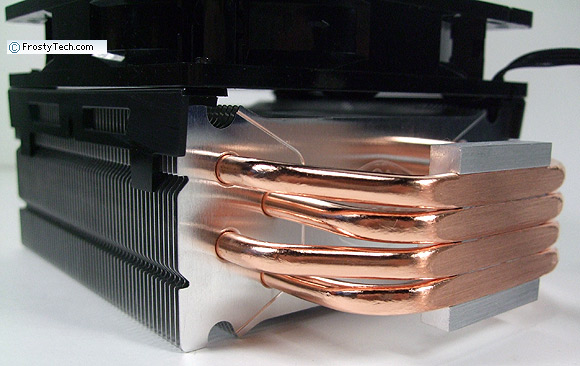 To improve heat dispersal, the Hyper 212 Evo's heatpipes are alternatively spaced 13mm as they pierce the aluminum fins. This has the effect of conducting heat to a larger area of the aluminum fins. The heatpipes are also set directly in the path of the fastest airflow from the 120mm Coolermaster fan.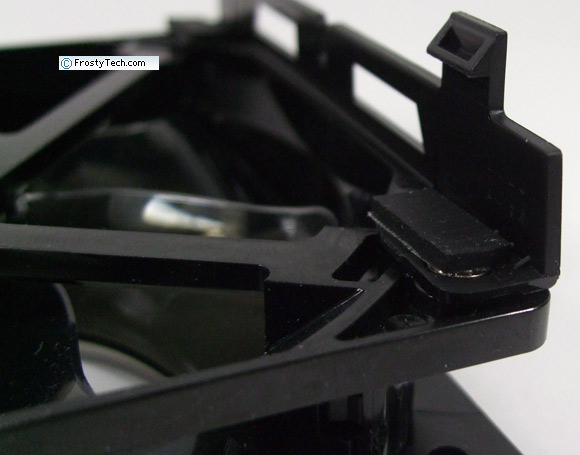 The 120mm PWM fan is held in place on the Hyper 212 Evo heatsink with plastic clips. To counteract an unbalanced impeller, which can lead to vibration and rattling noises, small rubber patches are applied to the four corners of the 120mm PWM fan.
The Hyper 212 Evo accommodates a fan on either side of the aluminum fin tower. By using the extra fan clips a second 120mm fan can be installed by those that desire a push-pull fan arrangement.
Heatsink Installation
Coolermaster's Hyper 212 Evo heatsink is compatible with Intel socket LGA1366/1155/1156/775 and AMD socket FM1/AM2/AM3 processors. The heatsink is supplied with a crab-like rear-motherboard metal support bracket that accommodates every variation of CPU socket and a metal 'switch-blade' clip that applies force to the heatsink baseplate. Associated screws and nuts to put it all together, along a small amount of thermal compound round out the accessory list.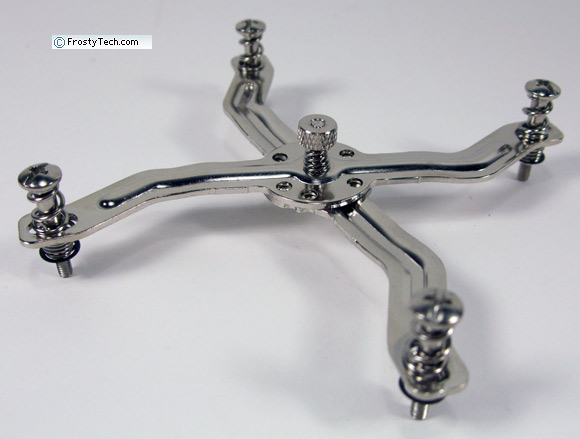 Users will need to access the rear of the motherboard to install the Hyper 212 Evo, but once the rear support plate is in position the heatsink can be removed easily thereafter. A single 'switch blade' upper clip is used on all CPU sockets to hold the Hyper 212 Evo firmly in place, using four adjustable spring-tensioned screws - set into either tab 1, tab 2 or tab 3 position.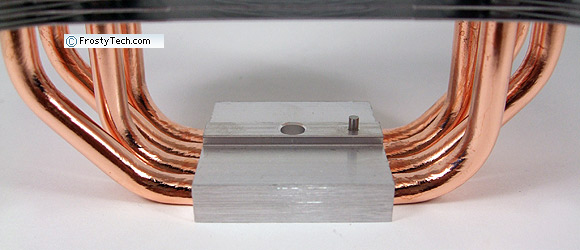 To adjust the screw positions, push the screw in from the bottom and slide it over to tab 1 (the inner-most) for LGA775, to tab 3 position (the outside) for LGA1366. Failure to do so will quickly lead to a lot of grief as each socket spacing is just a hair off the next.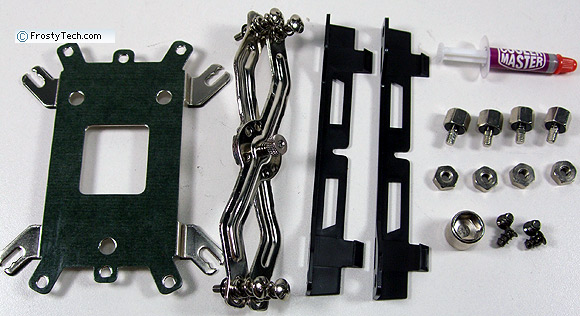 FrostyTech's Test Methodologies are outlined in detail here if you care to know what equipment is used, and the parameters under which the tests are conducted. Now let's move forward and take a closer look at this heatsink, its acoustic characteristics, and of course its performance in the thermal tests!