Top down cooling has its advantages, though tower cooling is usually the preferred method given its compact footprint. In this review Frostytech is testing out a heatsink from Titan that aims to satisfy both tower and top-top heatsink designs, in one. The Titan Fenrir Siberia Edition TTC-NC55TZRB heatsink is built around five 8mm diameter copper heatpipes which extend in two directions from a copper base block to independent fin stacks, essentially making one large CPU cooler from separate 'tower' and 'top-down' heatsinks.
The Titan Siberia TTC-NC55TZRB heatsink is a novel approach whose aim is motherboard VRM and memory cooling as much as CPU thermal management, but to achieve this it occupies quite a lot of space. The Titan TTC-NC55TZRB stands 164mm tall, has a footprint of 140x225mm and weighs around a 1000grams. It's five 8mm diameter heatpipes are strategically bent up to provide adequate memory slot clearance, so in actual fact the footprint is more like 87x105mm, with a minimum 45mm z-height clearance beyond that.
The heatsink ships with two PWM fans which mount directly to the aluminum fin stacks with wire fan clips and rest on rubber vibration absorbing material. The vertical fan is 120mm in size and rotates at 2200-800RPM while the horizontal fan measures 140mm in size and spins a bit slower (1800-700RPM).
With both fans operating at full speed the Titan Fenrir Siberia Edition TTC-NC55TZ(RB) heatsink is moderately audible. At slower fan speeds you'll get good performance a nearly silent levels. The TTC-NC55TZRB heatsink installs onto Intel socket 775/1155/1156/1366 and AMD socket AM2/AM3/FM1 processors and retails for around $60USD.
Titan Fenrir Siberia TTC-NC55TZRB Heatsink

---

heatsink specsheet
manufacturer: titan
model no.: fenrir siberia edition ttc-nc55tz(rb)
materials: aluminum fins, copper heatpipes, aluminum base with exposed heatpipes.
fan mfg: titan tfd-14025h12zp / tfd-12025h12zp

fan spec: 1800-700, 12v, 0.40a /
2200-800rpm, 12v, 0.32a

fan airflow: 90-35 cfm / 66-24cfm
fan dim: 25x140x140mm /
25x120x120mm
heatsink & fan dim: 164x140x225mm
weight: ~1000 grams
includes: multi-socket socket mounting hardware, thermal compound, fan speed controller, instructions

---

Compatible with Sockets:
AMD - AM2/AM3/FM1
Intel - LGA775/1155/1156/1366/
Pricing: $60USD ($60CDN)
Since this heatsink has a fairly unique geometry, here's a better look at the Titan Fenrir Siberia Edition TTC-NC55TZ(RB) cooler from several angles, without its fans. Note the absence of support for the horizontal cantilevered aluminum fin stack - you'll want to handle this cooler carefully as copper heatpipes bend easily, but do not react well to being bent.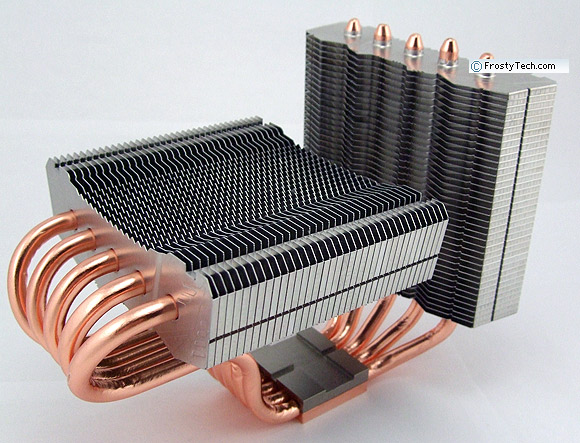 Titan rate the TTC-NC55TZ(RB) heatsink for thermal loads of up to 220W TDP, but do not disclose the wick structure of the heatpipes used.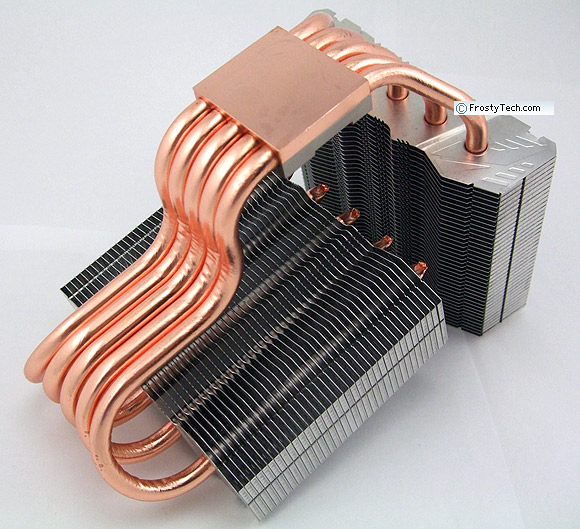 The general idea is that exhaust air from the horizontal fin stack (above) can be put to use cooling board mounted devices adjacent to the CPU socket. Items like the motherboard VRM, MOSFETs and memory modules get little to no dedicated cooling, so this aspect of the Titan Siberia heatsink is handy for keeping these passively cooled component from overheating.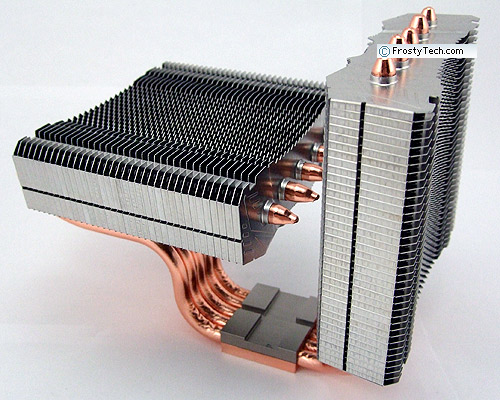 Fans on the Titan Siberia
The heatsink ships with 120mm and 140mm fans which are held in place with metal fan clips that lock into slots on the obverse of each aluminum fin stack. The system is easy to use thanks to little pull tabs but the tension is light and slots too shallow. Without much effort it's easy to dislodge a wire bracket and potentially have the fan come free.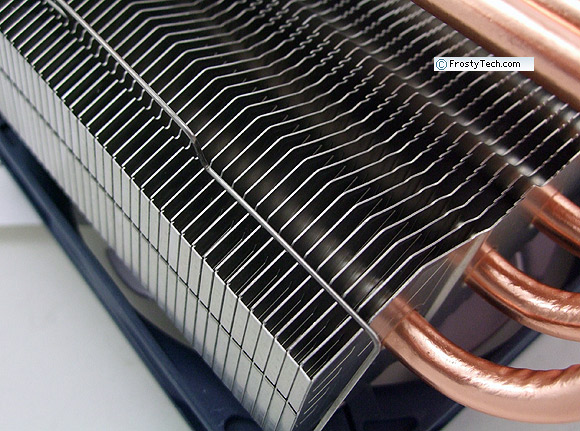 A set of eight rubber pads are provided to stick behind the four corners of each fan. The pads fit into channels in the aluminum fins and work to keep the fans elevated over the leading edge of the aluminum fins (forming the plenum) and preventing metal-to-plastic vibration noises.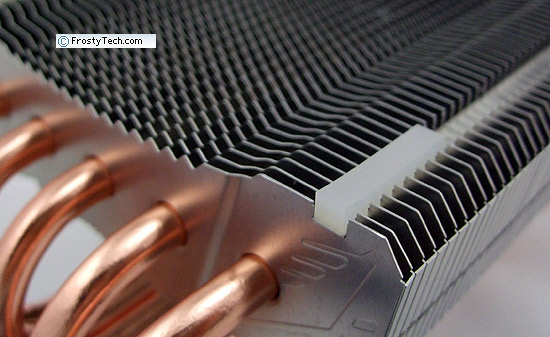 Heatsink Mounting Hardware
Titan's Siberia TTC-NC55TZRB heatsink ships with brackets for Intel LGA775/1155/1156/1366 and AMD AM2/AM3/FM1 processors. The heatsink mounts on both Intel and AMD motherboards using a rear motherboard support plate and threaded mounting posts. Access to the rear of the motherboard is necessary. Another metal bracket rests over top the copper base plate of the heatsink in a little slot to provide clamping force.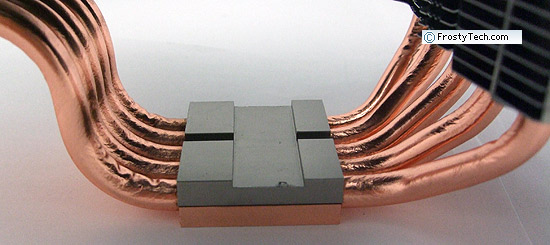 A collection of screws, tabs and brackets ship with the unit to accommodate the various processor sockets heatsink manufacturers must contend with these days. A small tube of thermal compound and a fan power Y-splitter are also supplied.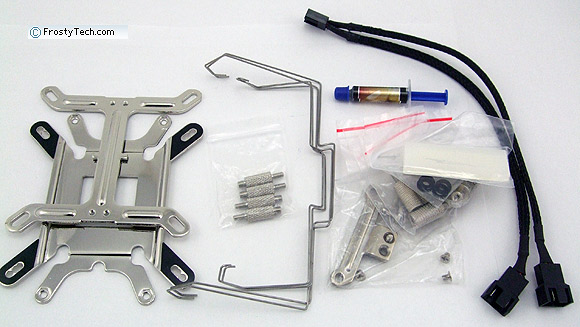 FrostyTech's Test Methodologies are outlined in detail here if you care to know what equipment is used, and the parameters under which the tests are conducted. Now let's move forward and take a closer look at this heatsink, its acoustic characteristics, and of course its performance in the thermal tests!