The first thing Frostytech noticed when examining Arctic Cooling's Freezer A30 heatsink is that the manufacturer aspirationally lists "320 Watts max cooling capacity" on the side of the box. That's quite a lot of heat to disperse, and completely beyond the scope of this review to challenge, but kind of a moot point if you stop to think about it. Can you name one AMD processor rated for more than 300W TDP? We certainly can't.
The Freezer A30 heatsink is an updated version of the AC Freezer 13 Pro, but this time around it's shed its copper base plate for bare heatpipes and had its mounting brackets restricted to AMD processors. The Freezer A30 stands 162mm tall, is built around a familiar tower-style-exposed-heatpipe-heatsink format and weighs a hefty 905 grams. The cooler comes with a single 120mm PWM fan which is mounted to the aluminum fin stack via a muscular plastic fan shroud. No additional fans can be mounted.
Fluid dynamic bearings help the white fan impeller rotate quietly at speeds of 1350-400RPM. At most this heatsink pretty quiet, at the fans slowest speed it's effectively silent.
Built on a foundation of four 8mm diameter copper heatpipes which are exposed at the base, the heatpipes extend up in a nearly straight line through 115mm worth of stacked aluminum fins.
The Freezer A30 heatsink ships with a pair of AMD socket AM2/AM3/FM1 mounting brackets that allow it to be installed in any direction, not just facing the back of the motherboard as many AMD heatsinks do. No Intel mounting brackets are supplied. Retail price is around $40USD via these online HSF retailers.
Arctic Cooling Freezer A30 Heatsink

---

heatsink specsheet
manufacturer: arctic cooling
model no.: freezer a30
materials: aluminum fins, copper heatpipes, copper base plate.
heatpipe wick structure: n/a
fan mfg: arctic cooling
fan spec: 400-1350rpm, 12v, 0.22a
fan dim: 25x120x120mm
heatsink & fan dim: 162x137x97mm
weight: 905 grams
includes: amd mounting hardware, thermal compound, instructions

---

Compatible with Sockets:
AMD - AM2+/AM3+/FM1
Intel - Not Supported
Est. Pricing: $40USD ($40CDN)
Airflow - 120mm PWM Fan
Like most Arctic Cooling heatsinks, the Freezer A30 supports a single 120mm fan which clips onto the edges of the stacked aluminum fin tower. This fan can be popped from the shroud and replaced with a little bit of effort, if you ever need to. A single 4-pin PWM cable supplies power to the 120mm main fan which twirls around at 400-1350RPM.
The four exposed copper heatpipes at the base are face milled to a good finish, not sanded flat or warped from the manufacturing process which is nice to see.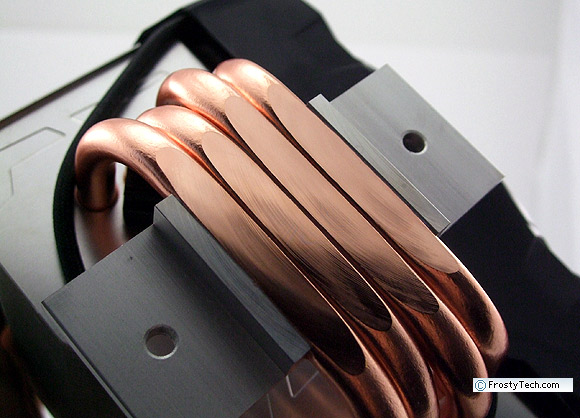 The four 8mm diameter heatpipes pass through the aluminum cooling tower which has a footprint of roughly 131x65mm. Since the cooling fins are raw aluminum, an interference joint is used. To increase contact surface area and hence thermal conduction between the copper heatpipes and fins, a 1.75mm collar is formed around each pipe.
Heatsink Installation Hardware:
Arctic Cooling's Freezer A30 heatsink ships with brackets for AMD AM2/AM3/FM1 processors. The heatsink mounts to AMD motherboards using its permanently affixed aluminum bracket that forms part of the heatsink's base.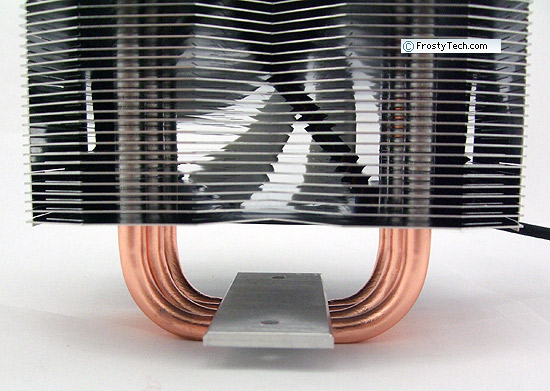 Two sets of AMD brackets are shipped with the Freezer A30 heatsink. The two different AMD mounting brackets allow the heatsink to be installed in any orientation - fan facing the top, back, bottom or front. Often, AMD heatsinks are limited to the direction of the AMD heatsink retention cage holes.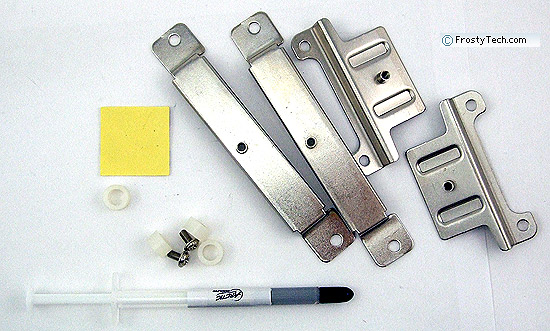 FrostyTech's Test Methodologies are outlined in detail here if you care to know what equipment is used, and the parameters under which the tests are conducted. Now let's move forward and take a closer look at this heatsink, its acoustic characteristics, and of course its performance in the thermal tests!