With the release of AMD's socket FM1 Fusion A8-3850 processors late last year there's been a growing need for inexpensive yet relatively quiet CPU coolers of moderate power. The 'Llano' processor only has a 100W TDP and costs just over $120 bucks, so expensive tower heatpipe coolers can be a little bit of an overkill. Arctic Cooling's Alpine 64 Plus heatsink is one economical option to consider; it's rated for 100W and stands 70mm tall so it fits in most media PC cases with ease.
The Arctic Cooling Alpine 64 Plus is well suited towards mainstream CPUs that don't exceed 100W TDP provided it's fan is run at full speed. Frostytech pushed the test scenario a little further than that as our AMD synthetic test platform is applies a 125W heat load.
The Alpine 64 Plus is a mainstream extruded aluminum heatsink that features the companies signature lower noise fan. The heatsink is constructed from a simple aluminum extrusion and is compatible with socket 754/939/940/AM2/AM3/FM1 AMD processors. Intel processors are not supported at all. Because it lacks any copper, weight is a modest 430 grams. The PWM compliant 95mm fan can be adjusted from 2000RPM to 600RPM as thermal needs change. Standing 69mm tall, the Alpine 64 Plus is suitable for media PCs and other sub-tower computer formats where lower noise processor cooling is desired. The heatsink ships with a patch of good quality thermal compound pre-applied to the base and nothing else.
Arctic Cooling Alpine 64 Plus Heatsink

---

heatsink specsheet
manufacturer: arctic cooling
model no.: alpine 64 plus
materials: extruded aluminum.
fan mfg: arctic cooling
fan spec: 600-2000rpm, 12v, 0.22a
fan airflow: 39 cfm
fan dim: 25x95x95mm
heatsink & fan dim: 69x99x116mm
weight: 430 grams
includes: multi-socket socket mounting hardware, thermal compound.

---

Compatible with Sockets:
AMD - 754/939/940/AM2/AM3/FM1
Intel - not supported
Pricing: $19USD ($19CDN)
The heatsink mounts onto the existing AMD heatsink retention cage with two stainless steel clips that are attached to the plastic fan support frame with a single machine screw. The fan support frame is constructed of sturdy glass-fiber-filled plastic so it should hold up well to the clamping forces and typical case temperatures.
When the clips are in place on the AMD heatsink retention frame, clamping force is then applied by tightening the machine screws with a small phillips screwdriver.
Extruded Aluminum Heatsink
Extruded aluminium was once a very common material for manufacturing processor heatsinks, but as thermal design envelopes increased it gradually fell out of favour for heatpipes and aluminum fins. Although the Alpine 64 Plus is a dead simple CPU cooler, there are a few refinements to the design. For instance, the aluminum base (acting as a large heat spreader) is arched, ranging from 10mm thick at the center to 5mm at the edges.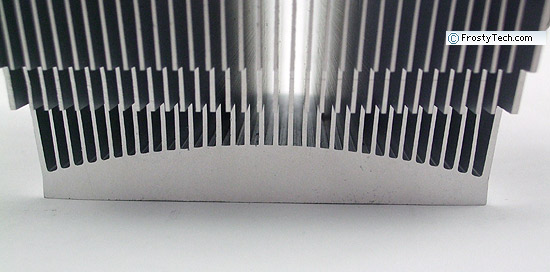 The aluminum fins, which are continuous rather than crosscut, are also slightly angled away from the center-line and arched at the top too.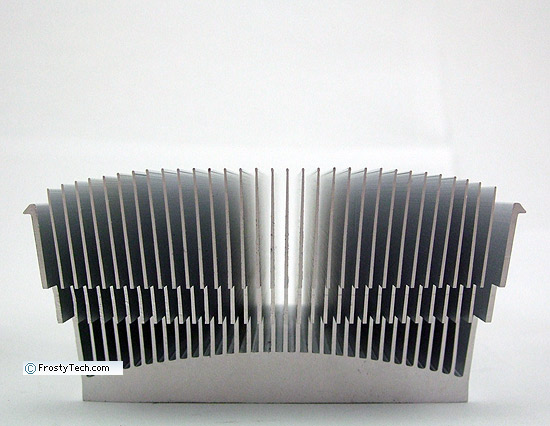 No mounting hardware or additional items are included with the heatsink, other than printed installation instructions.
Base Finish and Flatness
Flipping a heatsink over to inspect the business end is often a simple indicator of overall cooler quality. More practically speaking, a heatsink is in many ways only as effective as the contact it makes with the processor - the flatter and smoother the better. Base finish is one of the criteria that Frostytech measure in the course of evaluating heatsinks, and it involves two distinct aspects. Surface Finish is the first; this is calculated with the aid of Surface Roughness Comparator that has a cross section of common machine surface finishes and their numerical surface roughness equivalents in microinches. The second is Surface Flatness. This is tested with an engineers straight edge or proven flat surface, in two axis.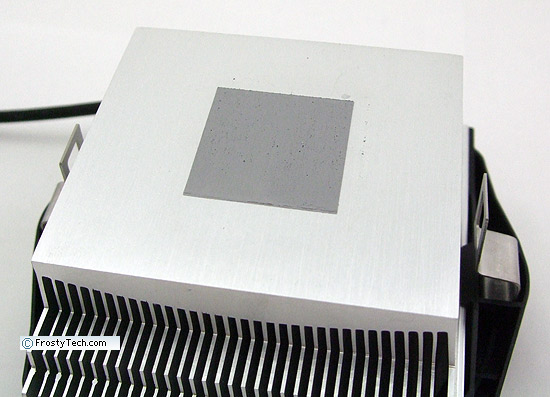 The base of the Arctic Cooling Alpine 64 Plus has a surface roughness of approximately 32 microinches, which is considered good. The aluminum base has a sanded surface texture and is very slightly wavy in both axis, more than likely from the sanding process. A pre-applied patch of thermal interface material is supplied with the heatsink, as you can see.
FrostyTech's Test Methodologies are outlined in detail here if you care to know what equipment is used, and the parameters under which the tests are conducted. Now let's move forward and take a closer look at this heatsink, its acoustic characteristics, and of course its performance in the thermal tests!