Consumers tend to be pretty skittish about trying new heatsinks if they don't recognize the brand name. Conversely, big brands tend to be skittish about trying out innovative heatsink designs. This stalemate breeds uniformity, and uniformity is a double-edged sword in the world of processor cooling.
Where your CPU is concerned, it means that sometimes you'll get a great CPU cooler and sometimes you get a hunk of junk - pretty junk with a big shiny brand emblem, but junk nonetheless. Case in point, Frostytech has seen big-brand-ASUS heatsinks fail miserably and no-name small manufacturer heatsinks perform wonderfully. What then, is the secret to knowing which heatsink is good and which heatsink is expensive scrap metal?
Simple.
There is no secret, you can never tell how a heatsink will perform until you test it out. After something on the order of 600 different heatsinks tested, that's about as close to the 'Moore's Law' of CPU cooling as you're gonna get from Frostytech! ;)
On the test bench today is a boxy tower-style processor heatsink from Cooler Master called the Hyper 612 PWM. This is a pseudo-quiet cooling heatsink built around six, 6mm diameter copper heatpipes and a single 120x120mm PWM fan. The fan rotates at 2000-600RPM and offers at best, excellent thermal performance. At the slowest fan speeds you can expect very quiet but generally average performance from the Hyper 612 PWM heatsink.
The Coolermaster Hyper 612 PWM heatsink stands 163mm tall and weighs a pretty hefty 806 grams. The cooler is compatible with Intel socket 775/1155/1156 and LGA1366 processors, but crucially not LGA2011 Sandy Bridge-E CPUs. AMD socket AM2/AM3/FM1 processors are supported.
Aside from the rather boxy 98x137mm aluminum fin stack and chunky copper heatspreader, the Hyper 612 PWM is not too far removed from any number of 'tower' heatsinks Frostytech has tested in the past year. The 120mm PWM fan supplied with the heatsink has nifty looking swept-forward impeller blades, but only one fan is supplied. A heatsink of this depth tends to come into its own with two low-RPM fans working in tandem... The Coolermaster Hyper 612 PWM heatsink retails for about $50 USD at the usual eleven evil online retailers.
Coolermaster Hyper 612 PWM Heatsink

---

heatsink specsheet
manufacturer: coolermaster
model no.: hyper 612 pwm
materials: aluminum fins & base cap, copper heatpipes
fan mfg: coolermaster a12025-20cb-4bp-f1
fan spec: 2000-600rpm, 12v, 0.37a
fan airflow: 25-83cfm, 0.3-2.7mmh20
fan dim: 25x120x120mm
heatsink & fan dim: 163x140x127mm
weight: 806 grams
includes: mounting brackets, thermal compound, instructions

---

Compatible with Sockets:
AMD - AM2/AM3/FM1
Intel - 775/1155/1156/1366
Est. Pricing: $50USD ($50CDN)
The 120mm PWM fan is held in place on the Hyper 612 PWM heatsink with a pair of plastic fan clips. To counteract any unbalanced impeller which might lead to rattling noises, small rubber patches are conveniently applied to the four corners of the bracket.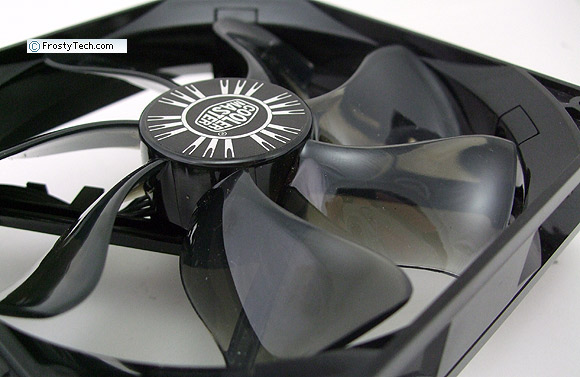 A Row of Heatpipes
The six 6mm diameter heatpipes are arranged in a straight row where they pass through the aluminum fin stack, spanning a distance of about 94mm in total. This heatpipe arrangement leaves the central area of the 136mm wide by 98mm deep aluminum fins largely free of obstructions so airflow is less impeded as flow velocity diminishes.
Nearly obscured by the extruded heatsink at the base of the heatsink are series of five, 36mm long slits at the center of the fin stack. The cut-outs permit a little airflow between the 2mm spaced aluminum fins.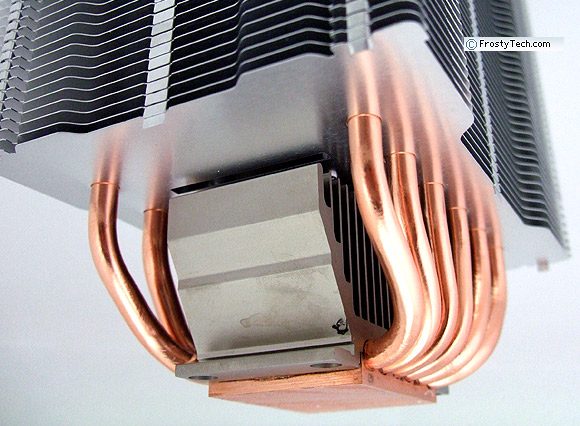 Curiously, Coolermaster has sandwiched the six heatpipes between an arguably redundant, small nickel plated extruded aluminum heatsink and a thick copper base plate. Perhaps the copper heatspreader is 'sinking' too much heat on its own and requires a bit of passive cooling after the PC is shut down and the fans stop spinning?
Heatsink Installation - Back of the board
Coolermaster's Hyper 612 PWM heatsink is compatible with Intel socket 775/1155/1156/1366 and AMD socket AM2/AM3/FM1 processors. The heatsink is supplied with a crab-like rear-motherboard metal support bracket that accommodates each variation of CPU socket and metal brackets which screw onto the aluminum base of the heatsink with excessively small machine screws. Assorted screws and nuts, along a small amount of thermal compound, round out the accessory list.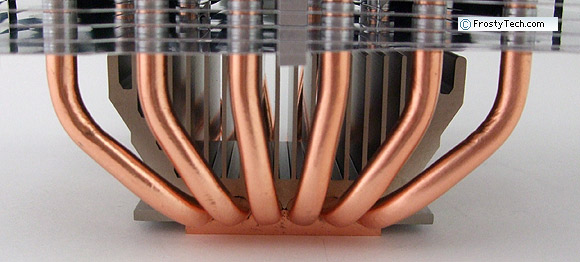 Users will need to access the rear of the motherboard to install the Hyper 612 PWM heatsink. The metal brackets all have captive screw posts attached and work is done from the opposite side of the motherboard; fine if you have a newer PC case with a corresponding hole in the motherboard tray.
A second set of fan brackets is included for users that wish to add their own 120mm fan to the rear of the Hyper 612 PWM heatsink. With the plastic fan brackets attached to the fan, the fan easily clips in place on the aluminum fin stack.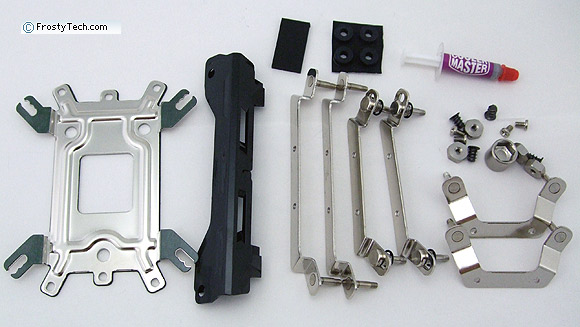 FrostyTech's Test Methodologies are outlined in detail here if you care to know what equipment is used, and the parameters under which the tests are conducted. Now let's move forward and take a closer look at this heatsink, its acoustic characteristics, and of course its performance in the thermal tests!