Made by the Taiwan based thermal solutions company Glacialtech , the Igloo 5620 PWM is light weight and economical heatsink for Intel socket 775/1155/1156/1366 and AMD socket AM2/AM3/FM1 processors. Ideally suited to sub-95W TDP processors, the heatsink stands 133mm tall, weighs just 320 grams and is built around two sintered-metal wick copper heatpipes and a 92mm PWM fan.
While the Igloo 5620 PWM heatsink ships with one 92mm fan capable of operating at 2300-800RPM, additional fan clips are supplied for a second user-supplied 92mm fan to be installed if desired. The base of the heatsink makes use of exposed heatpipes to leverage the rapid heat conduction qualities of these thermal devices. Given the relatively compact height of the Igloo 5620 PWM heatsink, it should fit into a good variety of PC cases which are off limits to the vast number of +160mm tall heatsinks on the market these days.
Versatile mounting hardware allows the Igloo 5620 PWM heatsink to be installed on either Intel or AMD processors. Retail price is in the neighborhood of $29 USD/CDN.
Glacialtech Igloo 5620 PWM Heatsink

---

heatsink specsheet
manufacturer: glacialtech
model no.: igloo 5620 pwm
materials: aluminum fins, nickel-plated copper heatpipes, extruded aluminum base.
fan mfg: glacialtech jt9225l12s012a
fan spec: 800-2300rpm, 12v, 0.12a
fan dim: 25x92x92mm
heatsink & fan dim: 133x100x64mm
weight: 320 grams
includes: multi-socket mounting hardware, thermal compound, instructions.

---

Compatible with Sockets:
AMD - AM2/AM2+/AM3/FM1
Intel - 775/1155/1156/1366
Est. Pricing: $29USD ($29CDN)
Base Finish and Flatness Issues
Flipping a heatsink over to inspect the business end is often a simple indicator of overall cooler quality. More practically speaking, a heatsink is in many ways only as effective as the contact it makes with the processor - the flatter and smoother the better. Base finish is one of the criteria that Frostytech measure in the course of evaluating heatsinks, and it involves two distinct aspects. Surface Finish is the first; this is calculated with the aid of Surface Roughness Comparator that has a cross section of common machine surface finishes and their numerical surface roughness equivalents in microinches. The second is Surface Flatness. This is tested with a straight edge in two axis.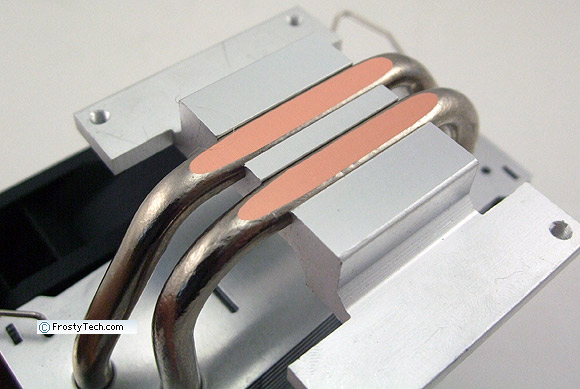 The exposed heatpipe base of Glacialtech's Igloo 5620 PWM heatsink is machined very smooth and flat in both axis. Surface roughness is at or about ~16 microinches, which is excellent.
Installation Hardware
The Glacialtech Igloo 5620 PWM heatsink ships with stamped steel mounting hardware for Intel socket LGA775/1155/1156/1366 and AMD socket AM2/AM3/FM1 processors. The brackets are screwed to the top of the heatsink's aluminum base with a couple machine screws. A matching rear motherboard support bracket is also required, depending on the particular CPU platform.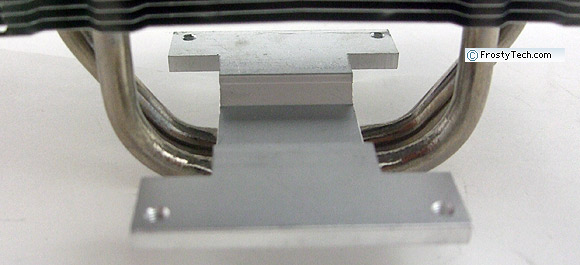 Extra wire fan clips are supplied if you want to install another 92mm fan on the rear of the fin tower. Also included is a small syringe of thermal compound.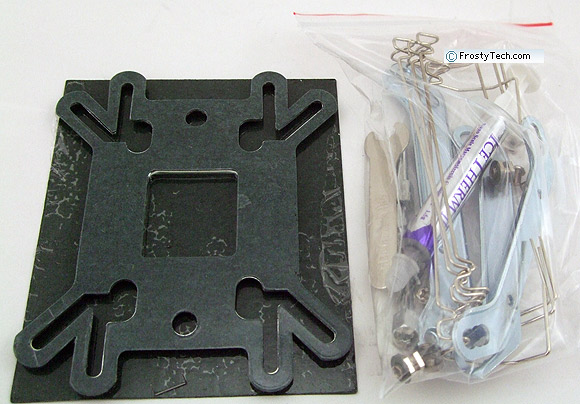 FrostyTech's Test Methodologies are outlined in detail here if you care to know what equipment is used, and the parameters under which the tests are conducted. Now let's move forward and take a closer look at this heatsink, its acoustic characteristics, and of course its performance in the thermal tests!