While putting together a test system this weekend I was reminded how far computers have evolved in the persuit of noise elimination. The advances have mostly come through clever slight of hand tricks mind you, like PWM fans which only spin as quick as needed, or $600 processors that mostly always throttle back to 1.2 Gigahertz to keep thermals low. Videocards do a bit of both, so curiously the new super fast LGA2011 PC getting assembled on the desktop was near silent, while an older computer grumbled away near by, not at all in silence. C'est la vie.
On the test bench today is Glacialtech's Igloo H58 heatsink - a tower style exposed heatpipe base CPU cooler that marks one of the best efforts by this Taiwan-based thermal solutions manufacturer. The heatsink cools very well on both Intel and AMD platforms as you'll shortly see.
The aluminum fins on this tower heatsink are 0.2mm thick, allowing air to easily pass through the fin stack and consequently keep noise levels in check. The single 140mm PWM fan on the Igloo H58 heatsink rocks out at 1400 RPM full blast, just 700 RPM when dialed back to its most conservative speed. Noise levels flutter between 46.4-31.0 dBA according to Frostytech's real world sound measurements - ie. it's nice and quiet.
Standing 174mm tall, the Glacialtech Igloo H58 heatsink ships with the one aforementioned 140mm PWM fan but can accommodate a second rear-mounted fan as extra clips are included. Two fans are handy if you prefer to run both fans at very slow RPM. Weighing in at 840 grams, the Glacialtech Igloo H58 heatsink installs onto Intel socket 775/1155/1156/1366 and AMD socket AM2/AM3/FM1 processors. Retail price is estimated at $34 through the usual heat sink retailers. As of this review, LGA2011 is not supported.
Glacialtech Igloo H58 Heatsink

---

heatsink specsheet
manufacturer: glacialtech
model no.: igloo h85
materials: aluminum fins, nickel plated copper heatpipes, exposed heatpipe base
fan mfg: glacialtech jt14025l12s003a
fan spec: 1400-700rpm, 12v, 0.30a
fan airflow: 60cfm
fan dim: 25x140x140mm
heatsink & fan dim: 174x147x92mm
weight: 840 grams
includes: multi-socket socket mounting hardware, thermal compound, instructions

---

Compatible with Sockets:
AMD - AM2/AM3/FM1
Intel - LGA775/1155/1156/1366
Pricing: $34USD ($34CDN)
Exposed heatpipe base heatsinks are pretty common these days, but not every CPU cooler that has them is made properly. Manufacturing an exposed heatpipe base heatsink is trickier than it first appears , the heatsink maker has to;
1) Keep the flat part of the heatpipes even with one another after repeated heating and cooling cycles. 2) Choose just the right channel profile (circle, oval, egg-shape, flattened circle, flattened oval, etc. to swage the heatpipes into the aluminum so nothing shifts around. 3) Not damage the internal wick structure.
Then there's the radius of the heat pipe bend - one manufacturer at Computex quoted a loss of 30% total heatpipe heat capacity for every 90 degree bend!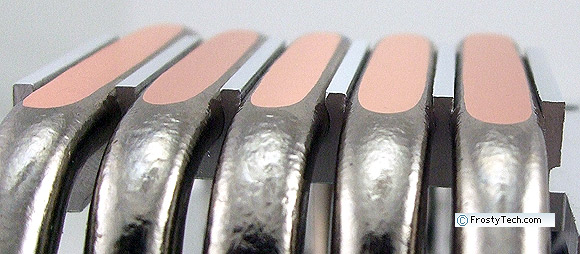 Glacialtech have nice soft bends in the heatpipes and the deformation of the heatpipes in the aluminum swage block isn't very strong (that's good). Heatpipe spacing is wide, but the gaps don't concern us at Frostytech. Gaps are rather useful for squeezing away excess thermal compound.
Heatsink Mounting Hardware
The Glacialtech Igloo H58 heatsink ships with one rear motherboard support bracket that fits most CPU sockets on the market right now. Separate metal brackets are provided for Intel or AMD platforms that attach to the aluminum plate on the bottom of the heatsink.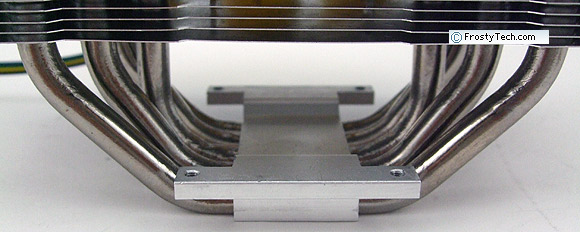 The Intel socket 775/1155/1156/1366 mounting bracket accommodates the full gamut of Intel processors except LGA2011. The brackets screws onto the motherboard with collared screws and a little wrench.
For AMD motherboards, Glacialtech use metal brackets which support AMD socket AM2/AM3/FM1 processors. These screw into the common motherboard support plate supplied with the heatsink.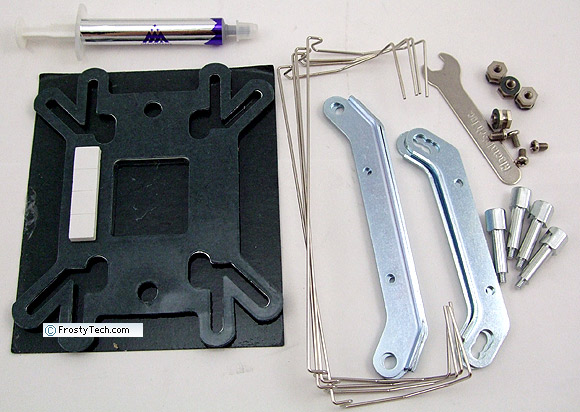 The instruction manual is clear and easy to understand. You will need access to the rear of the motherboard to install this heatsink, we'd recommend taking the board out of the case for easier access. Four wire fan mounting clips are supplied along with Glacialtech's IceTherm II thermal interface material.
FrostyTech's Test Methodologies are outlined in detail here if you care to know what equipment is used, and the parameters under which the tests are conducted. Now let's move forward and take a closer look at this heatsink, its acoustic characteristics, and of course its performance in the thermal tests!