The Gelid GX-7 heatsink stands 158mm tall and ships with a variable speed PWM fan internally illuminated by several very bright blue LEDs. The lights make a nice impression on the spinning blue fan blades which feature novel little 'wing tips'. Beyond that, the GX-7 would look like any other tower format heat sink except for one trick up its sleeve - stacked heatpipes.
The GX-7 heatsink is constructed around seven 6mm diameter heatpipes, but the number of heatpipes isn't what caught our attention. What's unique about the GX-7 cooler are the two heatpipes stacked on top of the five primary heatpipes. As a bonus, the five primary heatpipes are soldered to a nicely machined and perfectly flat copper base plate. It's so rare to find a heatsink these days with a perfectly flat base that we'd like to congratulate Gelid on this point in particular.
Heatpipe stacking is an interesting technique we've really only seen Xigmatek apply, the idea being that if the center-most heatpipes are 'saturated' the stacked heatpipes will pick up some of the 'slack' and ensure adequate heat conduction away from this critical spot. We're not 100% convinced by it, but can't discount it at this point either since Frostytech's has at most tested maybe three stacked heatpipe heatsinks so far. Anyway, it is unique.
In most other respect the Gelid GX-7 heatsink is pretty standard. The cooler ships with one 120mm PWM fan that ranges in speed from 1800-600RPM. A second 'Wing 12PL' fan can be installed on the back of the fin tower if users desire and extra wire fan clips are supplied for this.
The GX-7 heatsink weighs 720 grams and is compatible with Intel socket 775/1155/1156/1366 and AMD socket AM2/AM3/FM1 processors. As of this review the Gelid GX-7 is not compatible with upcoming Intel LGA2011 processors though. Gelid's GX-7 heatsink is estimated to retail for about $55CDN ($55USD) through all the usual online e-tailers.
Gelid GX-7 Heatsink

---

heatsink specsheet
manufacturer: gelid
model no.: gx-7
materials: aluminum fins, nickel plated copper heatpipes, copper base plate
fan mfg: gelid a1212025l(m)-p
fan spec: 600-1800rpm, 12v, 0.45a
fan dim: 25x120x120mm
heatsink & fan dim: 158x130x90mm
weight: 720 grams
includes: multi-socket mounting hardware, thermal compound, fan clips, instructions

---

Compatible with Sockets:
AMD - AM2/AM2+/AM3/FM1
Intel - 775/1155/1156/1366
Est. Pricing: $55USD ($54CDN)
While you might expect the Gelid GX-7 to be an exposed heatpipe base heatsink, it is not. Instead, the five+two copper heatpipes are grouped closely at the base behind a nice copper heatspreader. Small gaps are visible at the edges of the heatpipes, so hopefully Gelid have applied sufficient solder paste to ensure a joint with low thermal resistance.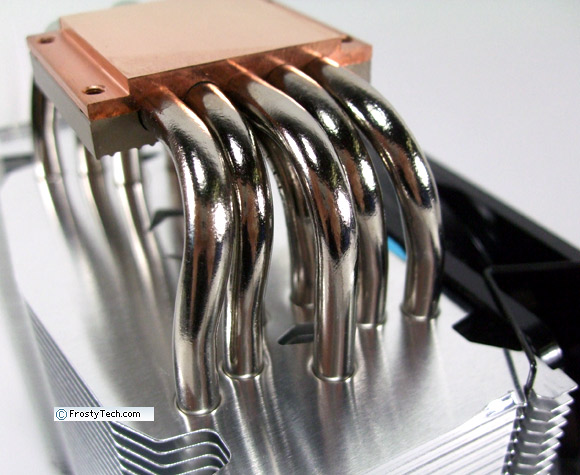 On a side note, playing the numbers games with heatpipes doesn't necessary follow a "more is better" rule. If the manufacturer doesn't know how to best arrange the heatpipes where they intersect the aluminum fins a couple things can happen; 1) Airflow can be impeded and heatsink efficiency lost. 2) If heatpipes are grouped too closely together the heat spreading of the aluminum fins can become sub-optimal.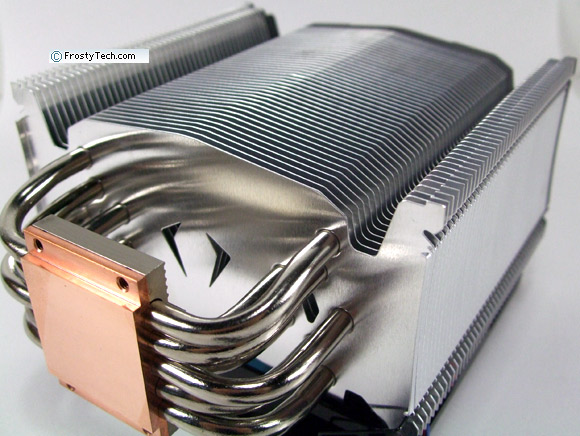 The sides of the Gelid GX-7 heatsink are largely closed in so air is ducted through the heatsink fin stack in spite of the flow resistance all seven heatpipes are bound to generate.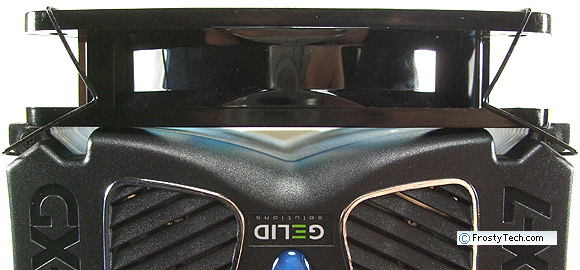 Heatsink Installation Hardware
Gelid's GX-7 heatsink is compatible with Intel socket 775/1155/1156/1366 and AMD socket AM2/AM3/FM1 processors. The CPU cooler is supplied with a variety of metal brackets, separated for each corresponding processor family. In both cases a metal motherboard support plate must be installed and small stand-offs threaded through the PCB. The heatsink can then be installed with spring-tensioned screws.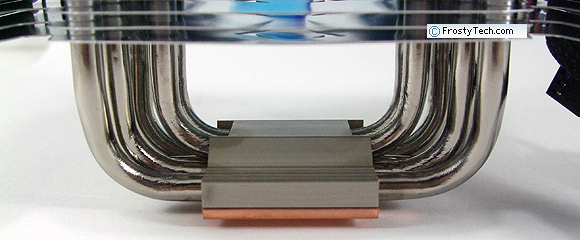 Four wire fan clips are provided along with a small syringe of Gelid GC-2 thermal compound.
FrostyTech's Test Methodologies are outlined in detail here if you care to know what equipment is used, and the parameters under which the tests are conducted. Now let's move forward and take a closer look at this heatsink, its acoustic characteristics, and of course its performance in the thermal tests!