Deepcool's IceEdge 400XT heatsink is a mid-size tower cooler that stands a modest 127mm high and weighs 585 grams. At its heart are four, 6mm diameter copper heatpipes and a 92x100mm stack of dark nickel plated aluminum fins.
As with DeepCool's other heatsinks, the IceEdge 400XT ships with a novel rubber clad 92mm PWM fan. Every bit of the fan frame that makes contact with the heatsink is covered in a rubbery material so motor vibrations are greatly diminished. The 92mm DeepCool brand fan spins at 2200-900RPM and moves ~40CFM air according to the maker. Extra wire fan clips are supplied to install a secondary 92mm fan on the back of the heatsink if desired.
Being that the IceEdge 400XT is a mid-size heatsink it's really best suited to sub-95W TDP processors, though it is capable of tackling 150W heat loads as you'll shortly see. DeepCool's IceEdge 400XT CPU cooler installs onto Intel socket 775/1155/1156/1366 and AMD socket 939/AM2/AM3/FM1 CPUs, but is not compatible with the upcoming Intel LGA2011 SandyBridge-E socket.
DeepCool IceEdge 400XT Heatsink

---

heatsink specsheet
manufacturer: deepcool
model no.: iceedge 400xt
materials: dark nickel plated aluminum fins, copper heatpipes and copper base
fan mfg: deepcool (n/a)
fan spec: 2200-900pm, 12v, 0.13a
fan dim: 25x92x92mm
heatsink & fan dim: 127x100x85mm
weight: 585 grams
includes: multi-socket mounting hardware, thermal compound, instructions

---

Compatible with Sockets:
AMD: 754/939/940/AM2/AM3/FM1
Intel: LGA775/1155/1156/1366
Est. Pricing: $50USD ($50CDN)
DeepCool Specialized Fan System
In the image below you can see a segmented Deepcool fan showing how the hard plastic (blue) and soft rubber over moulding (white) are assembled. In this example, the white rubber encapsulates the entire outside surface of the fan frame and creates a vibration dampening surface no matter where, or to what, the fan is mounted. Deepcool make a range of fans from 80mm - 120mm like this, all have 'hydro bearings'.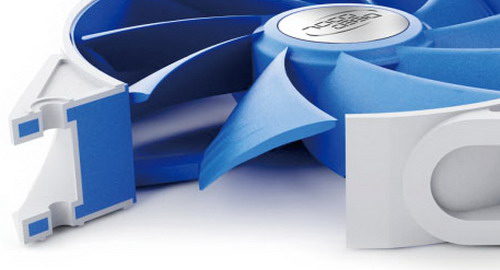 Behind the nifty rubberized fan is a rather interesting approach to aluminum fins. The raw aluminum fins, which are press-fit over four copper heatpipes, are dark nickel plated in their entirety. Beyond that, the leading edges of the fins overlap slightly to break up the profile of the fin stack and (hopefully) decrease air resistance.

Heatsink Installation and Hardware
The DeepCool IceEdge 400XT heatsink ships with two sets of metal brackets that screw onto the base of the heatsink and accommodate the full gamut of Intel and AMD processor sockets. A serial number is also laser engraved on the side of the IceEdge 400XT heatsink, that's a first for us.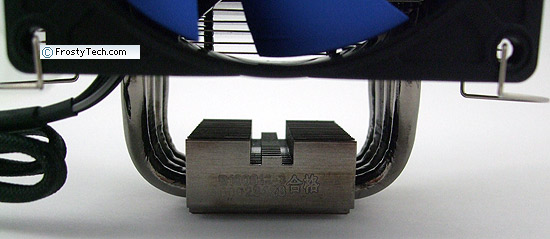 A rear motherboard support plate is unfortunately needed for Intel boards. For AMD platforms the IceEdge 400XT heatsink thankfully simply clips onto the existing AMD heatsink retention cage - easy as pie! Apart from mounting brackets, DeepCool supply four 92mm wire fan clips and a small syringe of thermal grease.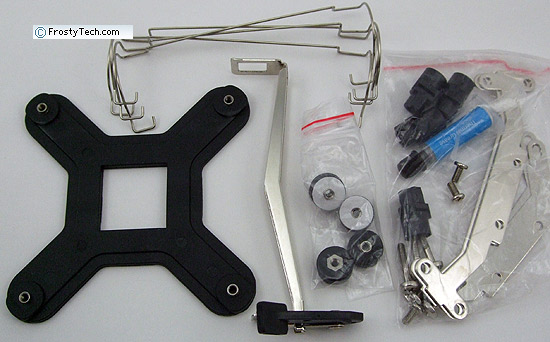 FrostyTech's Test Methodologies are outlined in detail here if you care to know what equipment is used, and the parameters under which the tests are conducted. Now let's move forward and take a closer look at this heatsink, its acoustic characteristics, and of course its performance in the thermal tests!