The Zalman CNPS12X heatsink marks the first foray into exposed base heatpipe coolers for its Korean manufacturer. For what I can only assume are trademark reasons, Zalman term it 'whole direct touch heatpipe'. In any case, six 6mm heatpipes are laid out flat and uncovered just where you'd expect to find 'em. The other notable aspect of the CNPS12X is that it's equipped with not one, not two, but THREE low-RPM 120mm fans arranged in a push - pull configuration!
The three fans are connected via one power connector so fan speed is synchronized and air flow equally matched to air intake. The heatsinks' three 120mm fans rotate at 1200-950RPM and the translucent impellers are softly illuminated by blue LED lights for visual effect against the dark nickel plated surfaces of the heatsink body. At full speed the heatsink is pretty quiet.
Constructed around six 6mm diameter composite wick copper heatpipes, the two separate nickel plated aluminum fin towers are sandwiched by fans on all sides. This gives the Zalman CNPS12X the appearance of a really loud performance heatsink, but in reality it succeeds at high performance, low noise cooling. Frostytech's thermal reference charts reflect this as you'll shortly see.
Zalman's CNPS12X heatsink retails for around $99USD and happens to be the first Intel LGA2011 compatible heatsink to cross Frostytech's test bench! Something to keep in mind if your picking up an Intel X79 motherboard and socket LGA2011 Intel Sandybridge-E processor shortly. The CPU cooler weighs in at 1000 grams and stands 157mm tall.
Zalman CNPS12X Heatsink

---

heatsink specsheet
manufacturer: zalman

model no.: cnps12x

materials: dark nickel plated aluminum fins, exposed copper heatpipes
fan mfg: n/a
fan spec: (x3) 1200-950rpm, 12v, 0.20a
fan dim: (x3) 25x120x120mm
heatsink & fan dim: 157x151x132mm
weight: 1000 grams
includes: multi-socket mounting hardware, thermal compound, instructions

---

Compatible with Sockets:
AMD - AM2+/AM3+/FM1
Intel - 775/1156/1155/1366/2011
Est. Pricing: $99USD ($99CDN)
Very few CPU heatsinks come to mind that ship with three fans. The CNPS12X packs in low-RPM 120mm fans like they're going out of style!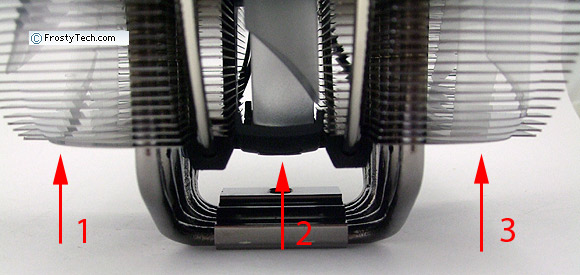 Each fan is spaced about 40mm away from the next. Rotational speed is synchronized to ensure adequate intake airflow for the second and tertiary fans. Below you can see the close placement of the open frame 120mm fans, the open frames allow additional air mass to be drawn in from the sides as necessary.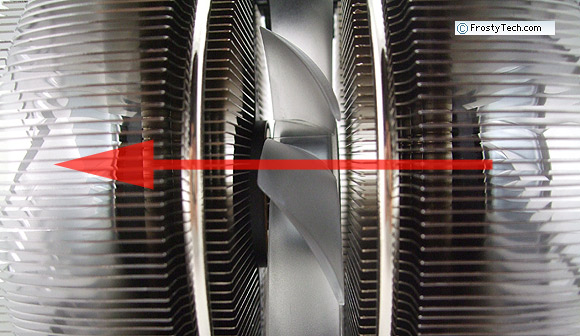 This approach is unique even by Zalman standards, principally because it makes use of ganged fans to propel air through relatively narrow sections of aluminum cooling fin (typically just 32mm deep). The approach is clever in that it allows quiet low RPM fans to be selected for the task of moving air past 9,635 square centimeters of cooling surface area. The first and tertiary fans are wrapped around with cooling fins to shield the impeller blades.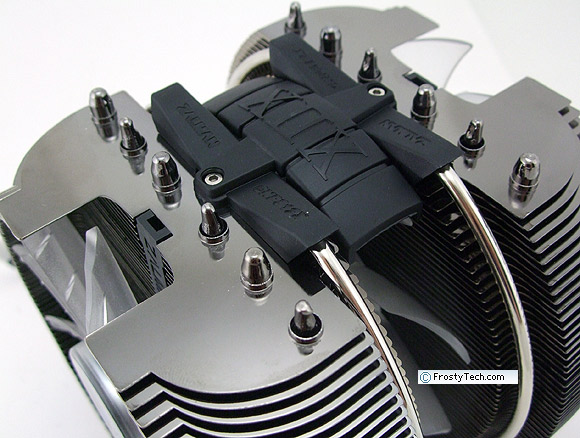 The Zalman CNPS12X heatsink is compatible with socket 775/1155/1156/1366/2011 Intel CPUs and AMD socket AM2/AM3/FM1 processors. As is the case with most tower-style heatsinks, some compact computer users might have a hard time fitting all 157mm's worth of the CNPS12X inside the chassis.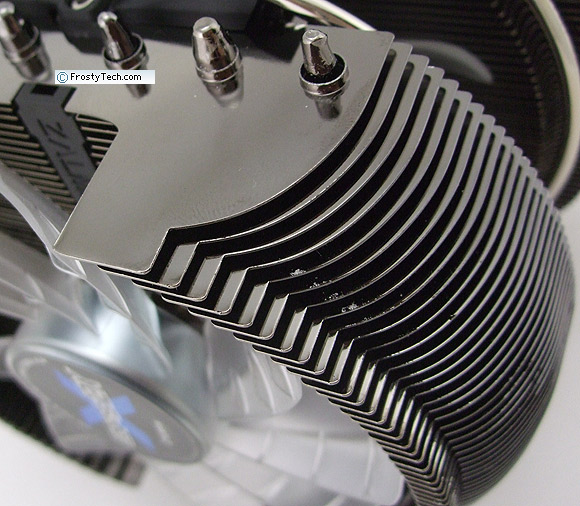 Composite Wick Heatpipes
Zalman use composite copper heatpipes on the CNPS12X heatsink; this type of heatpipe contains a dual wick structure of grooved and sintered metal that makes the heatpipes more efficient at conducting heat compared to run of the mill metal mesh heatpipe wicks.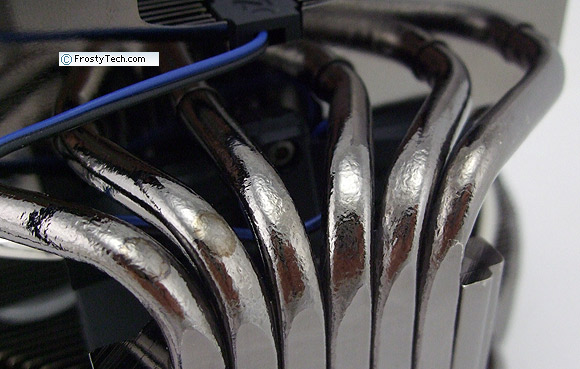 Exposed heatpipe base of Zalman CNPS12X heatsink.
Now, there's no way to see the wick structure of a heatpipe without destroying a heatsink in the process, so with the help of a diamond saw blade we cut a small section from the previous CNPS11X Extreme model and did just that.
Dissected Composite Wick Copper Heatpipe
Here is what a dissected heatpipe from the CNPS11X Extreme looks like, this is the heatsink model preceding the CNPS12X Frostytech is reviewing today. Both models are utilize the same type of heatpipe which has grooved and sintered metal wicks.
Pictured below is a 37mm section of 6mm diameter composite copper heatpipe with a fine 'axial triangular groove' wick covering the interior surface of the copper tube. Bonded on top of that is a 'sintered copper powder' wick. The sintered copper powder layer is about 0.4mm thick. The outside of the copper heatpipe is nickel plated, hence the silver colour.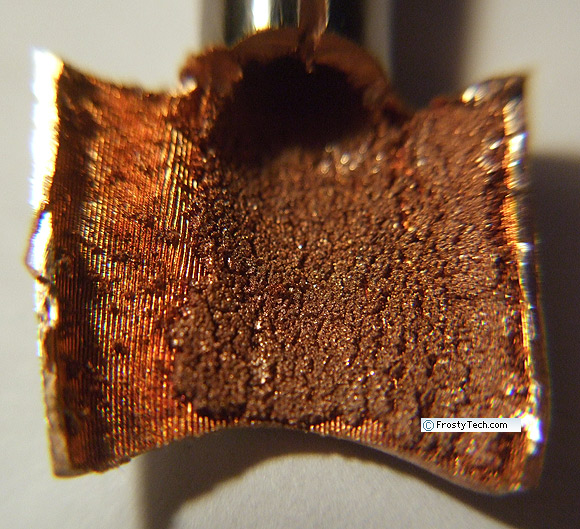 The longitudinal cracks in the sintered copper power are from bending the sides of the copper tube down to expose the insides. A section of sintered copper power wick was mechanically removed for this photograph (at left) in order to reveal the axial grooves hidden behind. The distortion is from the microscope lens.
Heatsink Installation Hardware:
Zalman's CNPS12X heatsink can be installed onto Intel socket LGA775/1155/1156/1366 and the upcoming LGA2011 processors. It also works with the full range of AMD socket AM2/AM2+/AM3/AM3+/FM1 CPUs. Every current and upcoming CPU variation is covered by this one heatsink.
Installation is straightforward, although there are those pesky clearance issues to be aware of. Generally speaking, the CNPS12X heatsink will fit any modern motherboard with ~75mm clearance from the center of the CPU out. Zalman note that at least 160mm space above the CPU itself is necessary, although the heatsink Frostytech tested measured only 157mm tall.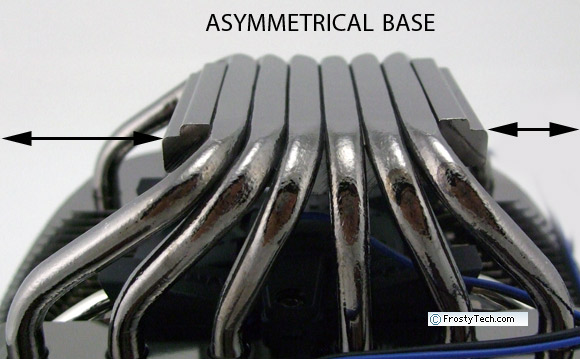 A pair of metal brackets and four small metal stand-offs are used to create a metal heatsink retention cage with the aid of a metal rear motherboard support plate. The CNPS12X weighs 1000grams so Zalman have taken care to ensure it's not going anywhere once installed. From that point a fulcrum plate extends over the center of the heatsink and applies pressure at the center. Two cap screws lock this plate into the metal heatsink retention cage very firmly.
The process looks more complicated than it really is because there are additional stand-offs for LGA2011 platforms and AMD systems. As usual, Zalman include clear step by step instructions to walk you through the process.
The only critical comment Frostytech has about this mounting system is to make the cap screws captive in the fulcrum plate. That extra level of simplification would make removing this heatsink a bit safer in a PC chassis, as there would be no chance of a loose screw falling onto the motherboard or shorting out contacts on the back of videocard.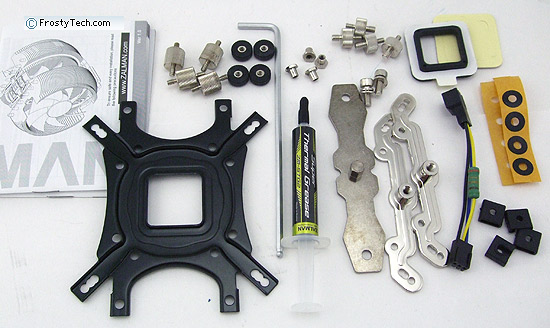 Zalman supply a fan speed reducer to drop fan speed from 1200-950RPM to 1100-850RPM for those who desire even quieter operation. A large tube of Zalman's ZM-STG2 thermal grease is also provided.
FrostyTech's Test Methodologies are outlined in detail here if you care to know what equipment is used, and the parameters under which the tests are conducted. Now let's move forward and take a closer look at this heatsink, its acoustic characteristics, and of course its performance in the thermal tests!