A reader asked Frostytech recently what the best replacement heatsink for a certain model of Toshiba Satellite laptop was. Unfortunately, notebook heatsinks are so specifically engineered there's absolutely no such thing as an aftermarket laptop processor heatsink... they simply don't exist.
When it comes to overheating notebooks, the only option consumers have at their disposal are relatively economical laptop cooling pads. These devices come in different colours and materials, but essentially consist of an elevated vented platform with a quiet fan below that directs cool air towards the bottom of the laptop. The sole purpose of a cooling pad is to promote better circulation across the base of a laptop, as most notebooks have their cooling vents located here. The pad ensures a steady flow of fresh makes it into the notebook which in turn helps keeps temperatures in check.
Features differ between various notebook cooling pads as much as aesthetics do, the only really aspect to watch out for is the size of notebook it supports. The fans are usually powered by a USB port.
For desktop replacement laptops, a little extra cooling can do wonders to keep a notebooks' internal cooling fan from spinning up to vacuum cleaner noise levels constantly. It doesn't hurt that notebook cooling pads also angle a notebook somewhat towards you so it's easier to type on as well. Frostytech will be checking out two newcomers to the industry in this review, the Hanjung Grip100 S and Hanjung Grip110 U2 notebook cooling pads. The latter comes with a small USB hub, both are sized for 12"-17" notebooks and range in cost from $18-$25.
| | |
| --- | --- |
| Hanjung Grip100 S Notebook Cooling Pad | |

HEATSINK SPECSHEET
Manufacturer: Hanjung
Model No.: Grip100 S black
Materials: Plastic, aluminum mesh
Fans: (1) 200mm at 600-750RPM
Max Surface Area: 380mm x 260mm
USB 2.0 ports: (x2)
Includes: USB A-to-A power cable

---

Est. Pricing: $18USD ($18CDN)
| | |
| --- | --- |
| Hanjung Grip110 U2 Notebook Cooling Pad | |

HEATSINK SPECSHEET
Manufacturer: Hanjung
Model No.: Grip110 U2 white
Materials: Plastic, aluminum screen
Fans: (1) 200mm at 600-750RPM
Max Surface Area: 380mm x 260mm
USB 2.0 ports: (x4)
Includes: USB A-to-A power cable

---

Est. Pricing: $25USD ($25CDN)
Both of these notebook cooling pads draw power from a free USB slot, a physical off / low speed / high speed switch controls the 200mm fan speed. At the minimum speed of 600RPM the fan is pretty much inaudible, however when set to 750RPM we could detect a slight noise coming from behind the notebook in some instances.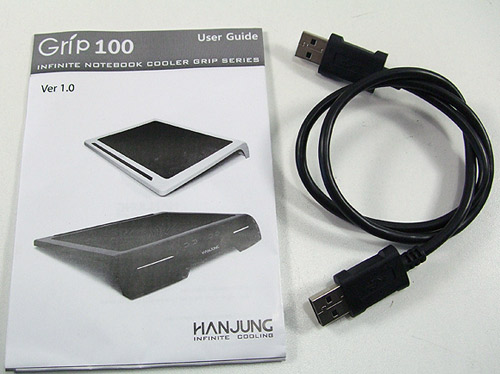 The USB male-to-male cable plugs into any free USB port on the notebook and connects to one of the two USB ports on the back of the notebook cooling pad to supply power. The Hanjung Grip100-S has a two port USB hub, but as one port is occupied by the cable and one port is removed from notebook, it really only replaces the lost USB port.

The white Hanjung Grip110-U2 cooling pad has a four port USB hub. With one USB port occupied by the cable and one port removed from notebook, it effectively adds two additional USB ports to your computer system. A DC power port is provided if you have say, an external 2.5" HDD plugged in, but the 5V DC adaptor is not supplied. Low power devices like keyboards and mice seemed to work fine.

The Hanjung Grip100-S and Grip110-U2 notebook cooling pads are constructed from plastic with an aluminum screen/mesh for the laptop surface. The plastic is light weight and pretty stiff. We gave it the old twist test to see how much flex there was and neither pad would budge - build quality is quite rigid. The aluminum screen on the white Grip110-US model is a bit tougher where heavy weight notebooks are considered.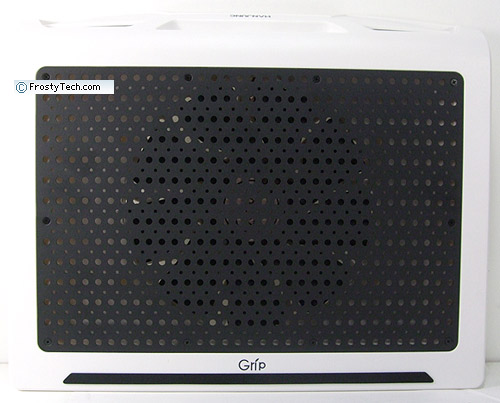 The black Grip100-S uses aluminum mesh which is a little more flexible and better suited to smaller 12" size notebooks that aren't too heavy.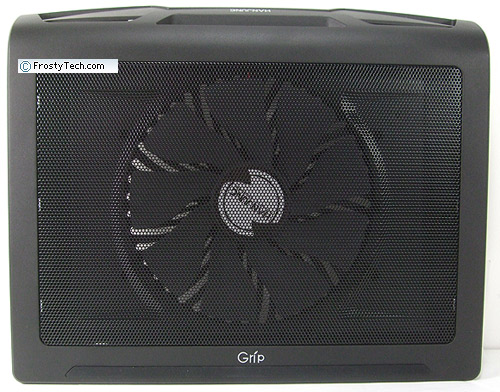 Inside each Hanjung notebook cooling pad is the same 200mm vane axial fan which rotates at 600RPM or 750RPM depending on the fan setting. The fan is big, but you don't really feel a lot of airflow coming into or going out of the until. It's not like you have your hands constantly over a fan, which would quickly become just as uncomfortable as too much heat. There is just enough airflow to circulate around the base of the notebook.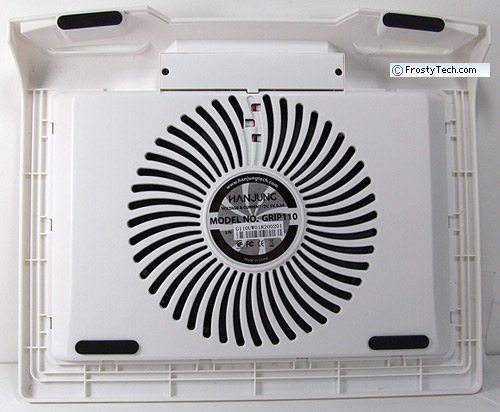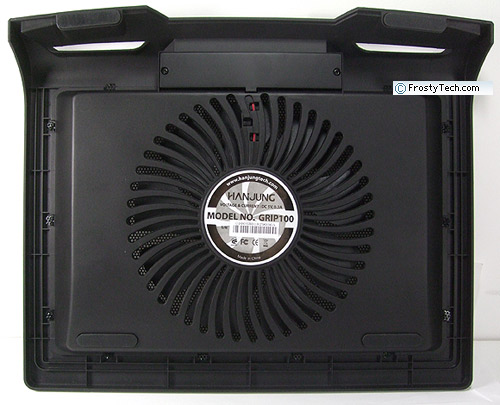 Power comes from your laptops' USB port via a male-to-male extension cable (supplied) which plugs in at the rear of the notebook cooling pad. The button in the middle of the USB ports controls fan speed.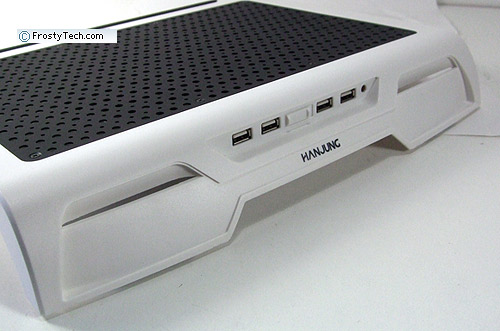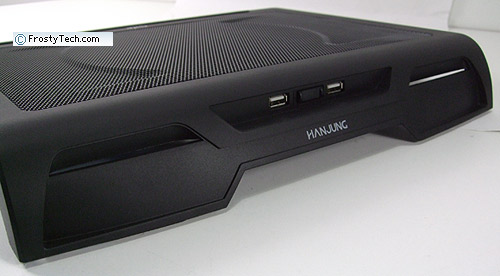 The Hanjung Grip100-S and Grip110-U2 are each listed at 0.8Kg in weight. The notebook platform is set at a slight angle to make typing a little more comfortable on the wrists. The pad surface is large enough to accommodate a notebook body with a footprint of up to 380x260mm in size. Hanjung state that notebooks of 12" screen size to 17" screen size can be accommodated.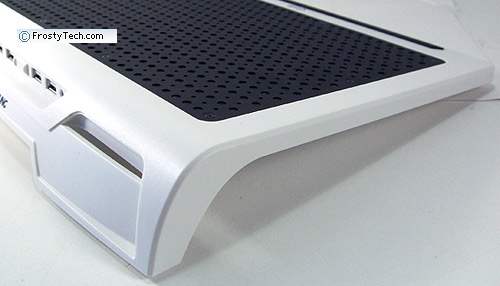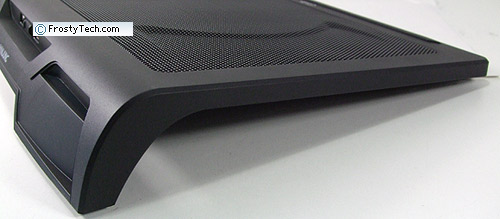 And that's about all there is to it - a notebook cooling pad is a very simple device that works just as you'd expect it to. Given the different variables at play with each type of notebook model it's challenging to provide any realistic cooling figures here, but a quick anecdotal experiment with the in-lab notebook proved the device did indeed cool it down rapidly. The area above the HDD, usually warm enough to cause uncomfortable laptop-to-hand perspiration, was cool to the touch after a few minutes.
To sum up, we tried a notebook on the Hanjung Grip100-S Black and found it performed as expected, without any noticable noise output from the large 200mm fan. The bottom of both units are a little curved so they don't sit totally steady on your lap, but do rest comfortably if that's your preferred style of typing.
The Hanjung Grip100-S ($18USD) and Hanjung Grip110-U2 ($25USD) notebook cooling pads do exactly what the name says, just like a cup holder. These devices are the ideal accessory for desktop replacement notebooks with powerful videocards and undersized internal heatsinks that get worked hard throughout the day. If you suffer the problem of excessive laptop heat, an economical notebook cooling pad such as these may be just the ticket.
Related Articles:
The Top 5 best heatsinks for low noise and low temperature are ranked here. For more reviews on the latest heatsinks and cooling solutions, rely on FrostyTech's inventory of 400+ heatsink reviews. Here are a few other articles that you might enjoy as well.
- Xigmatek Prime SD1484 Heatsink Review
- NZXT Havik 140 Heatsink Review
- Thermaltake FrioOCK Heatsink Review
- Arctic Cooling Freezer 13 Pro Heatsink Review
- Spire Gemini SP986B1-V2-2P Heatsink Review
- Zalman CNPS5X-SZ Heatsink Review
- Noctua NH-C14 Lower Noise Heatsink Review