Ideally, heatsinks should apply their clamping force evenly over the entire surface of a processors' integrated heat spreader (IHS). In the real world, mounting brackets often apply force unevenly and/or the base of the heatsink is uneven or curved. With spring tensioned heatsink mounting brackets, occassionally the spring force is too weak and the heatsink will rock back and forth under its own weight. In short, there are a lot of variables when it comes to mounting a heatsink properly and it's a challenge to engineer a heatsink mounting bracket to apply both an even clamping force and a strong clamping force. Up to 50lbf is required per Intel Thermal Design Guidelines (pg.32), 60-90lbf per AMD Thermal Design Guidelines (pg.18).
Regardless of the cause, an improperly seated heatsink means less than optimal cooling. In the case of a convex heatsink base, perhaps only one-third to two-thirds of the total surface area makes contact with the processor.
Joe from Overclockers.com has an interesting article along these lines which makes use of a digital resistive force sensing pad between the CPU and heatsink that was recently introduced by Sensor Products. It's an expensive laboratory tool that allows one to visualize contact forces and uneveness in one fell swoop. Give it a read. While Overclockers.com are using pretty pricey lab gear to generate those graphical force maps, I'm sure many of you will recognize many of the patterns from the impression left behind by a heatsink in thermal compound!
Anyhow, on with the show. In this review Frostytech is testing Zalman's CNPS11X Extreme heatsink, a dual-tower CPU cooler that stands 155mm tall, weighs around 600grams and retails for $80 dollars.
Zalman CNPS11X Extreme Heatsink

---

heatsink specsheet
manufacturer: zalman
model no.: cnps11x extreme
materials: dark nickel plated aluminum fins, copper heatpipes, copper base plate
fan mfg: zalman zp1225blm
fan spec: 1000-1950rpm, 12v, 0.20a
fan dim: 25x120x120mm
heatsink & fan dim: 155x134x96mm
weight: 600 grams
includes: multi-socket mounting hardware, thermal compound, instructions

---

Compatible with Sockets:
AMD - AM2+/AM3+/FM1
Intel - 775/1156/1155/1366
Est. Pricing: $80USD ($80CDN)
The Zalman CNPS11X Extreme is equipped with one 120mm PWM fan that rotates at 1000-1950RPM and moves air through a pair of thin aluminum fin towers set at 80-degress to each other. Five 6mm diameter composite wick heatpipes conduct heat from the copper base plate to the twin 100mm fin stacks. Below is a photo of the heatsink with the fan and fan shroud removed so you can see the inner workings of Zalman's thermal design more clearly.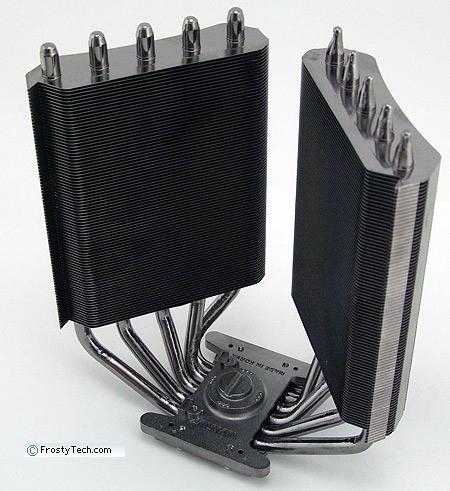 This heatsink approach is unique even by Zalman standards, principally because it makes use of a large plenum behind the fan to naturally distribute airflow through the two separate fin stacks. This approach allows one comparably quiet 120mm fan to get the job done with little noise.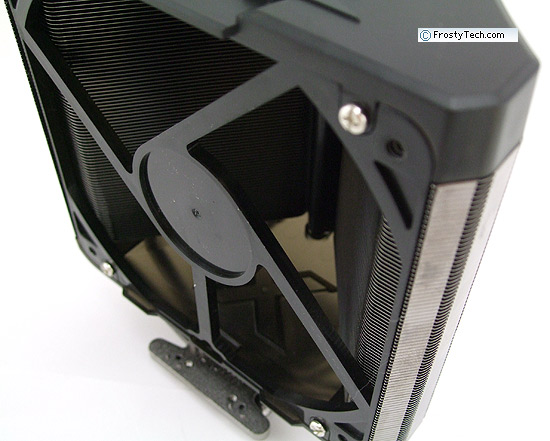 The Zalman CNPS11X Extreme heatsink is compatible with socket 775/1155/1156/1366 Intel CPUs and socket AM2/AM3/FM1 AMD processors. As is the case with most tower-style heatsinks, compact computer users might have a hard time fitting all 155mm's worth of the CNPS11X Extreme inside.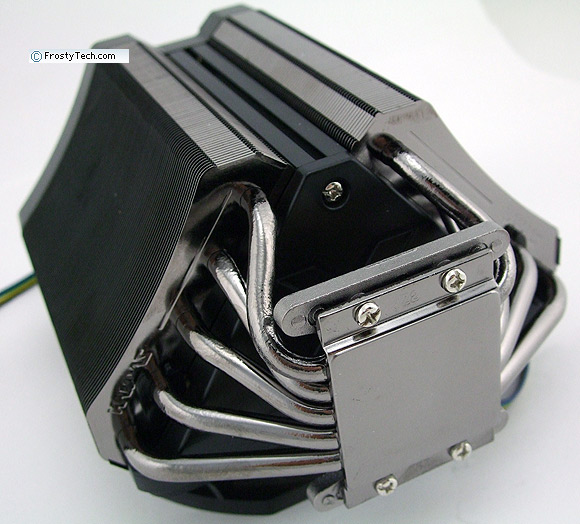 Testing the Heatpipes
Zalman use composite copper heatpipes on the CNPS11X Extreme heatsink; this type of 6mm diameter heatpipe contains a dual wick structure of grooved and sintered metal that makes them more efficient at conducting heat than a typical metal mesh wick.
There's no way to illustrate the wick structure on the inside of the heatpipes without destroying the CNPS11X Extreme in the process, so Frostytech did just that with the aid of a diamond saw blade.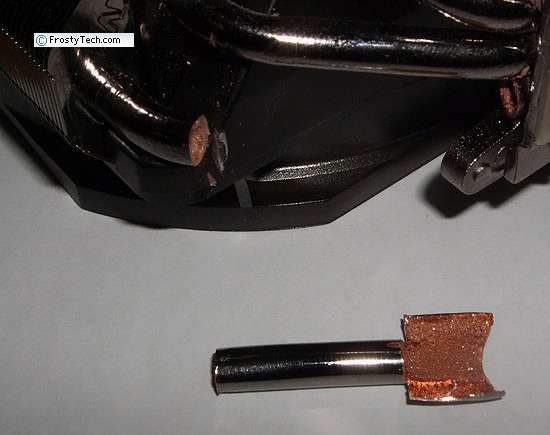 Showing location of heatpipe segment in CNPS11X heatsink.
Here are a couple photos of a dissected heatpipe from the CNPS11X Extreme, as you can see the section of heatpipe does indeed feature grooved and sintered metal wicks. Good to know Zalman follows truth in advertising, with some other heatsink makers you never really know.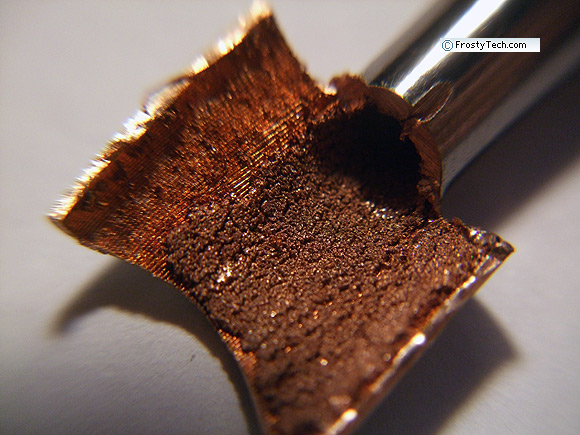 What you're seeing here is a 37mm long section of 6mm diameter copper heatpipe with a fine axial triangular groove wick covering the interior surface of the tube, on top of that is a sintered copper powder wick. The sintered copper powder layer is about 0.4mm thick. The outside of the copper heatpipe is nickel plated, hence the silver colour.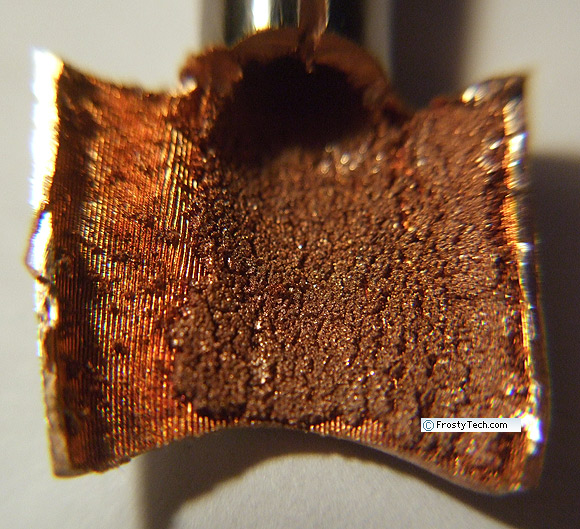 The longitudinal cracks you see in the sintered copper power are from bending the sides of the copper tube down to expose the insides. A section of sintered copper power wick (at left) was mechanically removed for this photograph in order to reveal the grooves below. The distortion is from the microscope lens.
Where's the fluid? Heatpipes don't use that much working fluid, when the tube is cut open nothing will drain out. At most, the wick feels a bit damp. The working fluid is typically water, some manufacturers use ammonia or other liquids. Since there was no smell of ammonia or any other chemical upon cutting this heatpipe open we assume the working fluid was simply water.
Heatsink Installation Hardware:
Zalman's CNPS11X Extreme heatsink can be installed on Intel socket 775/1155/1156/1366 processors and the full range of AMD socket AM2/AM2+/AM3/AM3+/FM1 processors. The heatsink does not support the upcoming Intel LGA2011 however. Every current CPU variation is covered by this one heatsink.
Installation is straightforward, although there are those pesky clearance issues to be aware of. Generally speaking, the CNPS11X Extreme will fit any modern motherboard with ~68.5mm clearance from the center of the CPU out. Zalman note that at least 160mm space above the CPU itself is necessary, although the heatsink Frostytech tested measured only 155mm tall.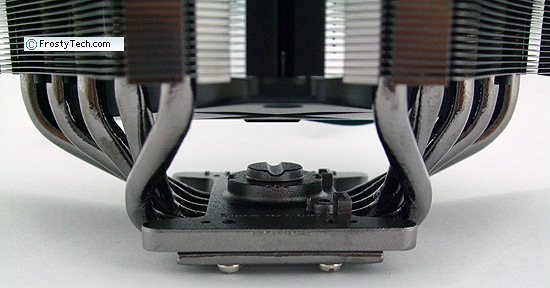 The AMD mounting bracket installs directly to the motherboard so the stock AMD heatsink retention frame will need to be removed. The heatsink should generally be oriented with airflow exhausting towards the rear of the case if possible. If not, the next best position is the fan exhausting up towards the power supply.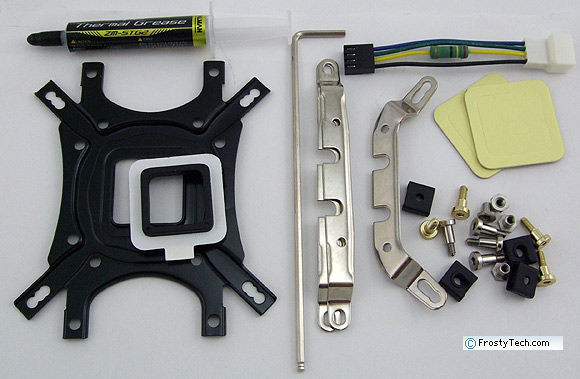 Intel socket 1366/775/1155/1156 processors make use of metal clips which slot into the space between the cast aluminum base cap and copper base plate. A metal rear motherboard support plate and mounting posts are then used to hold everything in position quite firmly. Access to the back of the board is necessary to apply a rear support plate.
FrostyTech's Test Methodologies are outlined in detail here if you care to know what equipment is used, and the parameters under which the tests are conducted. Now let's move forward and take a closer look at this heatsink, its acoustic characteristics, and of course its performance in the thermal tests!