I'm going to date myself horribly by this, but there was a time when all CPU heatsinks were simply slabs of extruded aluminum. Then CPU thermal values increased dramatically and fans got bigger, faster and much louder. Heatsink extrusions became more complicated and necessity finally reared it's wonderful head.
Copper inserts were the first technological shift forward, followed by innovative microfins. Then there was the Delta screamer - a boxy 60x32mm fan that ran at 6,000RPM and sounded like a vacuum cleaner with sand in the bearings. It was powerful enough to snap off fingertips and did at least a couple times. Coolermaster brought out an exotic heatpipe heatsink for the time and the flood gates have been open to heatsink innovation ever since.
The golden age of heatsink development brought us 24 kart gold Zalman heatsinks, skived metal fins, heatsinks with pure silver heat spreaders and many evolutionary dead ends. Something on the order of 500 heatsinks have passed by Frostytech's test bench, but failed thermal solutions are usually the most imaginative. Who remembers The Core Heatsink - a Swiss cheese block of CNC'd aluminum? Before Scythe, there was the TS Heatronics SCR325-2F Radiator heatsink which used an Akachi-pipe (ahead of its time). The Verax fans... backwards spinning impellers that moved very little air, incredibly silently. Kuthtec's odd honeycomb heatsinks and several exteremly poor performing ASUS heatsinks that flopped like the Star Ice, Triton 75, and Triton 85.
Today most heatsinks use four or five heatpipes and conform to the popular tower style. It's great for users like yourself who want good cooling with little noise, but now all heatsinks look the same...
In this review Frostytech is testing Auras' lower noise Shagon AHC-118 tower heatsink. This CPU cooler stands 178mm tall, with a footprint of 135mm x 119mm. Weighing in at 951 grams, this is one big heatsink that will only fit in full size tower chassis. The Shagon AHC-118 heatsink is built around six 6mm diameter copper heatpipes and a 120x130mm aluminum fin stack. The heatsink features an exposed heatpipe base and utilizes a single 1800-1000RPM 120mm PWM fan.
Auras Shagon AHC-118 Heatsink

---

heatsink specsheet
manufacturer: auras
model no.: shagon ahc-118
materials: aluminum fins, copper heatpipes, aluminum base with exposed heatpipes.
fan mfg: power logic pla12025s12m
fan spec: 1800-1000rpm, 12v, 0.20a
fan dim: 25x120x120mm
fan airflow: 60cfm
heatsink & fan dim: 178x135x119mm
weight: 951 grams
includes: multi-socket mounting hardware, thermal compound, instructions

---

Compatible with Sockets:
AMD - AM2+/AM3+/FM1
Intel - 775/1156/1155/1366
Est. Pricing: $29USD ($29CDN)
The Auras Shagon AHC-118 heatsink installs onto Intel socket 775/1155/1156/1366 and AMD socket AM2/AM3+/FM1 processors and retails for about $30.
To reduce vibration transmission from the 120mm PWM fan to the rest of the heatsink, small rubber fan posts are used to secure the fan. No rear fan can be installed on this heatsink however.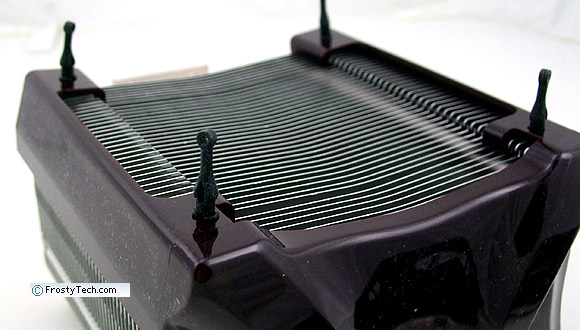 Exposed heatpipe base heatsinks go by a variety names, the Shagon AHC-118 uses six 6mm diameter heatpipes set into an 8.5mm aluminum base block to get the job done.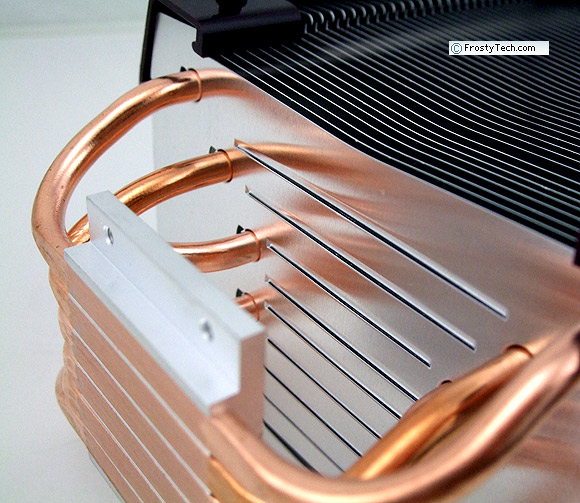 In Frostytech's tests we noted that all four heatpipes were not perfectly flush to the surface of the aluminum base, this will impact thermal efficiency as heatpipe-to-CPU gaps are filled with relatively less conductive thermal compound. No details on the heatpipe wick structure are provided by the manufacturer.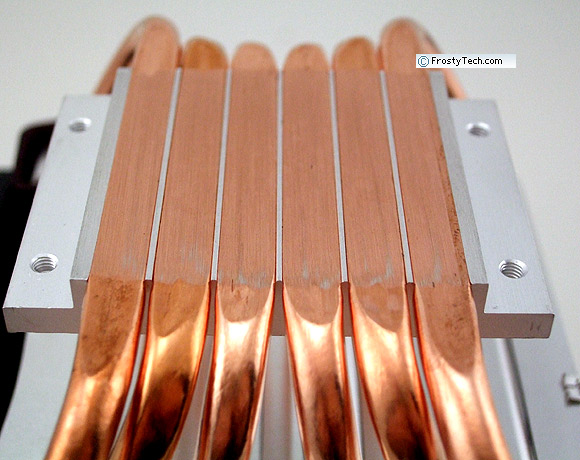 Heatsink Installation Hardware:
Heatsink installation isn't too complicated for the Auras Shagon AHC-118. The cooler is compatible with Intel socket 775/1155/1156/1366 and AMD socket AM2/AM3/FM1 processors. In each instance a set of metal brackets is attached to the aluminum base of the heatsink and a metal support plate installed behind the motherboard. Spring tensioned, collared thumb screws apply the clamping force.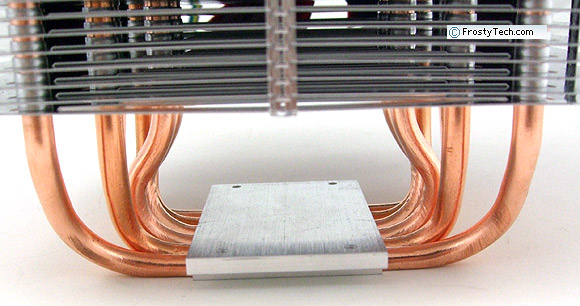 With regards to the Intel CPUs, the slot for different Intel sockets is broken down into three distinct tabs; one for socket 775, one for 1155/1156 and one for 1366 processors. Pay close attention to the instructions or you may find the heatsink isn't mounting correctly. A packet of SIL thermal compound is provided in the package as well as a printed instruction sheet.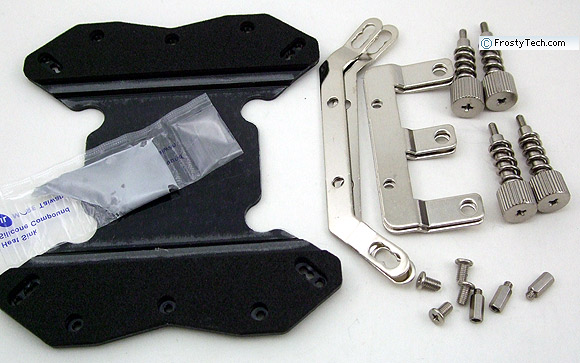 FrostyTech's Test Methodologies are outlined in detail here if you care to know what equipment is used, and the parameters under which the tests are conducted. Now let's move forward and take a closer look at this heatsink, its acoustic characteristics, and of course its performance in the thermal tests!