The Scythe Kozuti SCKZT-1000 is a really compact low profile heatsink that conforms to the 1.5U standard and measures just 40mm from tip to toe! That's not a lot of space in which to cram a heatsink capable of handling 150W heat loads... but Scythe manage it with average thermal results - impressive for such a low profile heatsink really.
Low profile heatsinks are classed in one of three different sizes; 3U which is 110mm or less in height, 2U which is 75mm or less in height and 1.5U which is less than 45mm tall. Heatsinks that conform to 1.5U are suitable for compact HTPC's, miniITX chassis and so called "book-PC" cases.
Weighing just 250grams and standing 40mm tall, the Scythe Kozuti SCKZT-1000 heatsink features three 6mm diameter copper heatpipes, a 10mm thick 80mm fan and a 103x100mm cooling fin array. A copper base plate ensures good heat spreading to the three copper heatpipes and the PWM fan spins away at 3300RPM-800RPM. The small fan is rated for 24CFM air flow at stock speed and produces little noise.
Scythe's Kozuti SCKZT-1000 heatsink is compatible with Socket 775/1155/1156/1366 Intel processors and AMD socket AM2/AM3/FM1 CPUs. It retails for around $35 at heatsink vendors such as QuietPC.
Scythe Kozuti SCKZT-1000 Heatsink

---




heatsink specsheet
manufacturer: scythe
model no.: kozuti (sckzt-1000)
materials: nickel plated aluminum fins & base cap, copper heatpipes and base plate
fan mfg: scythe sy8010sl12m-p
fan spec: 3300-800rpm, 12v, 0.20a
fan airflow: 6-25 cfm
fan dim: 10x80x80mm
heatsink & fan dim: 40x103x111mm
weight: 250 grams
includes: mounting brackets, thermal compound, instructions

---

Compatible with Sockets:
AMD - AM2/AM3/FM1
Intel - 775/1155/1156/1366
Est. Pricing: $35USD ($40CDN)
The construction of the Scythe Kozuti SCKZT-1000 is pretty simple but the parts are so thin it's amazing the heatsink can handle the heat load it does. This CPU cooler is more like a VGA heatsink than one for Intel or AMD processors. The three 6mm diameter copper heatpipes loop around the CPU base plate and are soldered on one side of an 8mm thick cooling fin array. A smaller 98x54mm cooling fin array is then sandwiched between the primarily cooling fins and the fan.
The fan is about the same thickness as the cooling fins and draws air in from the top, exhausting it downward onto the area around the processor socket.



Shown with the 10x80x80mm fan removed.
Heatsink Clips and Brackets
Both Intel and AMD mounting brackets screw onto the base plate of the Scythe Kozuti SCKZT-1000 heatsink with little machine screws. You'll need a jewellers screwdriver of about size 1 from Wiha to install the brackets. Since socket 775, 1155/1156, 1366 mounting holes are spaced 72mm, 75mm and 80mm respectively, the mounting hardware supplied with the Scythe Kozuti SCKZT-1000 heatsink have a slot to fit any variety of Intel motherboard.


Mounting brackets screw into this base plate with tiny little phillips screws.
In each instance, users will need access to the rear of the motherboard to install this heatsink.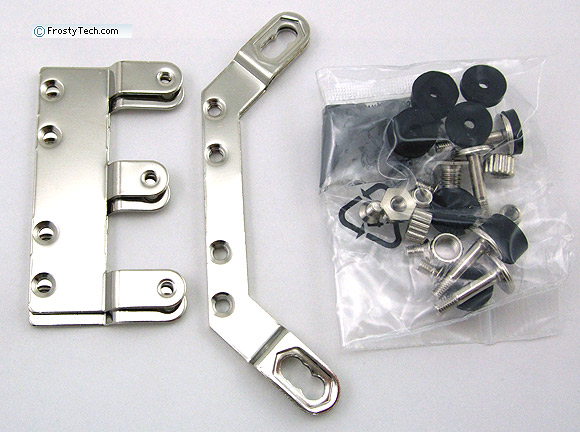 FrostyTech's Test Methodologies are outlined in detail here if you care to know what equipment is used, and the parameters under which the tests are conducted. Now let's move forward and take a closer look at this heatsink, its acoustic characteristics, and of course its performance in the thermal tests!