This is a super quick how-to guide from Frostytech on modding the
Ultra Products
U12-40659 Carbon X4 multisocket VGA cooler fan power cable so it can be connected to a normal sized 3-pin fan header common to most videocards and motherboards.
The Ultra Carbon X4 VGA heatsink features two 100mm fans that range in speed from 550-2200RPM. This videocard heatsink installs onto a range of AMD and nVidia graphics cards and is built around a five heatpipe / nickel plated aluminum fin framework. Frostytech has not tested this VGA heatsink so we can't comment on how it performs... but for $30 bucks, folks seem to be snapping this economical cooler up.
The problem some users will encounter with this heatsink is that the Ultra Carbon X4 draws power from a miniature 4-pin PWM electrical connector that looks like a WOL connector with 4-pins, or a compact CD-ROM SPDIF cable from the days of IDE. Since a good many videocards only have regular sized 3-pin fan headers , the Ultra Carbon X4 VGA heatsink is slightly less than universal. Faced with this peculiar installation roadblock, most affected users will just return it; savvy users know they can make up a quick jumper cable.
A colleague of ours faced this very issue today while replacing his noisy stock VGA heatsink on a Galaxy Geforce GTS250 videocard with the Carbon X4 VGA cooler from Ultra Products. Judging by the comments on Ultra Products' website, a fair number of people have also come up against this issue too...
Now normally Frostytech wouldn't waste our time with a guide to making a fan jumper cable, but because Ultra Products don't list the electrical pin outs in the manual, and the power cables aren't colour coded to reveal this information, the mod is just tricky enough that a few of you will find this really helpful. So, mention Frostytech.com on your favourite forum if you find this guide handy.
Disclaimer - Be warned, if you don't know what you're doing do not attempt this procedure. You may damage the VGA cooler fans, your videocard and the computer irreparably. A comfortable base in electrical wiring, familiarity with the soldering iron and heat shrink tubing should be considered basic pre-requisits - this is why school has electronics class!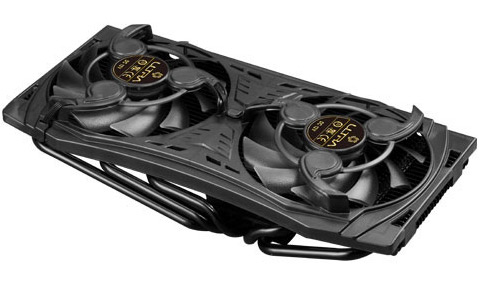 Ultra Products U12-40659 Carbon X4 multi socket VGA cooler
Step 1: Figuring the Electrical Pin Outs
For starters, near as I can tell by searching Newark and Digikey, the miniature black plastic 4-pin PWM fan connector attached to the Ultra U12-40659 Carbon X4 VGA cooler is called a '2.0mm Mini Common Termination Connector System' or 'single row DEF3-4POS-2MM receptacle'. The standard 3-pin fan header of the type you find on motherboards is called an 'AMP MTA 0.100" (2.54mm) Post Header '. Don't worry about the names, what's important to us is that the pin pitch is different so they won't fit together (2.0mm and 2.54mm respectively) .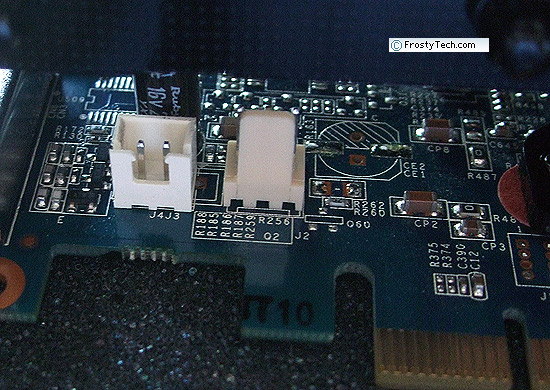 Galaxy Geforce GTS250 fan power connectors
The Galaxy Geforce GTS250 videocard has a two-pin and a standard 3-pin fan header. We're going to make a jumper cable to connect the videocard's 2.54mm pitch 3-pin fan header to the VGA coolers' 2.0mm pitch 4-pin miniature PWM fan power cable.
First though, we determined which two wires of the four coming from the Ultra VGA cooler were Ground and 12V+. Since there are four wires in total (all black), we assumed the remaining two were standard RPM and PWM signal wires. Below you can see how the pin outs correlate between the 2.45mm pitch PWM connector at left and the 2.0mm pitch connector at right from the Ultra Carbon X4. To give a sense of scale, widths of each connector type are listed in the table below as well. The coloured lines indicate the side and position where each coloured wire exits the connector, just in case there's any confusion on that front.

2.54mm pin pitch
4-pin PWM fan power jack pin out
(Total width: 10.7mm)

P1 (Black) - Ground
P2 (Yellow) - 12V+
P3 (Green) - Tachometer signal
P4 (Blue) - PWM signal


2.0mm pin pitch receptacle, PWM fan power pin out for Ultra Products U12-40659 Carbon X4 multisocket VGA cooler
(Total width: 8.5mm)


2.54mm pin pitch
3-pin fan power jack pin out
(Total width: 8.2mm)

P1 (Black) - Ground
P2 (Red) - 12V+
P3 (Yellow) - Tachometer signal


2.0mm pin pitch receptacle, fan power pin out
Step 2: Find scrap electrical bits to make the jumper cable.
There are a couple ways to skin this cat, here's the work around Frostytech used;
Cut the power cable off an old fan to get the 3-pin connector and a length of jumper wire. As I happened to have a scrap bit of electronic circuit board with the correct mating four-pin socket laying around, I cut up the PCB in preparation to de-solder that socket from the board. This came from an old ink jet printer or fax machine that was parted out, sometimes CDROMs will have connectors like this inside too. If you can't find one like it to scavenge, you can always splice the wires directly from the VGA cooler.
These are the tools of the trade; spool of healthy Best Quality Lead Solder, a 45W Weller soldering iron, a few 1/8" diameter bits of white heat shrink tubing and wire stripers.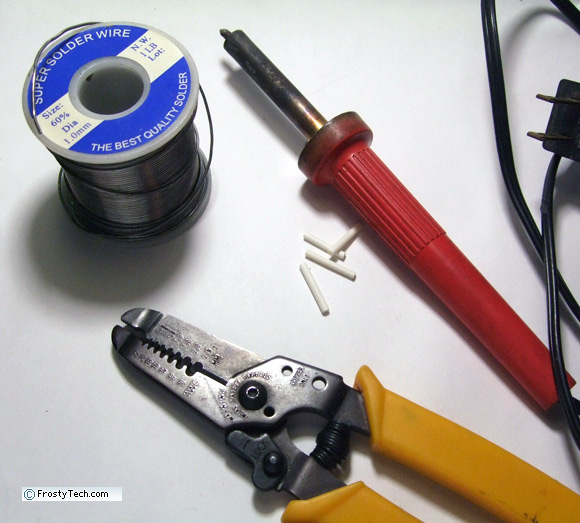 The 4-pin miniature socket was de-soldered from the scrap bit of PCB using a blob of solder to wet all four contacts at once. A CDROM SPDIF cable was plugged in to make it easier to pull the socket away from the PCB when the solder melted.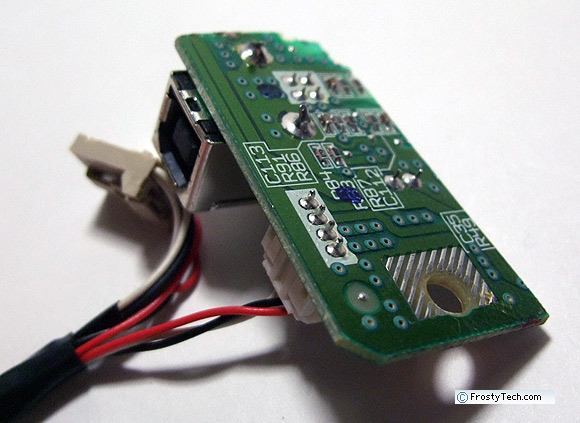 Step 3: Assembling the Ultra U12-40659 Carbon X4 multisocket VGA cooler fan jumper cable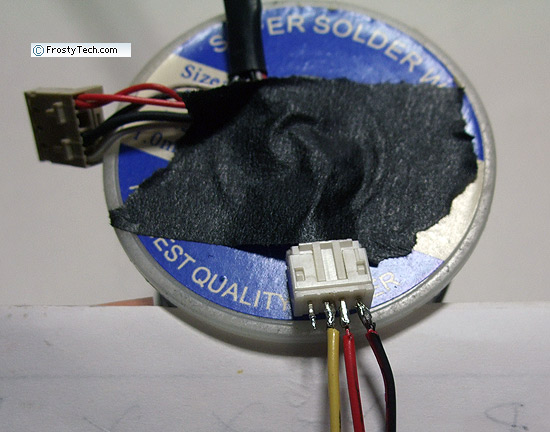 The 4-pin miniature socket was taped to a surface to make soldering the wires to the pins easier. First though, three short lengths of heat shrink tubing were threaded onto the yellow/red/black wires. The wires were then soldered to the socket using the pin-out charts noted previously. After that the heat shrink only needed to be slid into place and shrunk.
Step 4: Install fan power jumper cable onto videocard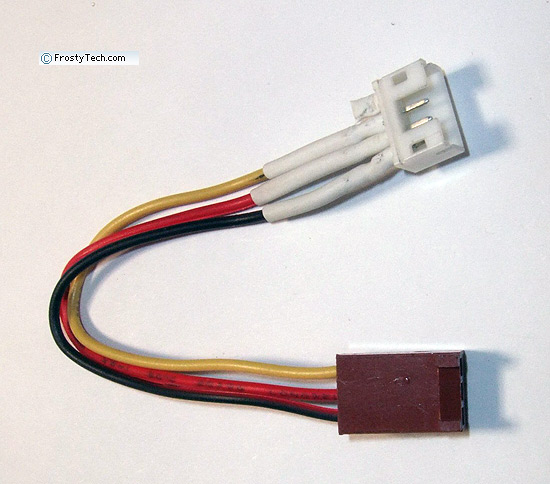 The final jumper cable looks like this. All that needs to be done now is to connected it between the videocard's fan header and fan power cable coming from the VGA cooler.
And there you have it, a relatively quick and simple miniature 2.0mm pitch 4-pin PWM to 2.54mm pitch 3-pin fan power jumper cable for the Ultra Products U12-40659 Carbon X4 VGA cooler. Be sure not to mix up the wires or you will cause damage. Electrical pin outs can change between manufacturers, this guide may be inaccurate for your specific hardware scenario.