The max cooling capacity of the Arctic Cooling Freezer 13 Pro heatsink is listed at 300 Watts by the manufacturer; far, far and away beyond the heat output of any desktop processor if indeed that figure is accurate.
If the name Freezer sounds familiar, it's because the Freezer 13 Pro is essentially a step up in size from the previous iteration, the Freezer 13 heatsink. This time around Arctic have released a tower-style heatsink standing 159mm tall and weighing 893 grams. The CPU cooler comes with a small 50mm fan mounted to the baseplate in addition to a primary 120mm fan that rotates at 1350-900RPM. The base-mounted 50mm fan is intended to cool motherboard components around the CPU socket, not the heatsink base - an important distinction.
In most respects the Arctic Cooling Freezer 13 Pro looks like a big step up from the previous model, but according to Frostytech's heatsink reference charts it works out to a ~3°C drop in temperature at full fan speed. Noise output is maintained at a reasonably quiet level, in part because the 120mm PWM fan utilizes fluid dynamic bearings, but mostly because the fan rotates at a slow speed.
The Freezer 13 Pro heatsink is built around four 8mm diameter copper heatpipes and 47 stacked aluminum fins. The heatpipe wick type is not disclosed. The Freezer 13 Pro heatsink ships with a pre-applied patch of Arctic MX-4 thermal compound and installs onto Intel socket 775/1155/1156/1366 and AMD socket 754/939/940/AM2/AM3/FM1 processors. Retail price is around $40USD via the usual 11 online HSF stores.
Arctic Cooling Freezer 13 Pro Heatsink

---

heatsink specsheet
manufacturer: arctic cooling
model no.: freezer 13 pro
materials: aluminum fins, copper heatpipes, copper base plate.
heatpipe wick structure: n/a
fan mfg: n/a
fan spec: 900-1350rpm, 12v, 0.23a
fan dim: 25x120x120mm
heatsink & fan dim: 159x134x90mm
weight: 893 grams
includes: multi-socket mounting hardware, thermal compound, instructions

---

Compatible with Sockets:
AMD - 754/939/940/AM2+/AM3+/FM1
Intel - 775/1156/1155/1366
Est. Pricing: $40USD ($40CDN)
Like most Arctic Cooling heatsinks, the Freezer 13 Pro supports a single 120mm fan which clips onto the edges of the stacked aluminum fin tower. There's no easy way to replace this fan with another fan of your choosing because the fan + clips are integrated into one bit of plastic. A single 4-pin PWM cable supplies power to both the 120mm main fan and the little base-mounted 50mm 'cross blow' fan that twirls at 700-2700RPM.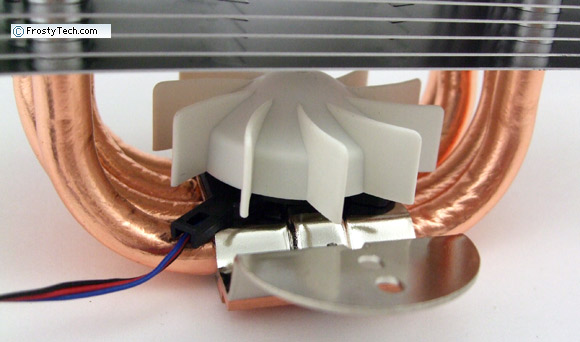 The 32mm copper heatspreader at the base of the Freezer 13 Pro heatsink is rather narrow given that AMD processors have a 37mm wide IHS. On the plus side, the copper baseplate is soldered to the four 8mm diameter heatpipes without any visible gaps. Unfortunately, without destroying the heatsink there's no way to tell what kind of wick structure these four U-shaped heatpipes use. The three main types of heatpipe wick are listed here if you're curious, sintered metal powder is the optimal choice generally speaking.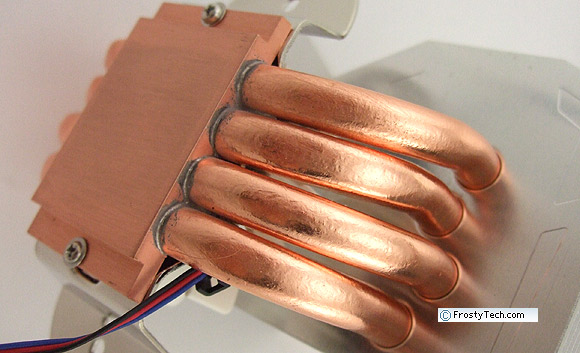 The four heatpipes pass through 47 stamped aluminum fins which form a cooling tower 117mm tall, having a footprint of 131x70mm. Since the aluminum is raw, an interference joint is used. A 2mm high collar of aluminum around the heatpipes aids thermal conduction by increasing contact surface area. Some manufacturers prefer to nickel plate both heatpipes and fins so everything can soldered together in a reflow oven, AC relies on a simple aluminum-copper joint which is less costly and complicated to implement.
Heatsink Installation Hardware:
Arctic Cooling's Freezer 13 Pro heatsink ships with brackets for Intel LGA775/1155/1156/1366 and AMD 754/939/940/AM2/AM3/FM1 processors. The heatsink mounts to both Intel and AMD motherboards using the permanently affixed metal bracket that's integral with the heatsink's base.
For Intel motherboards, a plastic heatsink mounting cage is first installed on the board and held in place with plastic retention clips. Screws can then pass through the heatsink's springy metal clip and engage the cage to apply mounting pressure. AMD computer systems make use of the AMD heatsink mounting bracket that ships with every board and a simple set of L-brackets. In either PC situation, the motherboard does not have to be removed from the computer case which is a nice relief.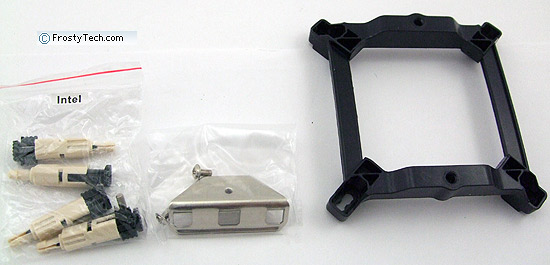 FrostyTech's Test Methodologies are outlined in detail here if you care to know what equipment is used, and the parameters under which the tests are conducted. Now let's move forward and take a closer look at this heatsink, its acoustic characteristics, and of course its performance in the thermal tests!