Spire's Gemini SP986B1-V2-2P heatsink is a minor variation on the popular Eclipse II tower heatsink design, the most notable difference being a novel bifurcated fin stack. To 'bifurcate' means to split into two... so in other words, the fin stack is split down the middle and the fin edges are closed off so air can only pass through the heatsink from front-to-back. This unique 'ducting' approach essentially creates two independent fin towers connected by six, 6mm diameter U-shaped sintered metal wick copper heatpipes. As the center part of a heatsink typically receives the least amount of airflow, this approach aims to direct a higher volume of air through the section of cooling fin which receives the most heat from the heatpipes.
As an added measure to mitigate the impact of air flow resistance, the six heatpipes are staggered so they intersect the fins at a point farthest away from the fan where the air pressure is lowest, and vice versa where air flow from the fan is at its greatest velocity. The other major addition to the Gemini Rev.2 heatsink is the inclusion of a rather thick copper heatspreader in lieu of an exposed heatpipe base. Finally, the leading edges of the aluminum fins have a distinctive scalloped geometry and the surface of each fin is dimpled as we've seen on several other heatsinks.
Standing 156mm tall, the Spire Gemini SP986B1-V2-2P heatsink weighs in at a hefty 842 grams and ships with two, relatively quiet 120mm fans. Both 120mm fans are PWM compliant and install onto the heatsink with a pair of springy metal wire clips. Has Spire finally abandoned those difficult to install rubber posts for a more secure and long lasting bracket? Frostytech certainly hopes so!
The twin fans are matched in speed, rotating from 1600RPM to 1000RPM. The Gemini SP986B1-V2-2P cooler has a footprint of approximately 125x125mm and installs onto Intel socket 775/1155/1156/1366 and AMD socket 754/939/940/AM2/AM3/FM1 processors. The cooler is rated to a Thermal Design Power (TDP) of 130 watts according to the manufacturer. The Spire Gemini SP986B1-V2-2P heatsink can be found online from the usual Heatsink Stores for around $50 USD/CDN.
Spire Gemini SP986B1-V2-2P Heatsink

---

heatsink specsheet
manufacturer: spire
model no.: gemini sp986b1-v2-2p
materials: dark nickel plated aluminum fins, copper heatpipes, copper base plate
fan mfg: n/a
fan spec: (x2) 1600-1000rpm, 12v, 0.15a
fan dim: (x2) 25x120x120mm
heatsink & fan dim: 156x125x124mm
weight: 842 grams
includes: multi-socket mounting hardware, thermal compound, instructions, manual fan speed controller.

---

Compatible with Sockets:
AMD - 754/939/940/AM2/AM3/AM3+/FM1
Intel - LGA775/1155/1156/1366
Est. Pricing: $50USD ($50CDN)
The Gemini SP986B1-V2-2P heatsink Frostytech received for testing was somewhat of a trial production run unit, hence the fin spacing is slightly less than perfect (see below). The 50-odd aluminum fins are dark nickel plated and swaged over six heatpipes. The dimpling technique which roughens up the upper and lower surfaces of each aluminum fin is intended to disrupt the boundary air layer and cause turbulent airflow which is more efficient at heat transfer.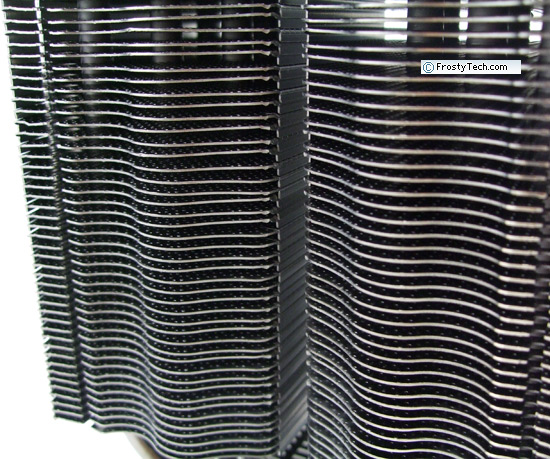 Instead of allowing the forced air to impinge on a wall of straight fins, Spire have given a scalloped the leading and trailing edges of each 0.4mm thick aluminum fin to create a plenum and make it easier for airflow to breach the fin threshold. In most other respects the Gemini SP986B1-V2-2P is a pretty straightforward tower heatsink.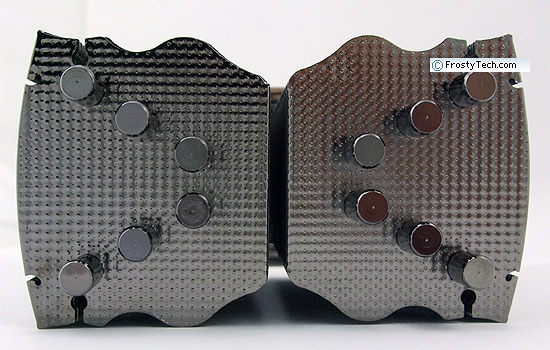 Although there are slots for both wire fan clips and rubber fan posts, the Gemini SP986B1-V2-2P only ships with wire fan clips. This is a change Frostytech is happy to see as previous Spire heatsinks used these little rubber posts that were difficult to install properly. The wire clips lock onto the edges of the fin stack positively while a small bit of neoprene foam applied to the back of the fan frame helps reduce rattling sounds if vibrations develop. Best of all, whereas some rubber posts can weaken or sag after a couple years of heating and cooling cycles, metal never will.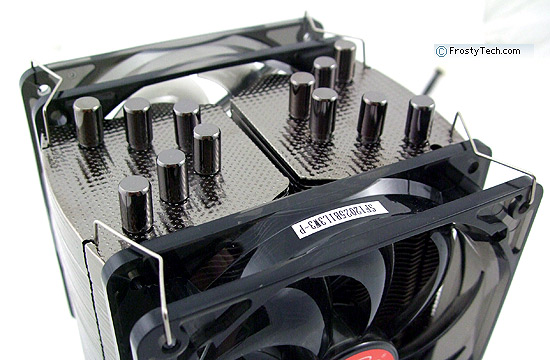 Heatsink Installation Hardware
Spire's Gemini SP986B1-V2-2P heatsink ships with brackets for Intel LGA775/1155/1156/1366 and AMD 754/939/940/AM2/AM3 processors. The heatsink mounts to both Intel and AMD motherboards using a permanently attached metal bracket. For certain AM2 motherboards, additional metal tabs are screwed into place to facilitate easy mounting on AMD motherboards.

A collection of screws and spring-tensioned nuts accommodate the variety of hole patterns for the range of processors the Gemini SP986B1-V2-2P heatsink is compatible with. Access to the rear of the motherboard is necessary to install this heatsink. A manual fan speed controller and a small tube of thermal compound are also supplied.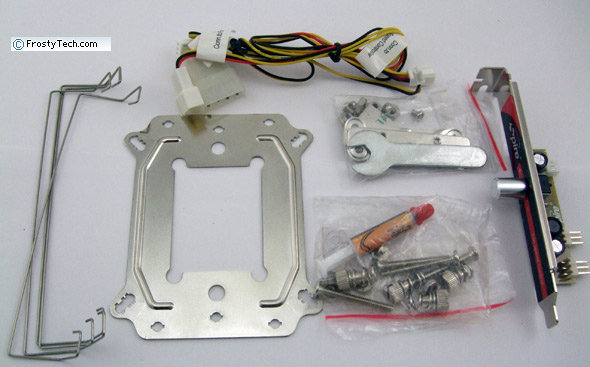 FrostyTech's Test Methodologies are outlined in detail here if you care to know what equipment is used, and the parameters under which the tests are conducted. Now let's move forward and take a closer look at this heatsink, its acoustic characteristics, and of course its performance in the thermal tests!