Sometimes it pays to go back and cover the basic rules of heating and cooling, to once again see the forrest for the trees as it were. Here's what I mean - while you've been reading reviews and browsing online computer stores to find the best heatsink for your computer at a good price, you've been confronted with countless heat sink designs and thermal technologies. Comparing one heatsink to another means weighing the benefits of fin winglets, heatpipe direct touch, copper vs. aluminum, nickel plating, 6mm & 8mm diameter heatpipes, fans of every shape and speed, ball bearings vs. fluid dynamic bearings, aluminum fin surface textures, rubber vibration stops, processor socket compatibility and on and on.
So let's revisit the basics; the ideal CPU heatsink cools the processor to the lowest possible temperature with the least amount of noise. Simple enough, except the performance of that heatsink is directly tied to the temperature of the air inside the PC chassis.
We call this 'ambient case temp.' or 'internal case temp.' The laws of thermodynamics dictate that an air cooled heatsink can at best only equalize with the temperature of the surrounding air mass. Thus, internal case temp. is the defacto theoretical limit of how cool things can go. Simple enough if ambient temp is 20°C.... but what if ambient temp inside your computer is 50°C, or warmer?
Frostytech typically sees values of ambient temp. + 16°C as the practical threshold a top-end heatsink can achieve with unobstructed air intake and exhaust. Good heatsinks tend to cool to between ambient temp. + 25°C, from there it goes up as heatsink efficiency goes down.
In other words, with the best heatsink available if your internal case temp is 58°C, you're potentially looking at a CPU temp of 74°C. A faster fan or cutting edge heatsink might push that temp down a few degrees, a fancy thermal paste might knock another couple degrees off. The smarter approach is to deal with the other half of the equation by lowering the internal case temperature to as close to ambient room temp. as you can get it. In this hypothetical example, a drop in internal case temp. to 38°C would potentially allow CPU temps tol fall to 54°C. Get it? Good. :)
On with Frostytech's review of Thermaltake's Jing heatsink, a dual fan tower style cooler that comes in a bright shade of nuclear green.
Thermaltake Jing Heatsink

---

heatsink specsheet
manufacturer: thermaltake
model no.: jing (clp0574)
materials: bright nickel plated aluminum fins, copper heatpipes, aluminum base cap, copper base plate.
fan mfg: (x2) tte122712ls
fan spec: (x2) 800-1300rpm, 12v, 0.20a
fan airflow: 37-42 cfm each
fan dim: 27x128x128mm
heatsink & fan dim: 161x131x121mm
weight: 920 grams
includes: multi-socket socket mounting hardware, thermal compound, instructions

---

Compatible with Sockets:
AMD - AM2/AM3+
Intel - LGA775/1155/1156/1366
Pricing: $60USD ($60CDN)
The green is supposed evoke nature and 'Jing' supposedly means 'wind' in Mandarin. The heatsinks' twin 128mm fans spin at 800-1300RPM in a push-pull orientation and create a modest amount of noise according to our real world sound measurements.
Weighing a hefty 920 grams, the Thermaltake Jing stands 161mm tall and installs onto Intel socket 775/1155/1156/1366 and AMD socket AM2/AM3+ processors.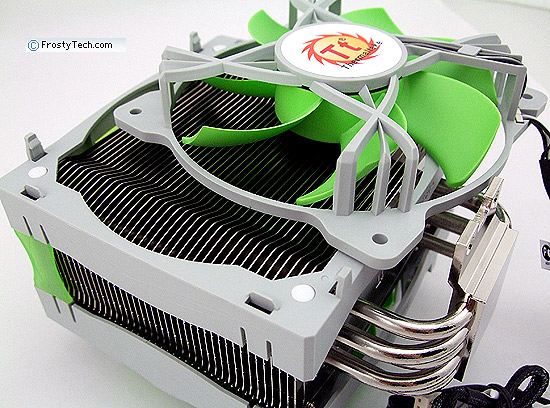 Behind the bright green plastic fan shroud are five 6mm diameter heatpipes which work in unison to conduct heat from a chunky copper base plate to the 110mm tall fin stack.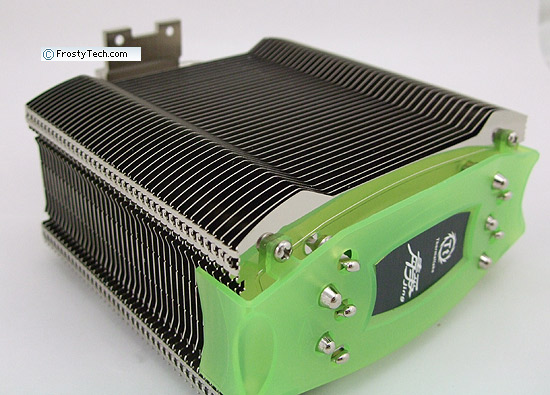 The Thermaltake Jing heatsink retails for about $60 USD via the usual online heatsink retailers.
Heatsink Mounting Hardware
The Thermaltake Jing heatsink ships with a mountain of mounting brackets, screws and nuts. The heatsink installs onto Intel socket LGA775/1155/1156/1366 and AMD socket 939/AM2/AM3+ processors. All Intel sockets will require a machine screw threading in from behind the motherboard with a metal backplate for added support. Access to the back of the motherboard goes without saying.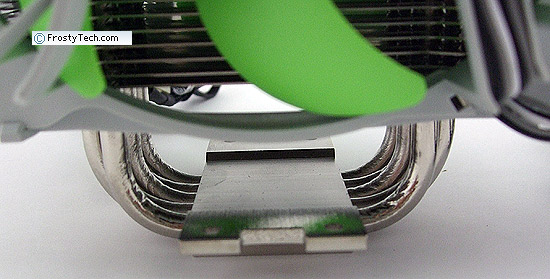 For AMD platforms, including older socket 939/940 and newer socket AM2/AM3+ motherboards, the situation is not very different from the Intel mounting procedure. Older socket 939 users can get away using the existing AMD motherboard support plate however. While the Thermaltake Jing is a bit of a pain to install, just remember this is a 920 gram heatsink!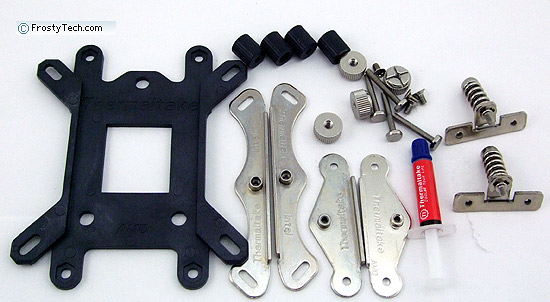 Apart from the mounting brackets, he Jing heatsink is bundled with a set of instructions and a syringe of thermal compound.
FrostyTech's Test Methodologies are outlined in detail here if you care to know what equipment is used, and the parameters under which the tests are conducted. Now let's move forward and take a closer look at this heatsink, its acoustic characteristics, and of course its performance in the thermal tests!