Are case manufacturers making compact chassis too narrow, or are heatsinks just too tall?
It turns out, the real underlying cause all your woes is the popular 120mm fan. Yes, the fan. As you might expect, computer enthusiasts want high performance cooling.... but quietly. With small fans it's hard to achieve these goals and nearly impossible to do so with any measure of quiet. Hence the broad adoption of 120mm fans.
Before being widely used on processor heatsinks, 120mm fans were known as 'case fans' - expelling hot air to keep hardware inside the PC case bathed in a reasonably cool ambient temperature. As the shift towards quiet CPU cooling took hold, 120mm fans began showing up on heatsinks for the same reasons they were originally used as case fans. A 120mm fan operates at a slower impeller speed than say a 92mm or 80mm fan, so there is less noise from air turbulence. A 120mm fan moves a higher volume of airflow and generally when noise is produced, it's at lower pitch. It's not rocket science, but it did take a brief flirtation with 60mm Delta screamers around the time of the Athlon XP to convince everyone on the planet that quiet cooling is where it's at.
The tricky bit comes when we factor in the height of a 120mm fan with the height of motherboard and socket keep away areas specified by the Intel and AMD socket design guidelines - typically 35-37mm above the CPU. Add these two figures together and you have the answer to "why are so many heatsinks 160mm tall?"
The solution for persons afflicted by narrow computer case syndrome is of course to look for top-down coolers (low but boxy) or heatsinks using a 92mm fan. The ideal fix is for case manufacturers like Coolermaster, Antec and Thermaltake to produce more wide-body compact PC chassis.... after all, not everyone wants a full tower case just to fit a performance heatsink.
In this review Frostytech will be putting the Evercool Transformer 3 heatsink through its paces. The Transformer 3 is a tower-style heatsink which stands exactly 160mm tall. The cooler comes with a single 120mm PWM fan that operates at speeds of 2200RPM to 800RPM, though a second fan can added to the rear if desired. Four white vibration absorbing rubber posts are used to reduce vibrations from the fan motor to the heatsink, extra fan posts are supplied. The heatsink stands 160mm tall, is 130mm wide and 78mm deep with the single fan.
Evercool Transformer 3 Heatsink

---

heatsink specsheet
manufacturer: evercool
model no.: transformer 3
materials: aluminum fins, copper heatpipes, aluminum base with exposed heatpipes.
fan mfg: evercool ec12025h12ep
fan spec: 2200-800rpm, 12v, 0.32a
fan dim: 25x120x120mm
heatsink & fan dim: 160x130x78mm
weight: 630 grams
includes: multi-socket mounting hardware, thermal compound, instructions

---

Compatible with Sockets:
AMD - AM2+/AM3+
Intel - 775/1156/1155/1366
Est. Pricing: $28USD ($28CDN)
Weighing in at 630 grams, Evercool's Transformer 3 heatsink is compatible with socket 775/1155/1156/1366 Intel CPUs and socket 754/939/940/AM2/AM3 AMD processors. As with so many other heatsinks, the Evercool Transformer 3 features three exposed 6mm diameter heatpipes at the base.
Heatsink Installation Hardware:
Evercool's Transformer 3 heatsink is compatible with Intel socket 775/1155/1156/1366 and AMD socket AM2/AM3 processors. The heatsink ships with a set of metal brackets for Intel motherboards and a cam-lock clip that works with existing AMD heatsink retention cages.
Mounting the Evercool Transformer 3 heatsink on AMD processors is a snap, for Intel platforms you will need access to the back of the motherboard to install some screws and spacers. This can be a bit fiddly to set up and special attention needs to be paid to the hole positions of the brackets that are attached to the base of the Transformer 3 heatsink. One set is for LGA775 sockets, the other for LGA1156/1155.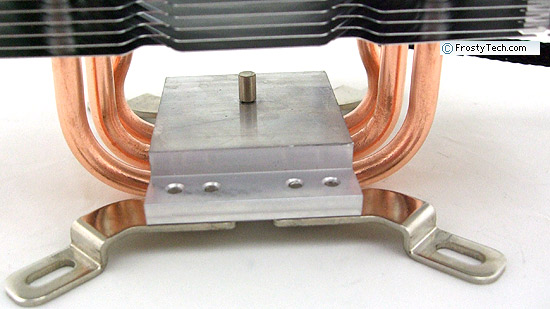 It's nice to see Evercool make use of the existing AMD heatsink retention cage to mount this heatsink. The AMD heatsink retention cage comes with every single motherboard and does a fine job distributing the load.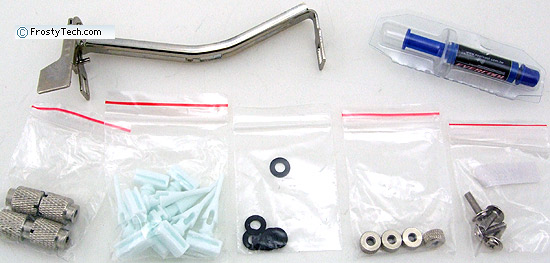 FrostyTech's Test Methodologies are outlined in detail here if you care to know what equipment is used, and the parameters under which the tests are conducted. Now let's move forward and take a closer look at this heatsink, its acoustic characteristics, and of course its performance in the thermal tests!