Forged in the mountains by a one-eye'd master heatsink maker who learned the trade before the dawn of the first X86 integrated circuit, the Xigmatek SD1283 Gaia heatsink is... is... <sigh> ...yet another tower heatsink built around the direct touch heatpipe technique. You'll have to forgive me, Frostytech has tested quite a few heatsinks like the SD1283 Gaia and it gets a little less than exciting when great thermal performance is virtually assured by the 120mm fan/tower fin/HDT combination. Provided the heatsink is well made, some exposed heatpipe tower heatsinks are most definitely not.
Xigmatek is one of a handful of companies that has managed to deliver consistently good quality on the build front. Crucially, it has thus far employed a factory that knows how to properly swage copper heatpipes into an aluminum base. It's a critical component for this type of heatsink and if it's not done correctly, or the swage channel doesn't have a geometrically correct profile, things may gradually loosen or shift due to different coefficients of thermal expansion.
Copper has a linear coefficient of thermal expansion at room temperature of 17.0, pure aluminum 23.6. These values are similar, but in a poorly designed swage channel a little bit of looseness to an already compressed fixture can permit copper heatpipes to settle back into the channels, away from the CPU. If that happens after the first hundred power on / off cycles, the only part of the heatsink making contact with the red hot processor might just be the ridges of the aluminum support block!
But you already know about all this so let's get to the heatsink on Frostytech's test bench - the Xigmatek SD1283 Gaia and it's three exposed 8mm diameter copper heat pipes.
Xigmatek Gaia SD1283 Heatsink

---

heatsink specsheet
manufacturer: xigmatek
model no.: gaia sd1283
materials: aluminum fins, copper heatpipes, aluminum base with exposed heatpipes.
fan mfg: xigmatek ad1212dx-a7bgl
fan spec: 800-1500rpm, 12v, 0.13a
fan dim: 25x120x120mm
heatsink & fan dim: 159x120x77mm
weight: 460 grams
includes: multi-socket mounting hardware, thermal compound, instructions

---

Compatible with Sockets:
AMD - 754/939/940/AM2+/AM3+
Intel - 775/1156/1155/1366
Est. Pricing: $55USD ($55CDN)
Xigmatek's SD1283 Gaia heatsink comes with a one 120mm PWM fan that operates at speeds of 1500RPM to 800RPM. The fan is mounted to the aluminum cooling fin tower with four vibration absorbing rubber posts, a second fan (not included) can be mounted to the rear of the heatsink since additional fan posts are included. The heatsink stands 159mm tall and has a footing of 120x77mm.
Weighing in at a moderate 460 grams, the Xigmatek SD1283 Gaia is compatible with socket 775/1155/1156/1366 Intel CPUs and socket 754/939/940/AM2/AM3 AMD processors. As is the case with most tower-style heatsinks, compact computer users might have a hard time fitting all 159mm's worth of the SD1283 Gaia into a slim computer case.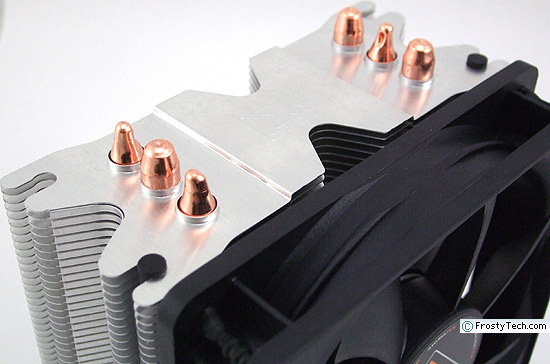 Xigmatek have built the SD1283 Gaia heatsink with widely spaced aluminum fins so that lower velocity air can pass through the heatsink with less resistance. The designers have also enclosed part of the sides of the heatsink to duct air past the heatpipes.
Heatsink Installation Hardware:
Xigmatek's SD1283 Gaia heatsink is compatible with Intel socket 775/1155/1156/1366 and AMD socket AM2/AM3 processors. The heatsink comes with one rear metal support bracket for Intel/AMD motherboards that will require access to the back.
Depending on the computer case you may need to remove the motherboard to install this heatsink. After the upper metal stand offs are installed, subsequent CPU swaps are more straightforward.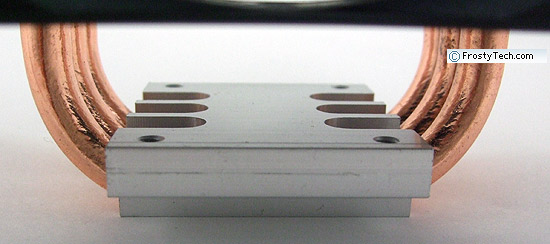 AMD platforms make use of the same basic heatsink brackets, which is a shame since AMD supplies a heatsink retention cage on every single board.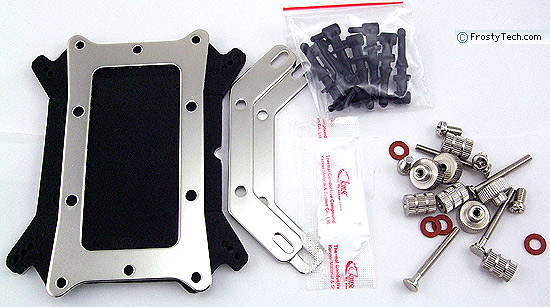 The brackets take a little bit of time to install but will firmly hold the heatsink in place. For a tower heatsink such as the Xigmatek SD1283 Gaia which weighs 460 grams, it's peace of mind I guess.
FrostyTech's Test Methodologies are outlined in detail here if you care to know what equipment is used, and the parameters under which the tests are conducted. Now let's move forward and take a closer look at this heatsink, its acoustic characteristics, and of course its performance in the thermal tests!