If you take a heatsink like the Xigmatek Loki SD963 heatsink in hand and flip it over, what you'll see is an aluminum base with three deep channels cut into it. Set snugly into each of these channels are 6mm diameter copper heat pipes. Heatpipes conduct heat energy quickly and efficiently, taking the heat from an Intel or AMD processor and transferring it directly to aluminum fins over which a steady stream of air flows. The beauty of this simple thermal circuit is that it consists of basically two joints - CPU-to-heatpipe and heatpipe-to-aluminum. Where heat conduction is concerned, joints introduce an unwanted variable called 'thermal joint resistance', so the fewer the better.
In practice, thermal interface compound also counts as a source of thermal resistance, which is why you only apply a very thin coating of the stuff on your CPU/heatsink. Many misinformed YouTube video's show heaps of Arctic Silver TC being painted on CPUs and Xbox GPUs, on the premise "if some is good, more must be better." This is wrong; one need only look up the thermal conductivity of thermal compound and compare that value to the thermal conductivity of aluminum or copper to understand why.
Xigmatek has staked its entire business on the 'Heatpipe Direct Touch' approach to heatsink manufacturing and so far it's winning hand over fist. As someone who has tested five or six hundred different CPU heatsinks in the last 10 years, it's nice to see efficient thermal solutions flourish. But a word of caution, we've certainly tested our share of exposed base heatpipes that were manufactured with little care and performed badly as a result. There's a lesson in there about avoiding computer store house-branded heatsinks...
Xigmatek Loki SD963 Heatsink

---

heatsink specsheet
manufacturer: xigmatek
model no.: sd963
materials: aluminum fins, copper heatpipes, aluminum base with exposed heatpipes.
fan mfg: xigmatek ad0912hx-a7bgl
fan spec: 2800-1200rpm, 12v, 0.3a
fan dim: 25x92x92mm
heatsink dim: 134x94x76mm
weight: 430 grams
includes: multi-socket mounting bracket, thermal compound, instructions

---

Compatible with Sockets:
AMD - AM2+/AM3+
Intel - 775/1156/1155/1366
Est. Pricing: $48USD ($52CDN / £24GBP)
On the test bench today is Xigmatek's mid-compact Loki SD963 heatsink. The Xigmatek Loki SD963 stands 134mm tall, weighs 430 grams, comes equipped with a 92mm fan mounted on rubber vibration absorbing fan posts and will support a second 92mm fan if desired (not included). The 92mm PWM fan scales in speed from a moderately audible 2800RPM to 1200RPM. The heatsink is compatible with Intel socket 775/1155/1156/1366 and AMD socket AM2/AM2+/AM3/AM3+ processors. Over the next few pages Frostytech will tell you if the Loki SD963 is worth its weight in aluminum, or junk for the recycling bin. Let's begin.
Xigmatek have built the Loki SD963 heatsink for compact computer systems which cannot accommodate +155mm tall CPU coolers, but whose users still want good performance and modest noise output. Standing just 134mm tall, the Loki has a footprint of 94x76mm which is pretty compact in this day and age.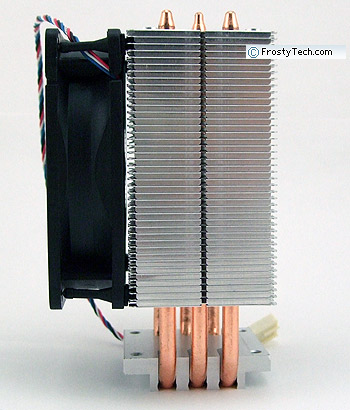 With an eye towards noise reduction the 92mm PWM fan is held in place on the aluminum fins of the heatsink with four vibration absorbing rubber mounting posts. These fit through the standard screw holes in a vaneaxial fan frame and keep the fan elevated 2.0mm away from the metal.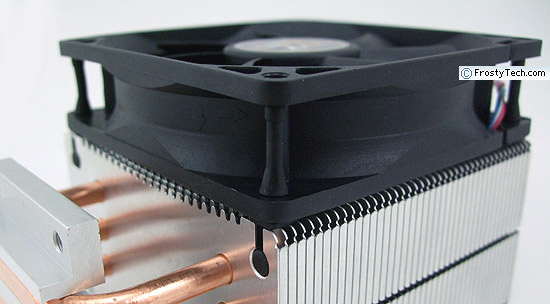 The nice thing about rubber fan posts is that when a fan motor happens to develop vibrations down the road (usually as a result of dust buildup in the impeller) the rubber 'shock absorbers' can reduce it slightly. The bad thing about rubber fan posts is installing the fan over them in the confines of a case, or worse yet snapping a rubber post in half!
Heatsink Installation
Xigmatek's Loki SD963 heatsink is compatible with Intel socket 775/1155/1156/1366 and AMD socket AM2/AM3 processors. The heatsink comes with one rear metal support bracket for Intel/AMD motherboards that will require access to the back. Depending on the computer case you may need to remove the motherboard to install this heatsink. After the upper metal stand offs are installed, subsequent CPU swaps are more straightforward.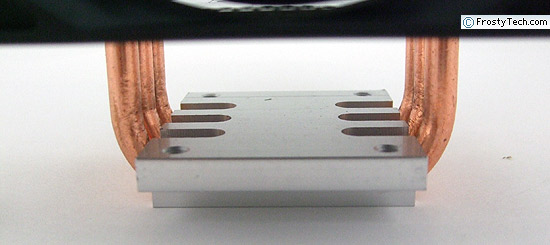 AMD platforms make use of the same basic heatsink brackets, which is a shame since AMD supplies a heatsink retention cage on every single board.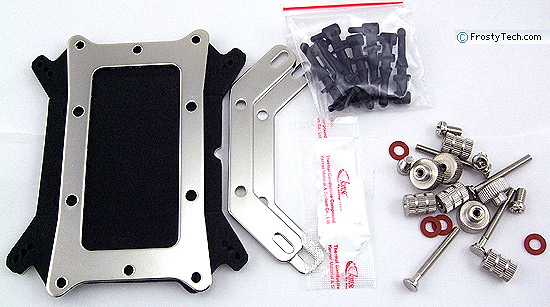 The brackets take a little bit of time to install but will firmly hold the heatsink in place. For a mid-compact heatsink such as the Xigmatek Loki which weighs 430 grams, standard Intel-push-to-click retention brackets would have been a welcome addition.
FrostyTech's Test Methodologies are outlined in detail here if you care to know what equipment is used, and the parameters under which the tests are conducted. Now let's move forward and take a closer look at this heatsink, its acoustic characteristics and performance in the thermal tests!