Though identical in appearance the Evercool Transformer 4 HPJ-12025 (2010 ed.) heatsink is actually a revised and updated version of the Transformer 4 HPJ-12025 cooler Frostytech tested in 2009.
Chief among the differences is an up to date mounting bracket that accommodates the full range of Intel processors (socket 775/1155/1156/1366) in addition to the full gamut of AMD chips (socket 754/939/940/AM2/AM3). The 2nd revision HPJ-12025 heatsink Frostytech is testing today has been fitted with faster fans that operate at 2200-1000RPM and are now PWM compliant - the fans on the previous heatsink ran at a fixed 1000RPM. Keep in mind that Intel Core i5 processor compatibility and fan speeds are the only way to tell the two heatsink revisions apart, Evercool has not updated the model number.
The overall depth of the Transformer 4 HPJ-12025 (2010 ed.) is 136mm, compared to 121mm for the former unit - the difference mainly being due to the fan clips, but altering plenum spacing nonetheless. Where the heatsink tower is concerned the Transformer 4 HPJ-12025 (2010 ed.) has several additional rows of aluminum fins. The fin stack on the Transformer 4 HPJ-12025 (2010 ed.) heatsink is 112mm high while the older model is 98mm high.
As you'll shortly see, these subtle revisions have made the dual-fan, Evercool Transformer 4 HPJ-12025 (2010 ed.) heatsink into a very effective, if somewhat audible, tower heatsink.
In most other respects the Evercool Transformer 4 HPJ-12025 (2010 ed.) is a pretty straightforward heatsink. It's built around four 8mm diameter copper heatpipes that are exposed at the base, weighs upwards of 844 grams and retails for approximately $40.
Evercool HPJ-12025 Transformer 4 (2010 Ed.) Heatsink

---

heatsink specsheet
manufacturer: evercool
model no.: hpj-12025 transformer 4 (2010 ed.)
materials: aluminum fins, copper heatpipes and aluminum base with exposed heatpipes.
fan mfg: evercool ec12025h12ep
fan spec: (x2) 2200-800rpm, 12v, 0.32a
fan airflow: n/a
fan dim: 25x120x120mm
heatsink & fan dim: 160x122x136mm
weight: 844 grams
includes: multi-socket socket mounting hardware, fan power splitter, thermal compound.

---

Compatible with Sockets:
AMD - 754/939/940/AM2/AM3
Intel - LGA775/1155/1156/1366
Pricing: $44USD ($44CDN)
Exposed heatpipes are a pretty common feature on modern heatsinks, in part because the technique is simple and in part because it cuts material costs. We like it because it can reduce thermal resistance by doing away with intermediary heatspreaders and bad, but unseen soldering jobs.
The challenge with exposed heatpipe heatsinks is to properly swage the heatpipes into the base cap of the heatsink, then keep them level with one another over many heating/cooling cycles. Sometimes they stay level, sometimes they don't... Provided these two crucial requirements are met and the heatpipe's internal wick structure isn't damaged during the manufacturing process, exposed heatpipes can be an excellent tool for improving heatsink efficiency.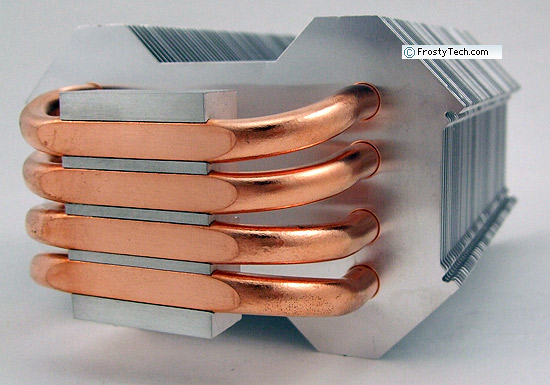 The Evercool Transformer 4 HPJ-12025 (2010 ed.) heatsink features four 8mm diameter copper heatpipes which are exposed at the base. A small 2mm strip of aluminum separates the heatpipes from one another.
Heatsink Installation Hardware
Evercool's Transformer 4 HPJ-12025 (2010 ed.) heatsink ships with mounting brackets for Intel LGA775/1155/1156/1366 and AMD 754/939/940/AM2/AM3 processors. A pair of rear motherboard support plates are supplied to mount the 844 gram heatsink, along with a combination of brass stand-offs and thumbscrews. You will need access to the rear of the motherboard to install this heatsink.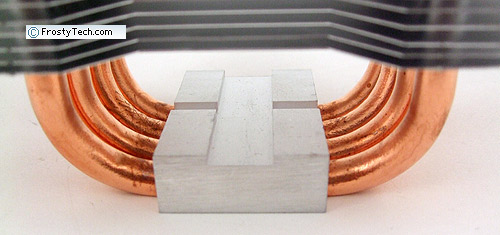 The heatsink is held in place with a universal bracket that slips in between the heatpipes and engages with a keyed recess in the heatsinks' aluminum base cap.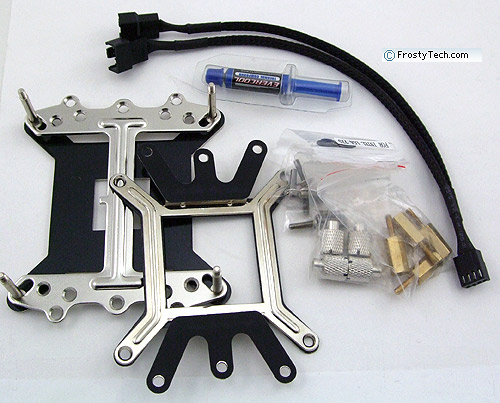 The two 120mm fans are held in place on the heatsink body with wire clips that are screwed onto the fan frame. These are easily removable if you wish to swap out fans in the future. A 4-pin Y-splitter fan power cable is supplied so both PWM fans can be run off one single PWM motherboard fan header. A small syringe of thermal compound is also provided.
FrostyTech's Test Methodologies are outlined in detail here if you care to know what equipment is used, and the parameters under which the tests are conducted. Now let's move forward and take a closer look at this heatsink, its acoustic characteristics, and of course its performance in the thermal tests!