Zalman's CNPS5X-SZ heatsink is an updated, vertical interpretation of a 2006-era heatsink Zalman released under the CNPS8000 nomenclature. Like its forefather, the CNPS5X-SZ fills the role of a lower profile, light weight cooler that's ideally suited to sub-95W TDP processors. It's stacked aluminum fins are connected by three 6mm diameter copper heatpipes to a small aluminum base block with a thin bit of copper covering the otherwise exposed heatpipes. A single 90mm PWM fan spins at 2800-1400RPM to cool this modified tower heatsink.
Weighing 320 grams and standing 135mm tall the Zalman CNPS5X-SZ installs onto Intel socket 775/1155/1156 and AMD socket 754/939/AM2/AM3 processors. Intel Core i7 socket 1366 processors are not supported. With this heatsink, Zalman are using a mainland China manufacturing center to keep costs down and allow the CNPS5X-SZ cooler to be sold in the competitive US market for about $30USD.
There's really not a whole lot to go over with the Zalman CNPS5X-SZ heatsink - it's a straightforward thermal solution for mainstream processors of modest thermal output. The bottom of this heatsink is somewhat interesting I suppose; instead of a hefty copper heatspreader or three exposed heatpipes Zalman have soldered on a ~0.4mm thick copper sheet. Given the thinness of the copper we would interpret this plate to fulfill more of a stabilizing role than one of heat spreading.
Zalman CNPS5X-SZ Heatsink

---

heatsink specsheet
manufacturer: zalman
model no.: cnps5x-sz
materials: aluminum fins, copper heatpipes, aluminum base, copper base plate
fan mfg: zalman af09025b12m-zm7
fan spec: 2800-1400rpm, 12v, 0.3a
fan airflow: n/a
fan dim: 25x90x90mm
heatsink & fan dim: 135x127x64mm
weight: 320 grams
includes: multi-socket socket mounting hardware, thermal compound.

---

Compatible with Sockets:
AMD - 754/939/940/AM2/AM3
Intel - LGA775/1155/1156
Pricing: $33USD ($33CDN)
Here's what we mean by stabilizing. During our conversations with thermal solutions' manufacturers in at Computex Taipei, Frostytech held several discussions on the topic of exposed heatpipes - the good, the bad, the manufacturing tricks beyond the scope of this review, that kind of stuff.
It turns out that one of the challenges with exposed heatpipes is a tendancy for the heatpipes to shift after a number of heating and cooling cycles, particularly with certain recess geometries (the shape of the trough in the aluminum base plate into which the copper heatpipes are recessed). Some makers are inexperienced with exposed heatpipes and see issues after just a few heating/cooling cycles, this is a prime example.
In any case, if you take a close look at the shape of the heatpipe recess you will see some troughs have an "O" profile, some a "D" profile, some are round oval, some are square oval. A combination of factors comes into play in choosing the appropriate recess shape, but generally speaking the aim is to maximize contact surface area to the CPU and minimize physical distortion to the heatpipe that might cause the wick to separate from the inner wall and impact heatpipe efficiency.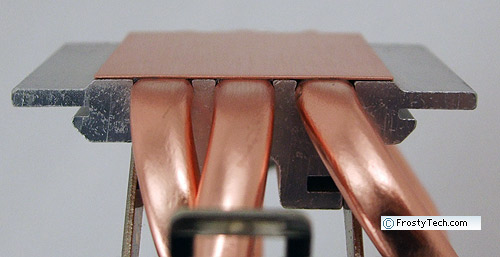 Soldering a thin copper plate to heatpipes should ensure they remain on a level plain and will continue to make good contact with the top of the CPU integrated heatspreader after many thermal cycles.
Heatsink Installation
Zalman's mounting system consists of two metal clips which are fixed to the base of the heatsink. These clips accommodate the AMD heatsink retention cage out of the box. To install, the screws are loosened so the attachment clips can engage with the AMD bracket, then the user need only tighten both screws to apply mounting pressure. With this type of mounting bracket it is very important to apply even pressure or the heatsink may end up unevenly mounted on the processor - usually with only half the base plate in contact. Tighten each of the screws evenly!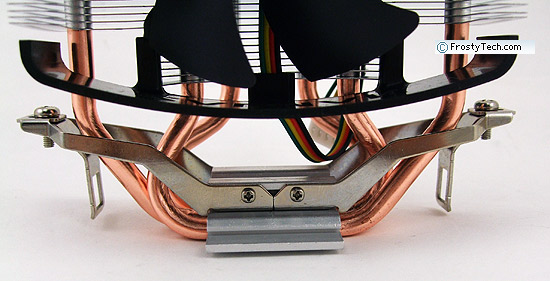 Intel socket 775/1155/1156 processors require a special plastic frame be installed on the motherboard first, then the Zalman CNPS5X-SZ heatsink can be installed as one would with an AMD platform. The plastic frame accommodates both Intel socket 1155/1156 and socket 775 motherboards by means of a clever little plastic cam that rotates the push-to-lock feet into the correct spacing for either Core 2 Duo or Core i5/i3 motherboards. Best of all, with this bracket system there is no need to remove the motherboard from the computer just to install a heatsink.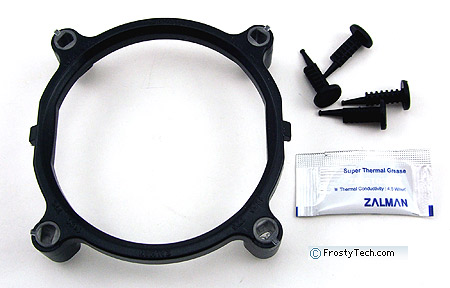 A small packet of gray thermal compound is also supplied.
FrostyTech's Test Methodologies are outlined in detail here if you care to know what equipment is used, and the parameters under which the tests are conducted. Now let's move forward and take a closer look at this heatsink, its acoustic characteristics, and of course its performance in the thermal tests!