EKL AG is German thermal solutions company that mostly specializes in manufacturing OEM heatsinks for the European market. The company has been making in-roads into the enthusiast market with a collection of consumer CPU coolers released under its Alpenfohn sub-brand whose logo includes a sprig of Edelweiss.
The latest example of its efforts is the Alpenfohn Groß Clock'ner 2010 heatsink. This is a very slightly updated version of the original EKL Alpenfohn Groß Clock'ner; aside from a slightly different fan the only significant change is the mounting bracket which now accommodates all current Intel and AMD processor platforms.
The Alpenfohn Groß Clock'ner 2010 heatsink on the test bench today is a heatpipe direct contact cooler - meaning the heatpipes are exposed at the base. The heatsink stands 155mm tall, is 125mm across, 105mm deep and weighs upwards of 718grams. Simple wire clips are used to hold a single 120mm fan in position, the non-PWM fan rotates at a fixed 1200 RPM. The heatsink is compatible with Intel socket 775/115/1156/1366 processors and AMD socket AM2/AM3 CPUs.
EKL's Alpenfohn Groß Clock'ner 2010 should fit most full and mid-tower PC chassis, but may be too tall for some microATX systems. Keep that in mind as you scan through Frostytech's review. The Alpenfohn Groß Clock'ner 2010 should retail for around $40CDN ($40USD) through the usual computer stores.
EKL Alpenfohn Groß Clock'ner 2010 Heatsink

---

heatsink specsheet
manufacturer: ekl alpenfohn
model no.: groß clock'ner 2010
Materials: aluminum fins & base, copper heatpipes
Fan Mfg: YS Tech KM121225LS
Fan Spec: 1200RPM, 12V, 0.18A
Fan Dim: 25x120x120mm
Heatsink & Fan Dim: 155x125x105mm
Weight: 718 grams
Includes: Mounting bracket, thermal compound, fan speed controller, instructions

---

Compatible with Sockets:
AMD - AM2/AM3
Intel - LGA775/1155/1156/1366
Est. Pricing: $40USD ($40CDN)
The technique of using large diameter copper heatpipes in direct contact with the top of the processor is done to minimize thermal joint resistance. Heat energy is conducted directly to the heatpipes, instead of through a secondary heatspreader base and questionable solder joints. The method works extremely well with heatspreader capped processors that generally have larger silicon dies.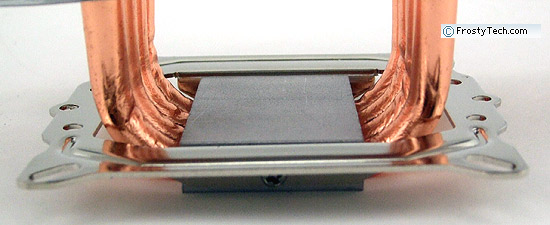 Installation Hardware
EKL's Alpenfohn Groß Clock'ner 2010 heatsink is compatible with Intel socket 775/1155/1156/1366 and AMD socket AM2/AM3 processors. The heatsink has one common metal clip attached to the base which accommodates all the different CPU mounting hole patterns. A second rear motherboard support plate will need to be installed, likely requiring the board be pulled from the case.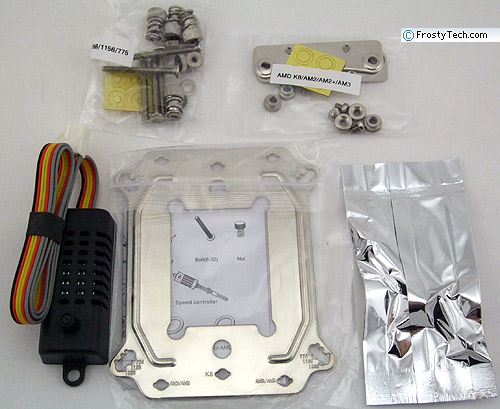 From that point, machine screws and little stand-offs are installed prior to the heatsink being mounted and held firm with spring tensioned thumb screws from the top. AMD processors will require a small flange being added to the side of the heatsink bracket. A small syringe of thermal compound is supplied, along with a manual fan speed controller.
FrostyTech's Test Methodologies are outlined in detail here if you care to know what equipment is used, and the parameters under which the tests are conducted. Now let's move forward and take a closer look at this heatsink, its acoustic characteristics, and of course its performance in the thermal tests!