The Zalman ZM-MFC1 combo fan controller offers some flexibility towards semi-automatic fan management in a sleek black aluminum 5.25" bay. It accommodates one PWM fan and four 3-pin fans, enabling users to independently control the speed of each five channels with a dial rheostat. Carefully placed three-colour LEDs indicate the fan speed (low/med/high) at a glance. If there is nothing connected to the channel or the fan happens to stall, the light goes off.
PWM fans are adjustable from 25% to 100% of rated duty speed, 3-pin fans are adjustable from 5-11V DC. The maximum fan power output per channel is 0.6 Amps, or 7 Watts.
Zalman has made the ZM-MFC1 so you can manually control each of the five fans with the turn of a dial. Since the CPU fan generally needs to supply an RPM signal to the motherboard or your computer may let out an alarm, special jumper cables are provided to let the computer know what the RPM signal is. Users can control the CPU fan speed as they like and deliver the RPM signal to the motherboard to keep the computer happy in one fell swoop. In the case of the PWM controller channel, it's also possible to set fan speed to a semi-automated low/med/high setting with the push of a button.
The Zalman ZM-MFC1 Combo 5-channel fan controller retails for about $40USD /$43 CDN through the usual heat sink computer retailers.
Zalman ZM-MFC1 Combo Fan Controller

---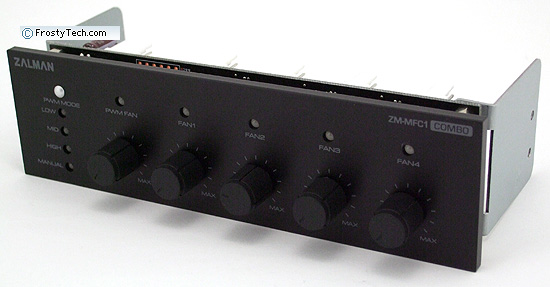 The 5-channel fan controller installs into a standard 5.25" case bay and is supplied with mounting screws and ~40cm long cables. Fan extension cables included with the unit include; two 3-pin jumper cables, one 3-pin cable Y splitter to power two fans, one 3-pin jumper cable with PWM RPM signal for the motherboard, one 4-pin PWM fan cable with jumper for delivering the RPM signal to the motherboard.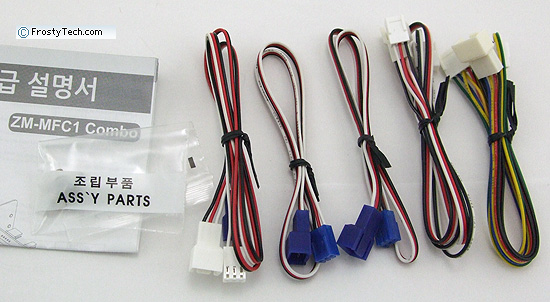 Power is supplied to the Zalman ZM-MFC1 combo fan controller by a single Molex power connector from the computer power supply.

The five fan speed control dials are hard plastic and the face of the fan controller is a 4mm thick slab of brushed aluminum that's anodized black. It looks very nice, very sophisticated in a classy black aluminum chassis.
The control dials are easy to turn but the gray intensity scale silk-screened onto the aluminum bezel is low contrast and hard to read. This works to our advantage in maintaining a clean case appearance, but under dull lighting it's basically invisible. Practically speaking, since there is no direct RPM reading associated with the scale it doesn't technically have much impact.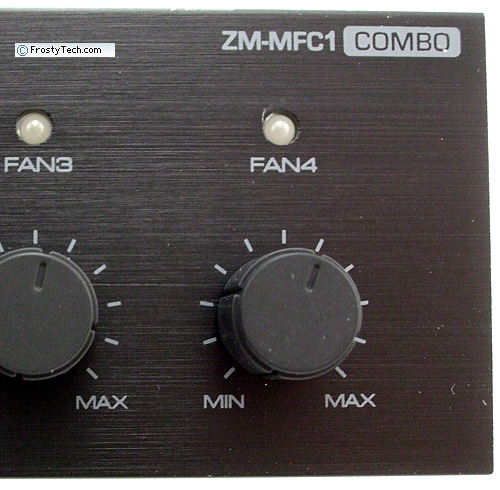 The indicator point on the dial is a little more key, but just as hard to read. It is recessed slightly, making us wish Zalman had put a blob of white paint on it so one could see if the dial was all the way to the left, or right.
In place of clear contrasted labeling Zalman rely on a single multicoloured LED above each fan speed channel to indicate the general fan speed, or in the case of the PWM fan, predefined speed setting. Where the four 3-pin fan speed controller channels are considered, blue LED light means low speed, purple means medium speed and red means high speed. The older style 3-pin fans are speed adjusted by altering the 12V DC voltage.
In other words, low speed blue represents a voltage of between 5-7V, medium fan speed purple a voltage of between 7-9V and high fan speed red 9-11V. The maximum fan power draw per channel is 0.6A, or 7 Watts. If you hook up a fan that draws more power than this it could damage the Zalman ZM-MFC1 Combo fan controller circuitry.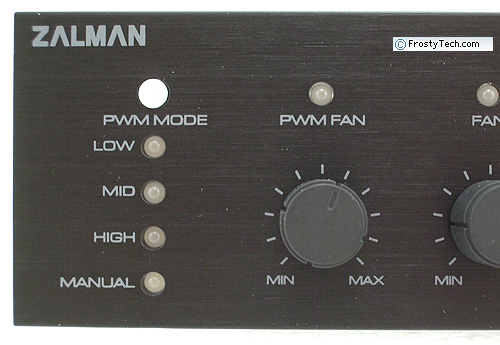 The single PWM fan speed channel works in the same manner as the 3-pin fan channels but has one other mode controlled by a button and four LEDs to its left. The 'PWM mode' button quickly keys through three fan duty speeds - 50%, 75% and 100% of the rated fan speed. The colours match those of the four 3-pin fan controllers so this also serves as a quick reference point if you forget what blue represents. The last mode is 'manual', which sets the PWM fan speed channel to direct control so you can turn the dial to set a fan duty speed of between 25% and 100% the rated PWM fan speed.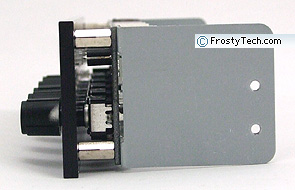 Generally speaking Zalman have configured the PWM fan speed colours to represent the following fan speeds: blue 200-1000RPM, purple 1000-1500RPM, red +1500RPM.
That's about all there is to the Zalman ZM-MFC1 Combo fan controller, it's a very simple device.
Comments and Conclusions.
We're not going to rehash all the settings and controls of the 5-fan Zalman ZM-MFC1 Combo fan controller, instead let's consider where it succeeds and where it comes up a bit short.
The anodized aluminum front bezel of the controller looks very nice and is made with a simplified quality that is very rare in computer accessories nowadays. Sure the labels are difficult to read, but I prefer that to the alternative, bright white letters that ugly up the rest of the case.
The use of three-colour LED lights is a nice visual cue to determining fan speed if you can't hear the rattle coming from within your case. I do wish Zalman had opted for more opaque LEDs so the small tip protruding from the aluminum bezel would be brighter when viewed from acute angles though.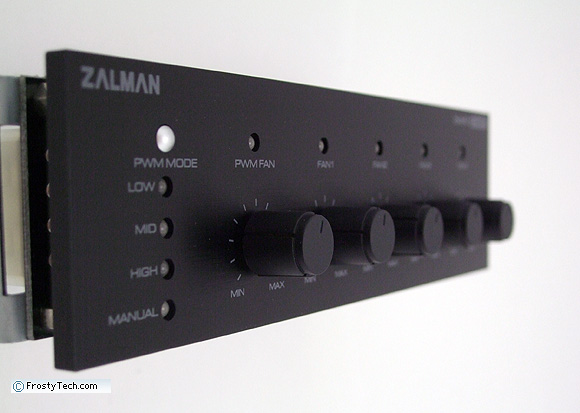 To that end, knurled rubber covers for the dials would be nice, or at the very least a little dab of paint so it's easier to tell where the dial is pointing in low light conditions. Mostly though, Zalman's ZM-MFC1 Combo could really do with one additional PWM fan speed channel; making it practical to use with dual fan heatsinks like the Thermalright Silver Arrow or Noctua NH-C14 or NH-D14.
The bottom line is that the Zalman ZM-MFC1 Combo is well laid out can contains a useful set fan speed controls which are easy to operate. It looks simple and sophisticated and should fare well with case modders looking for some added control over their CPU and case fans. Recommended.
Related Articles:
The Top 5 best heatsinks for low noise and low temperature are ranked here. For more reviews on the latest heatsinks and cooling solutions, rely on FrostyTech's inventory of 400+ heatsink reviews. Here are a few other articles that you might enjoy as well.
- Deepcool Ice Matrix 400 Heatsink Review
- Thermalright Silver Arrow Heatsink Review
- Zalman CNPS9900 Max Heatsink Review
- Dynatron Evo-11 Heatsink Review
- Noctua NH-C14 Lower Noise Heatsink Review
- Titan Hati TTC-NC15TZ Heatsink Review
- Glacialtech Alaska Heatsink Review