Cooljag's Falcon IV (JYC 8A03A) heatsink offers average performance at best. At worst, the Cooljag Falcon IV (JYC 8A03A) is an unsatisfactory heatsink when it's small 92mm fan is spinning at the slowest and quietest speed (900RPM). As you might expect, we'll tell you up front that the Cooljag Falcon IV is simply not worth getting. For those that want to find out why the Falcon IV (JYC 8A03A) falls to the floor like a dead bird; airflow, airflow, airflow!
The Falcon IV is equipped with an open-frame 92mm fan that's internally illuminated with a couple green LEDs. The heatsink is constructed around four 6mm diameter copper heatpipes that conduct heat from a copper base plate up through to the array of generously sized stacked aluminum fins. Evidently, Cooljag has little faith in these four heatpipes as it added a small skived aluminum heatsink on top of the base plate for additional cooling.
Cooljag's Falcon IV (JYC 8A03A) heatsink weighs in at a modest 450grams, stands 119mm tall and installs onto AMD socket 939/AM2/AM3 and Intel socket 775/1366 processors. The 92mm PWM fan runs at a top speed of 2500RPM which is moderately audible, or can drop down to a very quiet 900RPM which is entirely insufficient as far as airflow is concerned. The Falcon IV (JYC 8A03A) heatsink is available through most these online retailers for around $35 USD.
CoolJag Falcon IV JCY-8A03A Heatsink

---

heatsink specsheet
manufacturer: cooljag
model no.: falcon iv (jcy-8a03a)
materials: aluminum fins, copper heatpipes, skived aluminum base cap and copper base plate
fan mfg: everflow
fan spec: 2500-900rpm, 12v, 0.14a
fan airflow: n/a
fan dim: 25x92x92mm
heatsink & fan dim: 119x105x140mm
weight: 450 grams
includes: multi-socket socket mounting hardware, thermal compound, instructions

---

Compatible with Sockets:
AMD - AM2/AM3
Intel - LGA775/1366
Pricing: $35USD ($35CDN)
The Falcon IV (JYC 8A03A) makes use of four 6mm diameter copper heatpipes to conduct heat from the copper base plate to copper cooling fins above. On top of the heatsink base is a small skived aluminum heatsink, which is rather odd since the large aluminum fins (the primary air heat exchanger) should be doing much of the work. Since exhaust airflow is directed down towards this area anyway, Cooljag use this spare airflow to further reduce temperatures.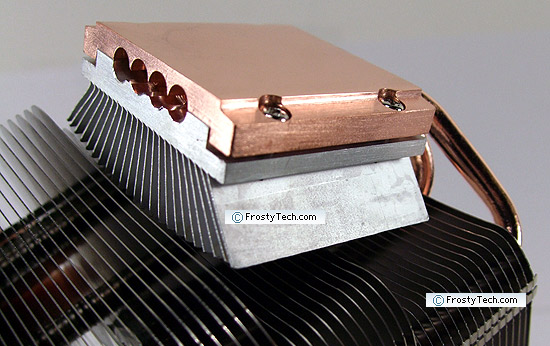 The entire fin stack of the Falcon IV (JYC 8A03A) heatsink is angled 30 degrees. This puts the bulk of the heatsink within about 25mm of the top of the CPU. Really though, the 92mm fan should be operated at full speed 100% of the time with this heatsink. At the lowest speed setting it is just not sufficiently powerful to move a satisfactory amount of air through the deep aluminum fins used on the Falcon IV.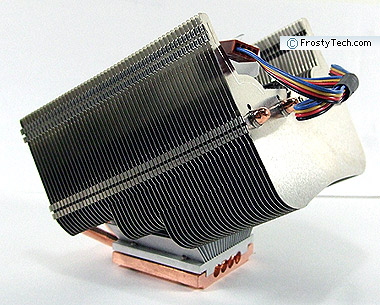 Brackets for Intel and AMD Processors
The Cooljag Falcon IV (JYC 8A03A) heatsink ships with two sets of mounting brackets; one for AMD socket 939/AM2/AM3 processors and one for Intel socket 775/1366 CPUs. The two different metal brackets attach to the heatsink itself. For Intel users a rear-motherboard support bracket will need to be installed as well.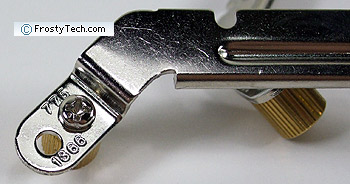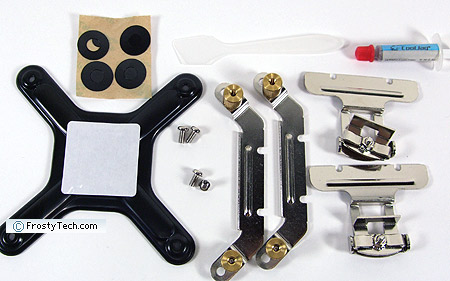 AMD users will be able to install the Cooljag Falcon IV (JYC 8A03A) heatsink without removing the motherboard from the case. One nice part included with the heatsink is a plastic spatula for spreading an even coat of silicon thermal compound.
FrostyTech's Test Methodologies are outlined in detail here if you care to know what equipment is used, and the parameters under which the tests are conducted. Now let's move forward and take a closer look at this heatsink, its acoustic characteristics, and of course its performance in the thermal tests!