Deepcool's Ice Matrix 400 heatsink is a relatively thin profile tower cooler that stands 160mm tall, but is only 71mm deep. It weighs upwards of 1030grams and is built with no fewer than four, 6mm diameter copper heatpipes.
As with DeepCool's previously tested heatsinks, the Ice Matrix 400 ships with a novel kind of fan that skips the whole rubber-fan-post fad for a resilient layer of rubber in the fan frame itself. Every bit of the fan frame that makes contact with the metal fins of the heatsink is covered in a thin layer of this elastomer.
Up to two fans can be installed on the Ice Matrix 400 heatsink, though only a single 120mm PWM fan is included (operating at 1500-700RPM). Extra wire fan clips are supplied so you can mount an additional 120mm fan to the back of it if you wish.
The Deepcool Ice Matrix 400 is compatible with all of today's current processors: Intel socket 775/1155/1156/1366 and AMD socket AM2/AM3. It should retail for around $40USD via the usual online computer stores. DeepCool are Beijing-based, but will be exhibiting at CES 2011 the first week of January (LVCC South Hall 2, Ground Level #26430).
Deepcool Ice Matrix 400 Heatsink

---

heatsink specsheet
manufacturer: deepcool
model no.: icematrix 400
materials: nickel plated aluminum fins, copper heatpipes, aluminum base cap and copper base plate
fan mfg: deepcool n/a
fan spec: 1500-700rpm, 12v, 0.13a
fan airflow: 66cfm
fan dim: 25x120x120mm
heatsink & fan dim: 160x130x71mm
weight: 1030 grams
includes: multi-socket socket mounting hardware, thermal compound, fan power adaptors, instructions

---

Compatible with Sockets:
AMD - AM2/AM3
Intel - LGA775/1155/1156/1366
Pricing: $38USD ($38CDN)
In the cut-away image (below) of a 120mm Deepcool UF120 PWM fan, the blue portions of the fan impeller and frame are made from rigid plastic. The light gray area is the rubber which has been over moulded to encapsulate the rest of the fan frame and essentially create a vibration dampening surface no matter where, or to what, the fan is mounted. Deepcool make a range of fans from 80mm - 120mm like this.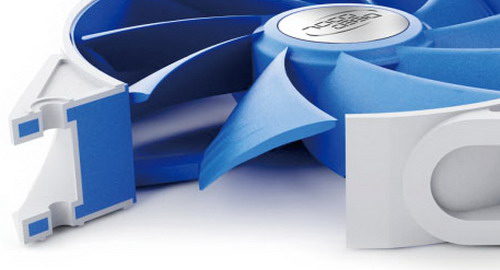 Behind the 120mm UF120 PWM fan and its rubber over-moulded frame are the squared off fins of the Ice Matrix 400 heatsink. The rubber over moulded fan may come off as a novelty at first, but not having to deal with those thin and fragile rubber fan posts is a real win-win.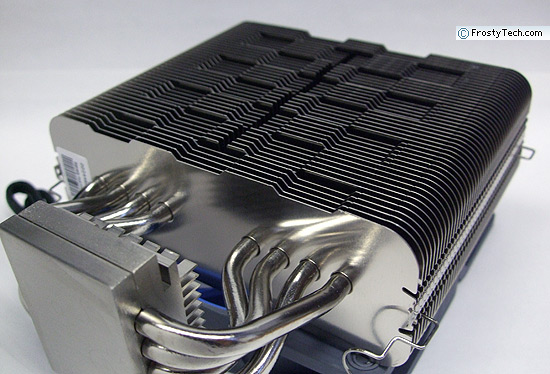 The four 6mm diameter heatpipes are soldered to the bottom copper base plate and then twist about so that all eight ends pass through the 103mm tall aluminum fin stack in a wide row. Also note the easy to use wire fan clips and the little hand holds built into them. More than one heatsink Frostytech has tested has used wire fan clips which offer no easy way of disengaging them from the slot in the side of the fin stack.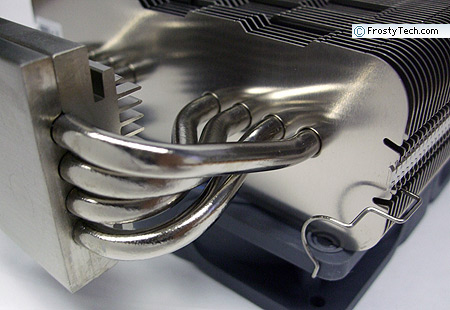 Heatsink Mounting Hardware
The Deepcool Ice Matrix 400 heatsink ships with two sets of metal brackets that screw onto the base of the heatsink to accommodate the full gamut of Intel and AMD processor sockets.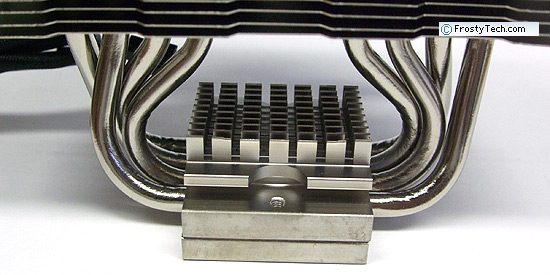 A rear motherboard support plate is first placed behind the motherboard, so unfortunately that means users may need to pull their board from the PC case. For both Intel and AMD mounting systems, small threaded nipples are attached to the studs on the rear support brackets first. After that it's just a matter of attaching the appropriate Intel or AMD mounting bracket to the base of the Ice Matrix 400 heatsink, applying thermal compound evenly to the processors' integrated heatspreader and heatsink mounting base, then installing the CPU cooler with the spring tensioned thumb screws.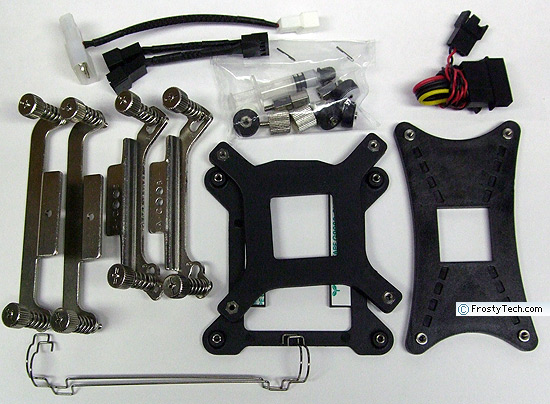 The mounting brackets all opt for a slightly larger metric screw than is typically used with threaded Intel brackets or even AMD's 6-32 thread screws. The nice bit about these brackets is that the Intel clips support all three socket formfactors, just by sliding the screw across a pre-defined slot.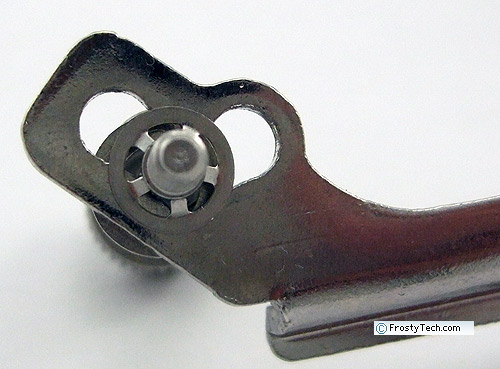 The adjustable Intel bracket rolls LGA1366, 1156 and 775 mounts into one.
Spring tensioned, shouldered screws ensure that the DeepCool heatsink will be installed with the correct amount of force, not over tightened or unevenly mounted. Apart from mounting brackets, DeepCool supply four 120mm wire fan clips, a syringe of thermal grease and three different fan power adaptors.
FrostyTech's Test Methodologies are outlined in detail here if you care to know what equipment is used, and the parameters under which the tests are conducted. Now let's move forward and take a closer look at this heatsink, its acoustic characteristics, and of course its performance in the thermal tests!