Sunbeamtech's Twister 120 heatsink is for all intents and purposes based on a standard OEM design we've seen many times before on Frostytech, though in this case the cooler uses three exposed base 8mm diameter heatpipes rather than the typical five. To be frank, this has to be THE most common tower heatsink iteration of all time... by my count Frostytech has reviewed fourteen heatsinks based on the same general heatpipe and fin framework.
The fin geometry and fans on these doppelgänger heatsinks are all a bit different for sure, as is the resulting thermal performance. Don't assume nearly identical appearance to mean identical performance. Each heatsink brand that licences this design from the China-based OEM employs a somewhat different fin geometry and sometimes adds a nickel plating or fin surface texture treatment. The unknown quantity is what kind of wick structure the heatpipes are using. That, coupled with different fan choices has a certain affect on thermal results.
Anyhow, the Sunbeamtech Twister 120 heatsink is built around three 8mm diameter copper heatpipes which are exposed at the base. The heatpipes pass through the raw aluminum fins (which have a dimpled surface texture for added measure) in a chevron shape, so fan orientation is printed on the top of the heatsink.
Standing 154mm tall, the Twister heatsink weighs 631 grams and ships with two 120mm fans that operate at speeds of 2000-1000RPM. Generally speaking, two fans are better than one when the fans are running at very slow speeds. Both of the no-name red impeller 120mm fans are non-PWM, so a manual PCI bracket fan speed controller is included in the package. Sunbeamtech's Twister 120 heat sink is compatible with Intel socket 775/1155/1156/1366 and AMD socket 754/939/940/AM2/AM3 processors and retails for about $45USD through the usual list of Heatsink Stores.
Sunbeamtech Twister 120 Heatsink

---

heatsink specsheet
manufacturer: sunbeamtech
model no.: twister 120
materials: aluminum fins, copper heatpipes, aluminum base with exposed heatpipes.
fan mfg: aga12025f12l
fan spec: (x2) 2000-1000rpm, 12v, 0.28a
fan airflow: 91cfm
fan dim: (x2) 25x120x120mm
heatsink & fan dim: 154x125x117mm
weight: 631 grams
includes: multi-socket socket mounting hardware, manual fan speed controller, thermal compound instructions

---

Compatible with Sockets:
AMD - 754/939/940/AM2/AM3
Intel - LGA775/1156/1366
Pricing: $45USD ($45CDN)
The fin pattern on the Twister 120 heatsink is of overlapping curves. The dimpled texture impressed on both sides of each fin is intended to disrupt boundary layer laminar airflow - basically causing turbulent airflow than can enhance heat transfer.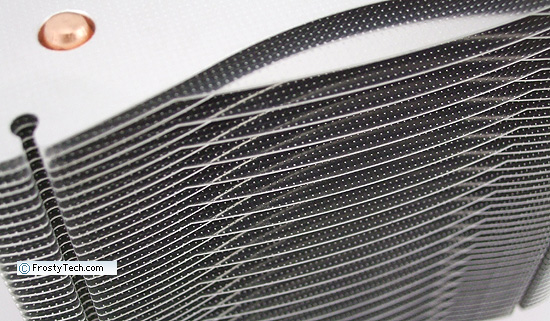 The three 8mm diameter copper heatpipes are stacked side-by-side at the bottom of the Twister 120 heatsink, with a small 1.5mm wide strip between each. The heatpipes form a chevron shape as they pass through the aluminum fins, with air being directed into the larger opening framed by the outer two heatpipes.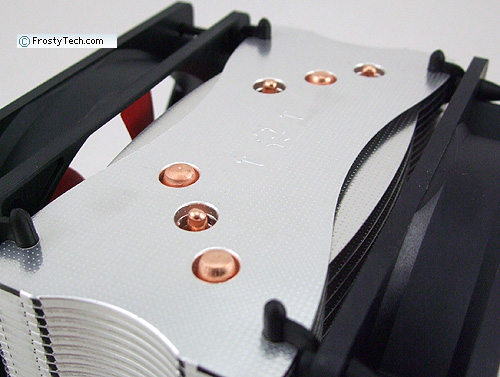 The heatsink is supplied with eight rubber vibration absorbing mounting posts to mount the two fans in a push-pull configuration, however the Twister 120 is affected by the same issue that all other heatsinks made by this OEM are. The rubber posts when inserted into a 120mm fan become spaced just a bit longer than the slots in the aluminum fins comfortably allow, so they end up hanging half out.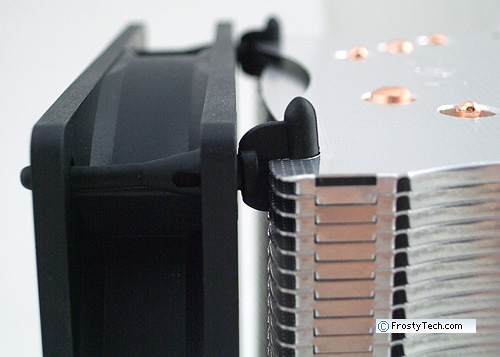 The fan holes are 105mm apart while the aluminum fin tower is 107mm high, so half the rubber post is left hanging in the air. What often happens is that one or two of the rubber keys fall out of the slot and leave the fan less than supported.
Heatsink Mounting Hardware
Sunbeamtech's Twister 120 heatsink ships with brackets for Intel LGA775/1156/1366 and AMD 754/939/940/AM2/AM3 processors. The heatsink mounts to both Intel and AMD motherboards using a permanently attached metal bracket. For AM2 motherboards, additional metal tabs are screwed into place to facilitate mounting.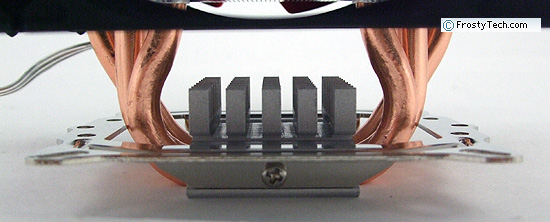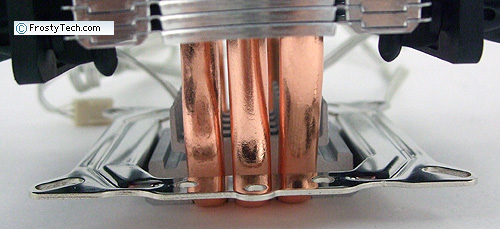 A collection of screws and spring-tensioned nuts accommodate the variety of hole patterns for the range of processors the Twister 120 heatsink is compatible with. Eight rubber vibration absorbing fan posts are supplied along with the two 120mm non-PWM fans and a bracket mounted manual fan speed controller.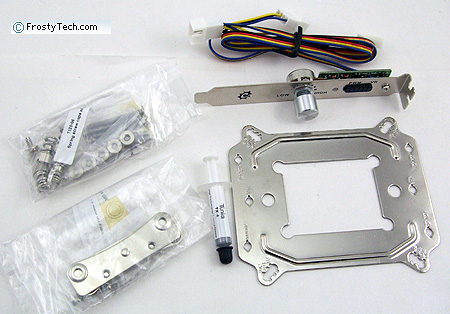 FrostyTech's Test Methodologies are outlined in detail here if you care to know what equipment is used, and the parameters under which the tests are conducted. Now let's move forward and take a closer look at this heatsink, its acoustic characteristics, and of course its performance in the thermal tests!