Heat pipes have revolutionized the design of heatsinks for computer processors like almost no other component. These days it's rare to encounter a CPU heatsink that does not contain at least one heatpipe, usually many more. What might not be obvious is that just because a heatsink is built with heatpipes doesn't necessarily mean it's going to be a killer thermal solution. Case in point...
Dynatron's Evo-11 heatsink hopes to make its mark with a unique implementation of 6mm heatpipes. Two rows of heatpipes, four below and three above form the base of the Evo-11 heatsink. All the heatpipes are set into a pretty hefty nickel plated aluminum base block, formed from three separate slabs of metal soldered together. It's an interesting arrangement, but one not many other heatsink makers have followed. The usual technique is to pack in as many heatpipes as necessary, as close as possible together at the base. The point is to conduct heat rapidly away from the CPU after all.
In most other respects the Dynatron Evo-11 is a traditional aluminum fin tower heatsink. The 113mm tall tower is punctuated by seven 6mm diameter heatpipes. A 120mm PWM is mounted to these fins and operates at 2200-1000RPM to provide moderately audible to very quiet cooling. Standing 158mm tall and weighing 688grams, the Dynatron Evo-11 heatsink installs onto Intel socket 775/1366 and AMD socket AM2+/AM3 processors.
Dynatron Evo 11 Heatsink

---

heatsink specsheet
manufacturer: dynatron

model no.: evo-11

materials: aluminum fins, nickel plated copper base block.
fan mfg: dynaeon industrial co. ltd df121225sm
fan spec: 2200-1000rpm, 12v, 0.45a
fan dim: 25x120x120mm
heatsink & fan dim: 158x122x73mm
weight: 688 grams
includes: multi-socket mounting hardware, thermal compound, instructions.

---

Compatible with Sockets:
AMD: AM2/AM2+/AM3
Intel: LGA775/1366
Est. Pricing: $36USD ($36CDN)
The bottom four heatpipes of the Dynatron Evo-11 heatsink are routed to the back of the 44mm deep aluminum fins. An odd choice in positioning perhaps, one would expect the lower set of heatpipes to conduct the most heat and so positioning these heatpipes at the leading edge of the aluminum fin stack would seem more appropriate.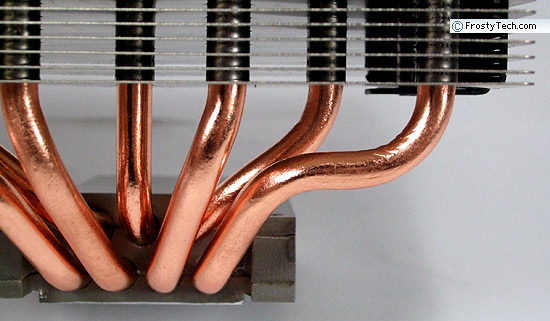 To reduced errant noises from the fan and fan shroud joint, Dynatron have mounted the 120mm fan to the heatsink with a set of rubber vibration absorbing posts.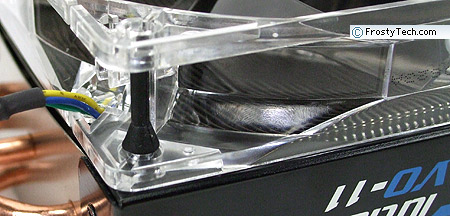 Heatsink Mounting Hardware
The Dynatron Evo-11 heatsink is compatible with Intel socket 775/1366 and AMD socket AM2/AM3 processors. It ships with three simple brackets that screw onto the base of the heatsink to accommodate each socket type.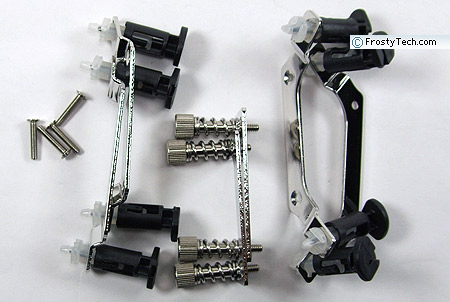 For Intel processors Dynatron relies on standard Intel push-to-click retention mechanisms. AMD processors use spring tensioned machine screws that engage with the motherboard support plate to firmly hold the 688gram heatsink in position.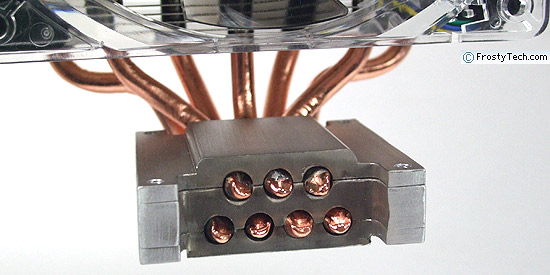 This heatsink will be tested on FrostyTech's Intel LGA775 and K8 version of the Mk.II synthetic thermal temperature test platform, and compared against a hundred reference LGA775 and K8 heatsinks. The whole test methodology is outlined in detail here if you'd like to know what equipment is used, and the parameters under which the tests are conducted.