Golden Orb Socket 370 / FCPGA Cooler Review
---
After going "retro" with my last cooler review, I've decided on reviewing something more contemporary. Here's where the Thermaltake Golden Orb, comes into play. This is an interesting cooler indeed. It promises good cooling (comparable to an Alpha,) but without the annoying hindrance of an inflated price tag (it sells for about $20 CDN / $14 USD).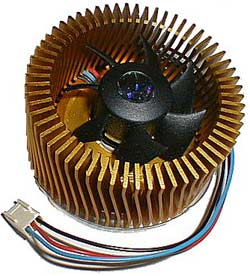 As I was busy working away at the store today, the Fed-Ex guy dropped off the Golden Orb. Being accustomed to somewhat elaborate Alpha packages (and reciprocal installations.) The Golden Orb surprised me; as this cooler comes in a very lean package. The Golden Orb comes fully assembled; it even includes a tiny bit of heat sink paste already applied to the base of the heat sink. The installation instructions are printed inside the box. The only other thing that is included with the Golden Orb is the plastic cover to protect the clips, and heat sink paste.
Appearance:
As you can see from the picture, the Golden Orb is one funky looking device. Golden Orb type coolers are truly unique from the gamut of standard socket coolers, as the `gold' coloured heat sink looks different, from the more common black, and silver designs. Additionally the heat sink has fins orbiting the fan. Finally, the clipping system is also unique, because you simply place the clips atop the CPU socket, and turn it left to lock it into place. Another refreshing change is that this cooler does NOT block any DIMM slots when mounted on a FC-PGA converter board in my Soyo 6VCA motherboard (upcoming review!)
Quick Specs:
69mm (diameter) X 48mm (height)
fan is a 12V device, 43X25mm, 19.1CFM
material is aluminum
fan has RPM monitor
Installation:
1: Take the cooler out of the box.
2: Remove the plastic cover.
3: Place the clips in place atop the CPU, and socket.
4: Turn it sideways (to the left,) to secure it.
5: Plug the 3-pin power connector into the motherboard (CPU fan header.)
The Rig:
Since I'm the only one in my household that has a FC-PGA CPU to use, I decided to use my own computer to test out the golden Orb. Motherboard: Soyo 6VCA (can read the CPU temperature directly, without an external diode.) FC-PGA Converter: Asus S370-133. CPU: FC-PGA Intel Celeron 566 @ 935mhz (8.5X110mhz)