Arctic Cooling's Freezer 11 LP is a light weight Intel socket 775/1156 heatsink made specifically for low profile and book-sized PC systems of at least 70mm thickness. The heatsink itself stands just 53mm tall, weighs 255 grams and operates very quietly. Although it's 92mm 1200-2000RPM PWM fan is small by normal standards, it is sufficient for the new generation of 95W Intel processors when system size restricts choice to only low profile CPU coolers. The heatsink is officially rated for heat loads up to a maximum 90W, but as you'll see with the fan operating at full speed it can handle much higher heat loads,
When it comes to low profile heatsinks there aren't many options that fit in a 1.5U PC case. This is problematic as the compact PC form factor is gaining popularity in many parts of the world. More thermal solutions manufacturers are introducing low profile after market cooling solutions, but this segment really still needs more attention.
Tracking down a 1.5U-sized heatsink can be hard enough, but finding one that is also quiet and offers better thermal performance than stock Intel thermal solutions is down right challenging. In the world of sub-60mm tall Intel socket 775/1156 heatsinks only a few have crossed Frostytech's test bench. Let's see how Arctic Cooling's Freezer 11 LP handles...
Arctic Cooling Freezer 11 LP Heatsink

---

heatsink specsheet
manufacturer: arctic cooling
model no.: freezer 11 lp
materials: aluminum fins, copper heatpipes, aluminum base with exposed heatpipes.
fan mfg: n/a
fan spec: 2000-1200rpm, 12v, 0.15a
fan airflow: 27cfm
fan dim: 20x92x92mm
heatsink & fan dim: 53x105x115mm
weight: 255 grams
includes: intel socket mounting hardware, pre-applied thermal compound, instructions

---

Compatible with Sockets:
Intel - LGA775/1155/1156
Pricing: $28USD ($28CDN)
Arctic Cooling's Freezer 11 LP heatsink is comprised of two sections, a ~100x80mm heatsink fin stack and a thin 92mm fan integral with mounting bracket and fan shroud. The fin stack is comprised of nickel plated fins which are soldered to a pair of 6mm diameter copper heatpipes that run along the bottom and through one side to the other. The 92mm PWM fan spins at speeds of 1200-2000RPM, exhausting air down through the 32mm thick fin stack.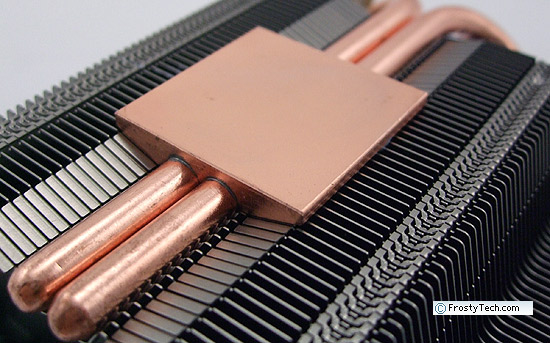 To help deflect air laterally out and away from the heatsink, the center base-line ridge is angled down by about 20 degrees. The copper base plate receives a similar chamfer to its edges too.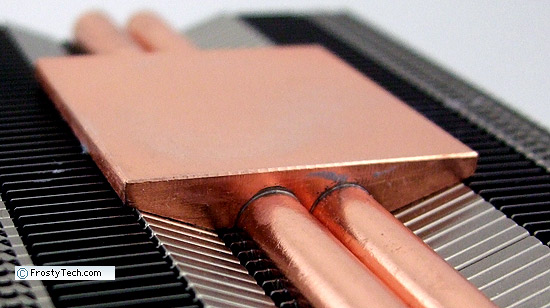 Heatsink Mounting Hardware
Arctic Cooling's Freezer 11 LP heatsink is compatible with Intel socket 775/1156 processors only. Socket 1366 Intel processors are not supported, nor are any AMD platforms.
The Freezer 11 LP heatsink ships with a pile of little plastic components that create a secondary mounting platform on the Intel motherboard for the small heatsink to attach to with long machine screws. The motherboard need not be removed from the case to install the Freezer 11 LP heatsink, thankfully. Once installed the heatsink can be unscrewed and reinstalled with ease.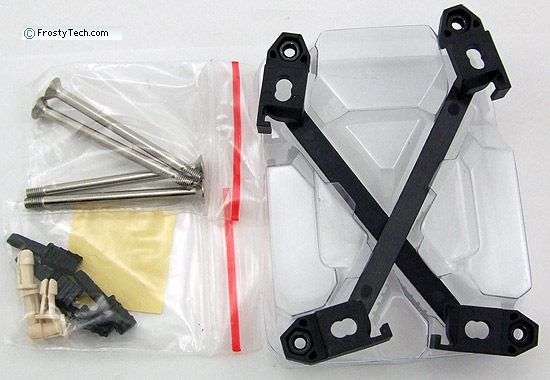 FrostyTech's Test Methodologies are outlined in detail here if you care to know what equipment is used, and the parameters under which the tests are conducted. Now let's move forward and take a closer look at this heatsink, its acoustic characteristics, and of course its performance in the thermal tests!