Rated for heat loads of up to 200W according to the manufacturer, the Arctic Cooling Freezer 13 is a relatively compact sub-130mm tall heatsink. It's 92mm fan utilizes fluid dynamic bearings and a "low noise impeller" design, so once again Arctic Cooling is focusing on quiet... quiet... quiet... The Freezer 13 mostly delivers on the noise front but it's compact design and 92mm diameter - not 120mm diameter - fan limit thermal performance to the 'average' region according to Frostytech's reference charts, even where heatsinks of an identical height are explicitly compared. Computer enthusiasts with compact PC cases will probably like the Freezer 13 though.
Standing 130mm tall, the Arctic Cooling Freezer 13 heatsink is equipped with a single 92mm PWM fan that rotates at 2000-1500RPM. The spec sheet indicates a minimum fan speed of 600RPM, however the unit Frostytech received for testing would not operate at speeds lower than 1500RPM, even when commanded to with a PWM fan speed controller... In either case the Freezer 13 heatsink ranges from moderately audible to nearly whisper quiet.
The raw heatsink itself is built around a familiar combination of four 6mm diameter copper heatpipes and densely stacked aluminum fins. It weighs about 695 grams in total, making it a relatively compact and light weight, lower noise heatsink. The Freezer 13 ships with a pre-applied patch of Arctic MX-4 thermal compound applied to the copper base plate and installs onto Intel socket 775/1155/1156/1366 and AMD socket 754/939/940/AM2/AM3 processors.
Arctic Cooling Freezer 13 Heatsink

---

heatsink specsheet
manufacturer: arctic cooling
model no.: freezer 13
materials: aluminum fins, copper heatpipes, copper base plate
fan mfg: n/a
fan spec: 2000-1500rpm, 12v, 0.19a
fan airflow: 36.4cfm,
fan dim: 25x92x92mm
heatsink & fan dim: 130x123x95mm
weight: 695 grams
includes: multi-socket socket mounting hardware, pre-applied thermal compound, instructions

---

Compatible with Sockets:
AMD - 754/939/940/AM2/AM3
Intel - LGA775/1155/1156/1366
Pricing: $33USD ($33CDN)
Construction Details
Aluminum fins are generally stamped from long rolls in one or two steps to the final fin shape, then pressed over the heatpipes tightly to form a solid interference joint. The little collar of metal around the heatpipe aids in thermal conduction from the heatpipes to the aluminum, essentially by increasing contact surface area. The key is to make the aluminum-copper joint right, or the whole thermal circuit can break down. This is why some heatsink manufacturers have taken to lightly nickel plating aluminum fins and soldering the heatpipe-aluminum fin joints.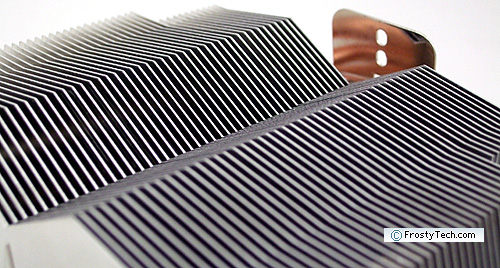 Copper base plates are also known as heatspreaders, and fulfill similar roles. On the Freezer 13 heatsink the copper heatspreader-copper heatpipe joints are soldered together - for mechanical rigidity and for low thermal joint resistance. In years past makers used to use thermal compound in this critical space, relying instead on mechanical clamps to hold heatpipes in position and assure the integrity of the thermal joint. We're glad those days are long gone!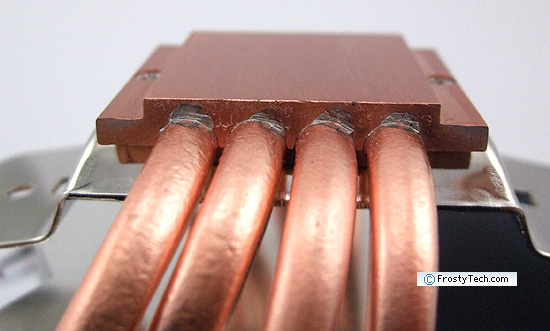 What's the Thermal Conductivity of the Solder in Your Heatsink?
Since it is not feasible to form a copper base plate with integral heatpipes, and vapour chambers while impressive do not lend themselves to this geometry of heatsink, we can only hope that companies are properly soldering joints and using high thermal conductivity solder for that purpose. Without access to the formula of solder used on the Freezer 13 we can't say either way... but just like thermal interface materials, different alloys solder offer improved thermal conductivity.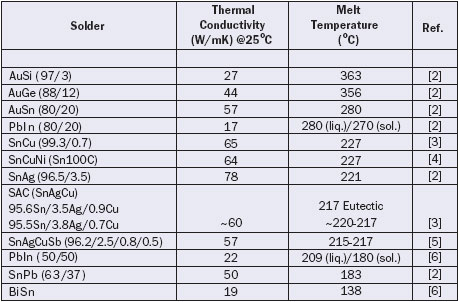 (image credit Electronics-Cooling.com)
There's a good article on electronics-cooling.com that goes into detail on the subject of thermal conductivity of different solder alloys that we recommend for further reading. The chart above breaks it down clearly. The most common solder used in heatsink manufacture in pre-RoHS days was Tin-Lead (SnPb), it has a thermal conductivity of 50 W/mk. For comparison's sake Aluminum and Copper have thermal conductivities of 247 W/mK and 398 W/mK respectively. Good quality thermal compound generally has a thermal conductivity of between ~1-4 W/mK, which is why it's so important to apply it sparingly!
In these post-RoHS manufacturing days Lead is most definitely out, so it's quite possible heatsinks are being made with low melting temperature Bismuth-Tin (BiSn) solder that has a relatively poor thermal conductivity of 19 W/mK... that's something to consider.
Heatsink Mounting Hardware
Arctic Cooling's Freezer 13 heatsink ships with brackets for Intel LGA775/1156/1366 and AMD 754/939/940/AM2/AM3 processors. The heatsink mounts to both Intel and AMD motherboards using the permanently affixed metal bracket that is integral with the base.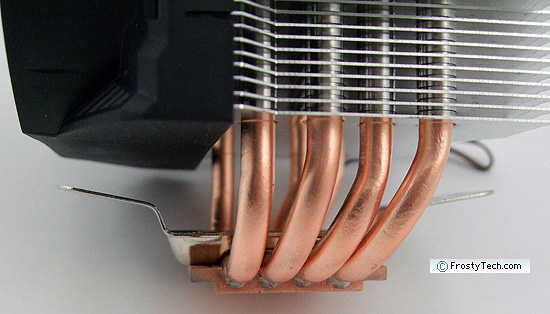 For Intel computer systems a the plastic heatsink mounting cage is installed onto the motherboard with little plastic retention clips, then screws passed through the heatsink's spring metal clip and engaged with the cage to apply mounting pressure. AMD computer systems make use of the AMD heatsink mounting bracket that ships with every motherboard, and simple set of L-brackets. In either case the motherboard does not have to be removed from the computer case, but the fan should be unclipped from the Freezer 13 heatsink to yield unobstructed access.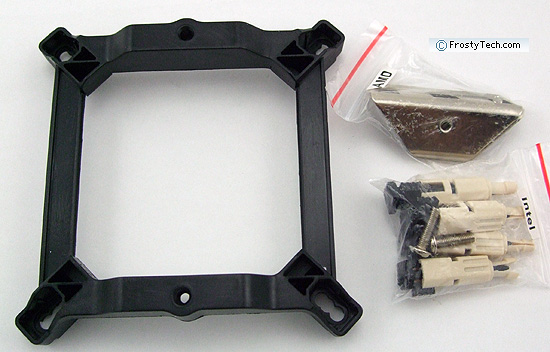 FrostyTech's Test Methodologies are outlined in detail here if you care to know what equipment is used, and the parameters under which the tests are conducted. Now let's move forward and take a closer look at this heatsink, its acoustic characteristics, and of course its performance in the thermal tests!