A promising looking tower heatsink, the Glacialtech Alaska CPU cooler sets itself apart with the use of perforated aluminum cooling fins, a pseudo-honeycomb cross sectional fin geometry and six 6mm diameter copper heatpipes tightly packed behind an integral nickel-plated copper heatspreader.
The dozens of 2mm diameter perforations dot each of the 40 or so aluminum fins on the Alaska heatsink and function as a pathway for air pressure to equalize between the different cooling fins. Glacialtech call this the "breathing effect", but the actual impact on heatsink performance is a hard one to gage in this instance.
Standing an average 156mm tall, the Glacialtech Alaska heatsink ships with one 120mm PWM fan but is capable of accommodating an additional rear-mounted fan (2nd fan not supplied, clips provided) should users wish to operate two fan at reduced speed and decrease noise to a minimum. The Alaska's translucent blue fan runs at 1600-700RPM depending on demand and as you'll soon see very good thermal results can be had with the fan operating at stock speeds.
Weighing in at 740 grams, Glacialtech's Alaska heatsink installs onto Intel socket 775/1155/1156 and AMD socket AM2/AM3 processors. Retail price is estimated at $39 through the usual heat sink retailers.
Glacialtech Alaska Heatsink

---

heatsink specsheet
manufacturer: glacialtech
model no.: alaska
materials: aluminum fins, copper heatpipes, nickel plated copper base plate
fan mfg: glacialtech pla12025s12h-2
fan spec: 1600-700rpm, 12v, 0.3a
fan airflow: 56cfm
fan dim: 25x120x120mm
heatsink & fan dim: 156x130x100mm
weight: 740 grams
includes: multi-socket socket mounting hardware, thermal compound, instructions

---

Compatible with Sockets:
AMD - 754/939/940/AM2/AM3
Intel - LGA775/1155/1156/1366
Pricing: $39USD ($39CDN)
Here is a closer look at the many 2mm diameter perforations that Glacialtech thermal engineers have added to the Alaska heatsink's aluminum fins. It's a novel approach but I'm not entirely sure why equalizing air pressures between fins is prudent - it would seem that introducing turbulence and breaking up laminar air flow with dimples might be more impactful?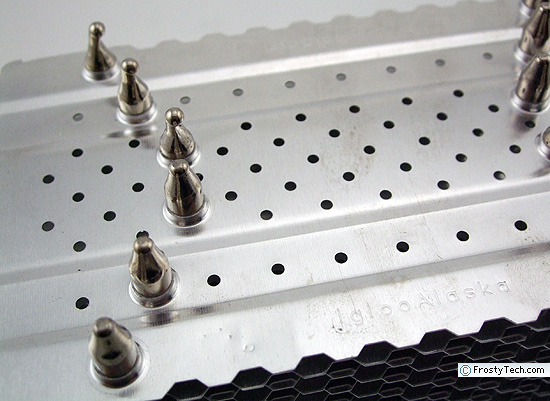 Moving along, the leading and trailing edges of the aluminum fins on the Glacialtech Alaska heatsink have received an alternating saw-toothed pattern, which we know from many other thermal solutions helps air to more easily pass beyond the threshold of a fin tower and through the body of a heatsink. If two 120mm fans are installed on this heatsink they should be matched in speed/CFM and arranged in a exhaust-intake manner.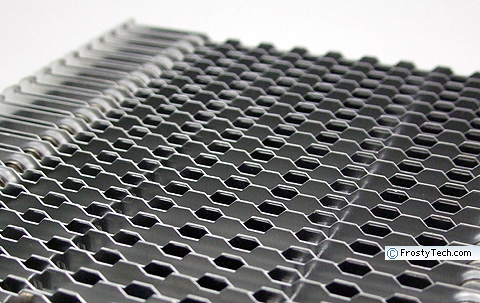 The second treatment applied to the aluminum fins of the Glacialtech Alaska heatsink is a small trough that crosses the 130mm length of each fin, in alternating Z-directions. This creates a pseudo-honeycomb pattern when viewing the heatsink from the side, the real aim of which is I believe to create pressure drops and pressure rises on opposite sides of each fin, causing perhaps air to flow through the 2mm diameter perforations in order to equalize.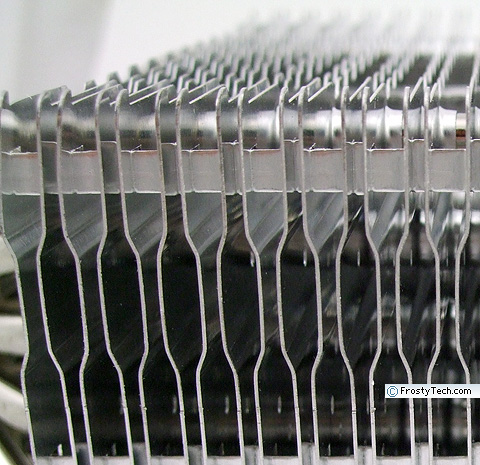 We can only assume that the small amount of air likely to pass through the narrow perforations will pick up a bit of heat as it does so and enhance the efficiency of the Alaska heatsink slightly... or not. As I mentioned a moment ago, it's a novel idea but we're not entirely certain what impact it will have.
Heatsink Mounting Hardware
The Glacialtech Alaska heatsink ships with three different rear motherboard support brackets and a couple pairs of metal clips for Intel or AMD platforms. The Intel socket 775/1155/1156 mounting brackets accommodate the full gamut of Intel sockets and screw into place with spring tensioned collared screws. For AMD motherboards, Glacialtech use metal brackets which fit socket AM2/AM3 platforms only; these screw into the existing motherboard support plate.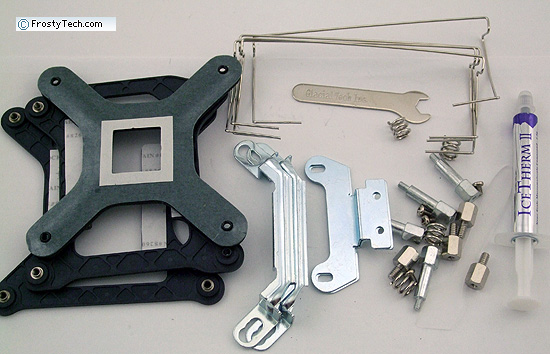 Both sets of mounting hardware are a little fussy to use in the confines of a computer case, we'd recommend taking out the entire motherboard for easier access. Extra fan mounting wire clips are supplied along with a tube of Glacialtech IceTherm II thermal interface material.
FrostyTech's Test Methodologies are outlined in detail here if you care to know what equipment is used, and the parameters under which the tests are conducted. Now let's move forward and take a closer look at this heatsink, its acoustic characteristics, and of course its performance in the thermal tests!