You've got to hand it to Scythe, since 2003 the company has consistently come out with creative and cleverly designed thermal solutions. Whomever Scythe has tucked away in the back room of its Tokyo, or Taipei R&D offices, certainly knows how to push the limits of thermal design in the quest for low noise/high performance processor cooling!
In this review Frostytech is evaluating the Scythe Rasetsu (SCRT-1000) heatsink, a CPU cooler that installs onto Intel socket 775/1155/1156/1366 and AMD socket 754/939/940/AM2/AM3 processors.
Broad processor support, however, is not what makes the Scythe Rasetsu heatsink stand out, instead it's a mixture of acute and obtuse isosceles triangular voids cut into the leading and trailing edges of the heatsinks aluminum fins. It's a technique Scythe label the "Trident Multi Layer Fin Structure" or "Mugen Interleave Fin Structure", and the point of it is to "maximize air intake volume". More on this is a moment, it's impossible to explain clearly without accompanying photographs...
Above all this fin wunderkind is a 120x120mm PWM fan that operates at 1800RPM or 800RPM. The fan has a dedicated manual fan controller mounted to a PCI bracket as is common with many Scythe heatsinks. At full speed it's moderately loud (59.5dBA), at the fan's slowest setting you'll get good performance a nearly silent levels (38.2 dBA). The Rasetsu stands 130mm tall but has a fairly boxy footprint of 140x130mm. The entire unit weighs in at 730 grams.
Scythe Rasetsu SCRT-1000 Heatsink

---

heatsink specsheet
manufacturer: scythe
model no.: rasetsu (scrt-1000)
materials: aluminum fins, copper heatpipes, aluminum base cap, nickel plated copper base plate.
fan mfg: sy1225sl12hpvc
fan spec: 1800-800rpm, 12v, 0.60a
fan airflow: 40-110cfm,
fan dim: 25x120x120mm
heatsink & fan dim: 130x140x130mm
weight: 730 grams
includes: multi-socket socket mounting hardware, thermal compound, manual fan speed controller, instructions

---

Compatible with Sockets:
AMD - 754/939/940/AM2/AM3
Intel - LGA775/1155/1156/1366
Pricing: $45USD ($45CDN)
Trident Multi Layer Fin Structure
What is a 'Trident Multi Layer Fin Structure'? Simply put, a series of acute and obtuse isosceles triangular notches in the aluminum fins that come together to form a rhombus-pyramid void once the fins are stacked in the final heatsink. 'Rhombus-pyramid' might not be the 100% correct name... if you know the appropriate geometric description let me know.
Specifically, this is what we're talking about: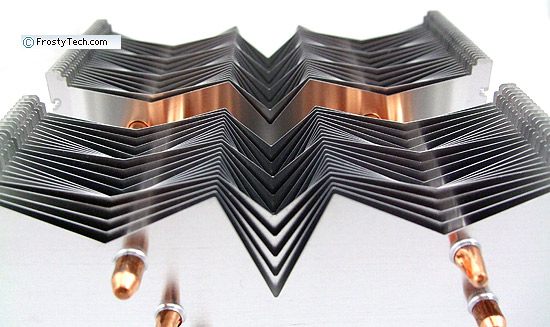 What you are seeing is three rows of discreet pyramidal voids; two rows of obtuse angles, one row acute, on either side of the Rasetsu's 60mm deep aluminium fin heat exchanger.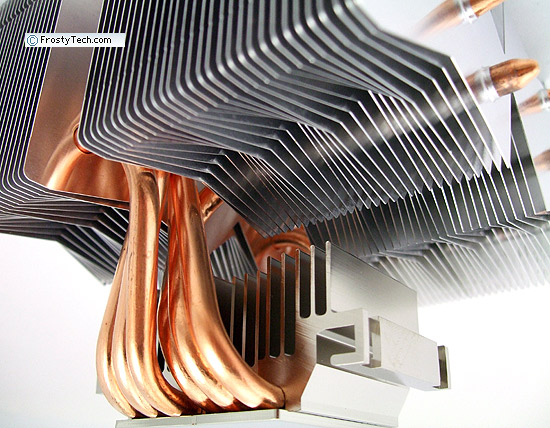 Along the centerline of the heatsink are the six acute pyramidal voids. Each one of these is constructed from nine different acute isosceles triangle cutouts whose sides range from 55° at the center (valley), to 95° apart at the outside (peak). Technically, that last notch is greater than 90° so it's not an acute angle.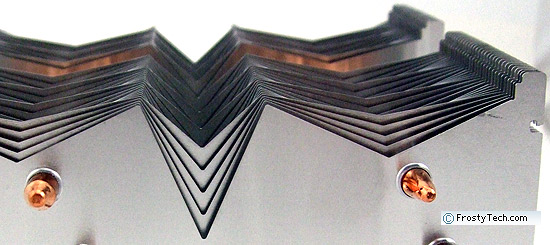 Similarly, the outer rows of six obtuse pyramidal voids are formed from a stack of nine notches whose sides range from 130° to 155° apart at the peak. What these shapes (or more accurately voids in the aluminum fin array) do is create little 'air scoops' with depths ranging from 27mm for the acute pyramid voids to 11mm for the obtuse.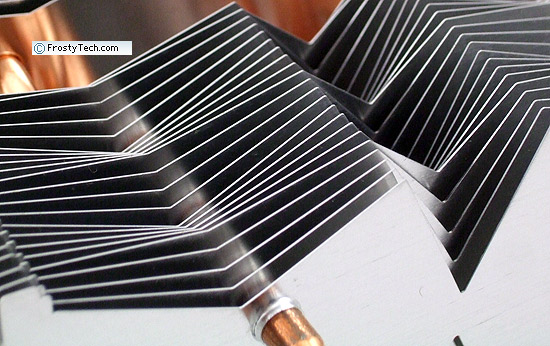 The top and bottom of the heatsink both receive the same treatment. Intersecting all of this, from the center of the heatsink outwards are six 6mm diameter copper heatpipes. The heatpipes are tucked away in the middle of the heatsink so the Scythe Rasetsu heatsink can maximize the volume of space it occupies above the processor with productive metal surfaces.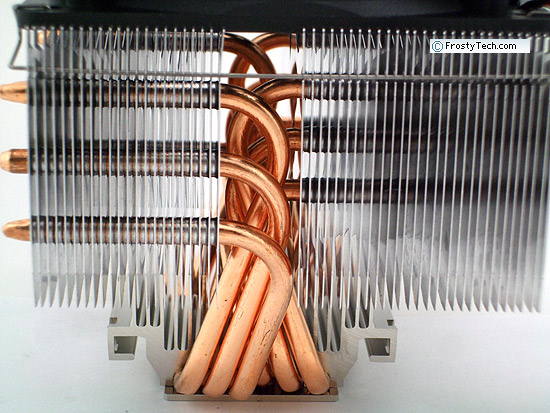 Almost no one else builds heatsinks like this.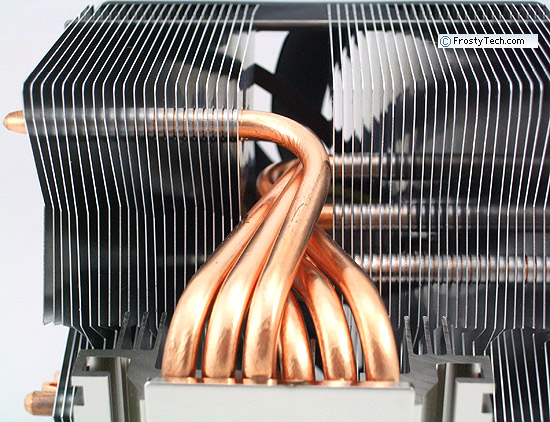 The Scythe design is both elegant in appearance and a very cleverly designed thermal solution. For example, half the center-most heatpipes intersect the aluminum fins at the outer edge where airflow from the 120mm fan above is consistently highest.
Really though, the beauty of this tangle of heatpipes is that the aluminum fin array is essentially split into six regions, rather than the typical three (see top down view of heatsink next page). The heatpipes intersect the fins in four short rows which are staggered with respect to each other, so ideally airflow is not going to be substantially restricted and heat conduction maximized across the entire 130x60mm aluminum fin plane.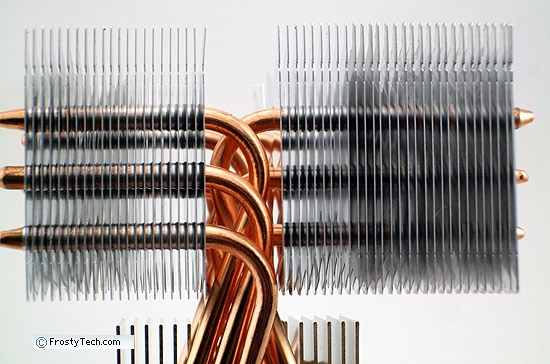 Does it work? Well, you never can tell just by looking at a heatsink, but yes the Scythe Rasetsu performs better than any recent Scythe heatsink Frostytech has thus tested. Enough on both Intel and AMD synthetic test platforms in fact to be classed as a performance cooler. That's not to say it trumps every heatsink out there, there's much too much competition to consider as you'll see in the heatsink comparison charts shortly.
Heatsink Mounting Hardware
In true Scythe fashion, the Rasetsu heatsink comes with mounting hardware for all recent processor platforms from Intel and AMD. Each of the supplied brackets is attached to the base of the heatsink with a common clip system.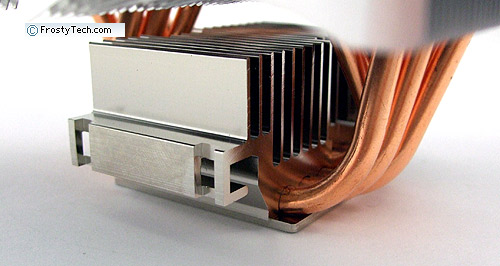 The Intel mounting bracket accommodates Intel socket LGA775/1155/1156/1366 processors with a single clip, using the standard Intel push-to-click plastic retention system. It's quick and easy to use, and there's no need to pull the motherboard out from the computer case to insert a rear support bracket.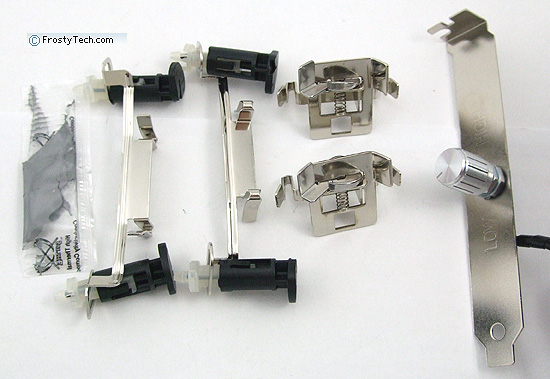 Scythe's heatsink attachment method is refreshingly uncomplicated. The AMD bracket works on any socket 754/939/940/AM2/AM2+/AM3 board using the existing AMD heatsink retention cage. A small package of thermal compound is supplied too.
FrostyTech's Test Methodologies are outlined in detail here if you care to know what equipment is used, and the parameters under which the tests are conducted. Now let's move forward and take a closer look at this heatsink, its acoustic characteristics, and of course its performance in the thermal tests!