Although it doesn't look it, the BARAM 2010 heatsink is slightly different than the original BARAM model. Both stand about 160mm tall, both are 132mm wide and both have five 6mm diameter copper heatpipes. The base of the BARAM 2010 heatsink is left as raw copper instead of being nickel plated, but that's not the difference we're referring to.
What sets the two BARAM heatsink models apart is - fin density - the number of aluminum fins each heatsink packs into the roughly 105mm vertical space. The original BARAM heatsink has a fin spacing of ~3.5mm at the outer tips. The BARAM 2010 model adjusts that value by 0.5mm, so its fins are spaced 3.0mm apart. A fraction of a millimeter different for sure, but enough to cumulatively add ten additional fins into the BARAM 2010's fin stack.
What does that mean? Extra surface area for cooling certainly (8900cm2 vs. 7580cm2), but also greater resistance to airflow passing through the fin stack. As you'll see momentarily, that means the two BARAM heatsink models react differently when tested with identical fans. Where the original BARAM model handled very well with an 80CFM fan, the BARAM 2010 demands a slightly higher air pressure source to compensate for the added resistance its tighter fin density imparts. It's not something most would notice, so keep that in mind if drawing direct comparisons between the two BARAM heatsinks.
When it comes to airflow, the 710 gram Thermolab BARAM 2010 heatsink will accommodate up to two 120mm fans, one on either side of the CPU cooler. No fans are supplied with the heatsink, allowing you to pick the fan of your choice - low noise or high airflow/performance. The BARAM 2010 heatsink is compatible with Intel socket 775/1156/1366 and AMD socket AM2/AM3 processors and retails for around $65USD via the usual online heatsink stores.
Thermolab BARAM 2010 Heatsink

---

heatsink specsheet
manufacturer: thermolab
model no.: baram 2010
materials: aluminum fins, copper heatpipes, nickel-plated copper base
fan mfg: (not supplied)

fan spec: (not supplied)

fan dim: 25x120x120mm
heatsink & fan dim: 160x132x107mm
weight: 710 grams
includes: multisocket mounting hardware, thermal compound, instructions

---

Compatible with Sockets:
AMD - AM2/AM3
Intel - 775/1156/1366
Est. Pricing: $65USD ($65CDN)
The wavy leading/trailing edges of the Thermolab BARAM 2010's aluminum fins is intended to break up airflow and diminish airflow resistance. Walls of even aluminum fins offer resistance to airflow, particularly when low pressure fans are used. By breaking up the surface geometry and using a wider fin spacing at the very tips, resistance to airflow moving through the aluminum fins is decreased somewhat.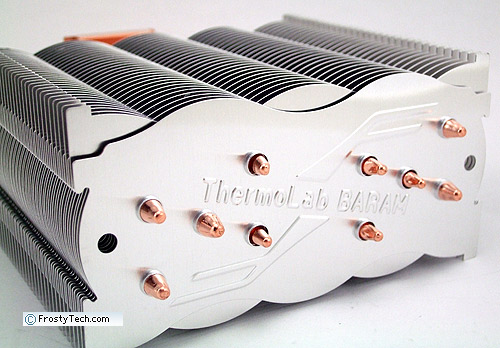 The five copper heatpipes also have a staggered placement in the stack of overlapping aluminum fins, rather than punching through the aluminum in a straight row. The placement of the 6mm diameter heatpipes helps to alleviate back pressure issues as well, and maximize heat spreading within each aluminum fin.
What you can't see is that the BARAM 2010's tower of fins are effectively two separate sections. Each aluminum fin is 55mm wide, but hidden from sight in the middle is a cut that extends 25mm, effectively breaking the fin into two parts.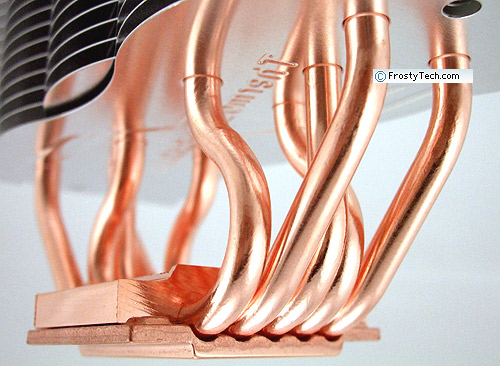 The five copper heatpipes in the Thermolab BARAM 2010 heatsink broach the aluminum fins at distances of between 11-13mm. This helps distribute the heat they conduct to a larger overall surface area, normalizing temperature gradients within each aluminum fin. The staggering of the 6mm diameter copper heatpipes creates larger spaces, so air has less difficultly moving through.
A 120mm fan can be mounted to one, or both sides of the Thermolab BARAM 2010 heatsink using the supplied springy wire clips. For the purpose of this review Frostytech will be testing the Megahalems heatsink with an 80CFM AGA12025F12L and 50CM Mechatronics G1225S12B fan (both are 120x120x25mm vanaxial 12vDC). The former because enthusiasts like higher-airflow fans and the latter because it has long been Frostytech's 120mm test fan of choice for heatsinks that ship fanless.
Mounting Hardware
The Thermolab BARAM 2010 heatsink ships with a couple metal brackets that screw onto the base of the heatsink, accommodating Intel socket LGA775/1156/1366 and AMD socket AM2/AM3 processors.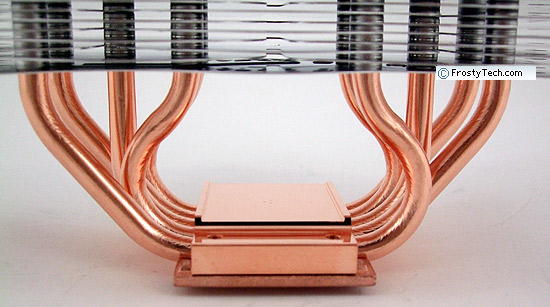 The Intel mounting clips uses machine screws that thread in from behind the motherboard with a metal backplate for added support. The motherboard may need to removed from the case to install the BARAM 2010 heatsink, which is never fun. It's a little easier to mount the BARAM 2010 heatsink on AMD socket AM2/AM3 motherboards because you only need to remove the heatsink retention cage and screw into the backplate that's already there. A socket AM2/AM3 backplate is also supplied if one is not provided with the motherboard. Apart from mounting brackets, Thermolab ship the BARAM 2010 heatsink with four 120mm fan clips and a syringe of thermal grease.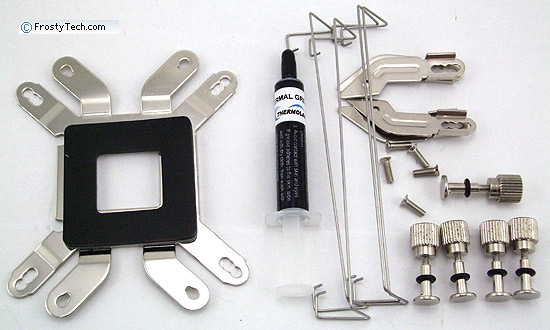 FrostyTech's Test Methodologies are outlined in detail here if you care to know what equipment is used, and the parameters under which the tests are conducted. Now let's move forward and take a closer look at this heatsink, its acoustic characteristics, and of course its performance in the thermal tests!