There is great demand for low profile heatsinks to fit book-sized computer systems and chassis conforming to 1.5U or 2U heights. The problem is there's not a lot to choose from, particularly when searching out active (active = has fan) low profile heatsinks. In this review Frostytech will be testing out one of the latest hopefuls, the SilenX EFZ-100HA1 heatsink. This low profile cooler is a complex little bundle of heatpipes and fins, and stands only 67mm tall. It features an exposed heatpipe base which is novel as low profile heatsinks go, rubber vibration absorbing fan posts (overkill for the small fan), textured aluminum fins and three 6mm diameter copper heatpipes.
In short, SilenX have tossed every popular heatsink technology into the EFZ-100HA1 heatsink and capped it with a languid 100mm x 15mm vaneaxial fan. Exhaust air is quietly directed down through the 17mm wide aluminum fins, so that's a plus. The single 100mm non-PWM fan rotates at 1000-2000RPM depending on the computer or manual fan speed controller setting. The entire heatsink weighs just 364 grams and installs onto Intel socket 775/1156/1366 and AMD socket 754/939/940/AM2/AM3 processors. Expect retail prices in the $20-$28USD range.
The odd thing when looking at this heatsink is how much of it, isn't heatsink. You see, heatpipes have a minimum bend radius, so unfortunately much of the space this heatsink could occupy for its aluminum cooling fins is lost to the heatpipes inflexibility when it comes to right angles. What's left is a thin margin of aluminum to dissipate heat loads that span upwards of 140W TDP. The SilenX does manage it however. The real question this review will answer is how well it manages to cool compared to other sub 67mm tall heatsinks.
SilenX EFZ-100HA1 Heatsink

---

heatsink specsheet
manufacturer: silenx
model no.: efz-100ha1
materials: aluminum fins, copper heatpipes, aluminum base with exposed heatpipes.
fan mfg: silenx effizio series quiet fan efz-10015-hsf
fan spec: 1000-2000rpm, 12v, 0.29a
fan airflow: 22-54cfm
fan dim: 15x100x100mm
heatsink & fan dim: 67x112x105mm
weight: 364 grams
includes: multi-socket socket mounting hardware, thermal compound, fan speed controller, instructions

---

Compatible with Sockets:
AMD - 754/939/940/AM2/AM3
Intel - LGA775/1366
Pricing: $22USD ($22CDN)
Topping the SilenX EFZ-100HA1 low profile heatsink is a SilenX "Effizio series quiet fan" that rotates by default at 2000RPM. The fan is quite small, just 100 x 100 x 15mm in size and packs in eleven white impeller blades.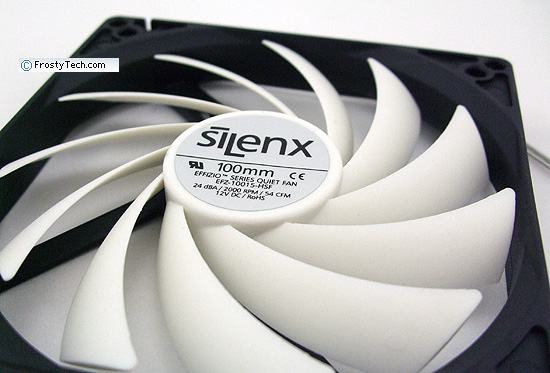 Below the fan is a rather unique treatment for the leading edges of the textured aluminum fins. A shallow concave curve in the center forms the plenum while the extremities look like little Tsunami's expanding towards the outer edge.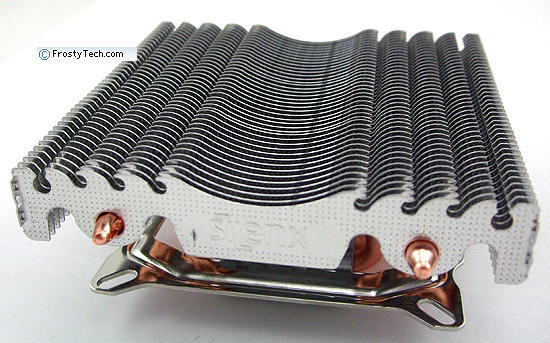 The 17mm wide aluminum fins are press fit over the 6mm diameter copper heatpipes, but not exactly evenly. The three heatpipes are doubled over so in effect we're dealing with six heatpipe ends. One half of the SilenX EFZ-100HA1 heatsink has two heatpipes, the other side four. The apparently asymmetrical heat distribution is a tricky thing to comment on. Without additional information we can't say what impact this has on the overall performance of SilenX's EFZ-100HA1 heatsink...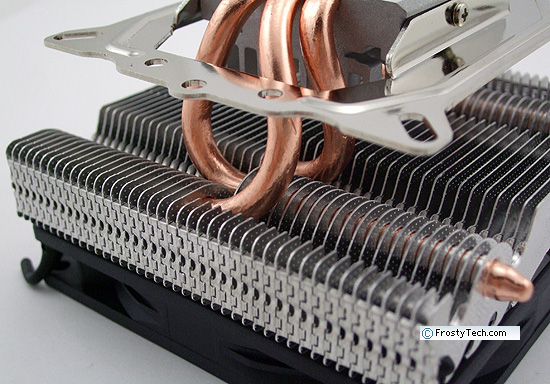 Heatsink Mounting Hardware
The low profile SilenX EFZ-100HA1 heatsink ships with the same fairly massive mounting brackets as SilenX uses for full size CPU coolers when a much simpler and more compact bracket would easily suffice for this 364gram heatsink. The EFZ-100HA1 supports Intel LGA775/1156/1366 and AMD 754/939/940/AM2/AM3 processors via the same permanently affixed metal bracket pictured below.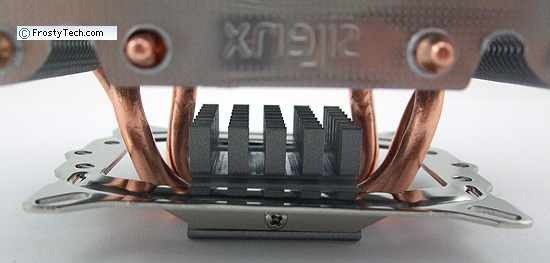 A collection of screws and spring-tensioned nuts accommodate the variety of hole patterns for the range of processors the EFZ-100HA1 heatsink is compatible with. Eight rubber vibration absorbing fan posts are supplied (only one 100mm fan may be installed) along with a manual fan speed controller and small amount of thermal compound. Access to the rear of the motherboard is needed to insert the motherboard support plate. This may pose difficulties as low profile computer systems are not usually built with cut outs behind the CPU socket.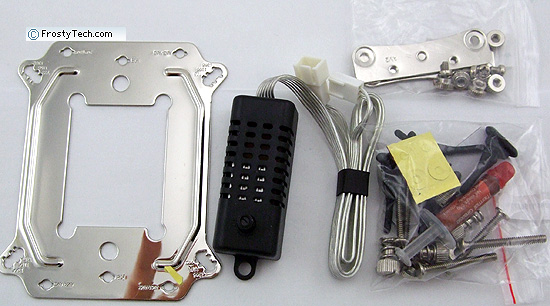 FrostyTech's Test Methodologies are outlined in detail here if you care to know what equipment is used, and the parameters under which the tests are conducted. Now let's move forward and take a closer look at this heatsink, its acoustic characteristics, and of course its performance in the thermal tests!