The SilenX EFZ-120HA3 is kind of an odd heatsink if you think about it. The fin body is narrower than average tower heatsinks but the EFZ-120HA3 doesn't take up any less space. It still uses a 120mm fan and has the same basic mounting plate foot print. What then are we supposed to think of SilenX's thin tower heatsink?
As it turns out, low noise is the intangible feature in play here, I think. While the SilenX EFZ-120HA3 is quieter at full speed than its' bigger brother, the EFZ-120HA4 tower heatsink, as it turns out thermal performance is somewhat inversely proportional too.
Standing 150mm tall, the SilenX EFZ-120HA3 heatsink is equipped with a single 120mm non-PWM fan that rotates at 800-2000RPM depending on the computer or the setting of the manual fan speed controller. Only one fan is supported by its chevron shaped, 25mm wide aluminum fins. Like many heatsinks this year, the SilenX EFZ-120HA3 features three exposed heatpipes at the base and textured aluminum fins. The entire cooler weighs 448 grams and installs onto Intel socket 775/1156/1366 and AMD socket 754/939/940/AM2/AM3 processors.
SilenX EFZ-120HA3 Heatsink

---

heatsink specsheet

manufacturer: silenx

model no.: efz-120ha3
materials: aluminum fins, copper heatpipes, aluminum base with exposed heatpipes.

fan mfg: silenx efz-12025-hsf

fan spec: 800-2000rpm, 12v, 0.36a
fan airflow: 34-102cfm,
fan dim: 25x120x120mm
heatsink & fan dim: 150x127x56mm
weight: 448 grams
includes: multi-socket socket mounting hardware, thermal compound, fan speed controller, instructions

---

Compatible with Sockets:
AMD - 754/939/940/AM2/AM3
Intel - LGA775/1156/1366

---

Pricing: $34USD ($34CDN)
One of the SilenX EFZ-120HA3 heatsinks' unique features is the tilt of 15-degrees the entire tower portion of the CPU heatsink has. The fins, rather than being straight rectangles, are a flattened chevron shape that naturally forms a small plenum behind the fan motor. The 120mm fan is held in place with springy wire clips that make it easy to re-install the fan while mounting the heatsink into the computer case.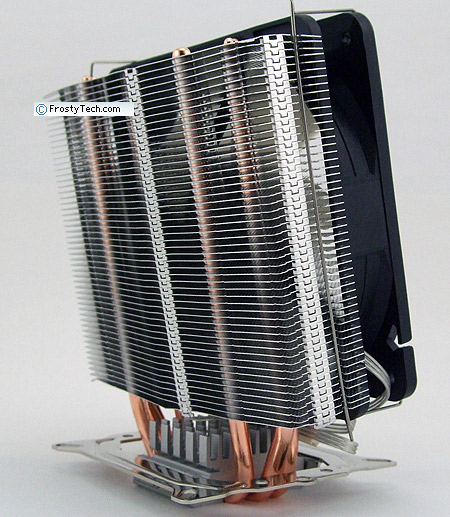 The tilt has the effect of directing some of the exhaust airflow from the heatsink at the motherboard VRM or power circuitry surrounding the CPU socket, depending on your motherboard layout.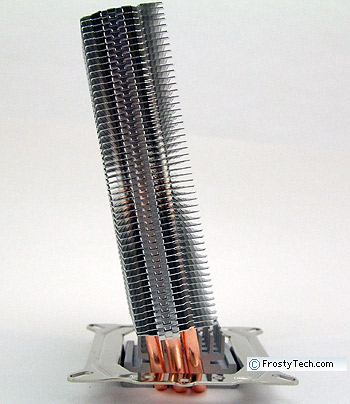 Heatsink Mounting Hardware
SilenX's EFZ-120HA3 heatsink ships with brackets for Intel LGA775/1156/1366 and AMD 754/939/940/AM2/AM3 processors. The heatsink mounts to both Intel and AMD motherboards using the permanently affixed metal bracket pictured below.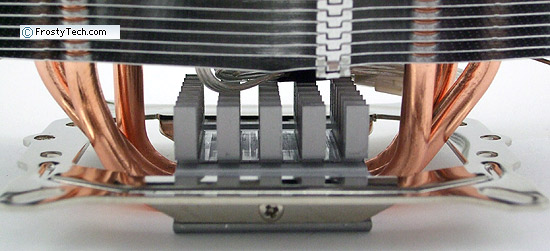 A collection of screws and spring-tensioned nuts accommodate the variety of hole patterns for the range of processors the EFZ-120HA3 heatsink is compatible with. Thermal compound and a manual fan speed controller are also included.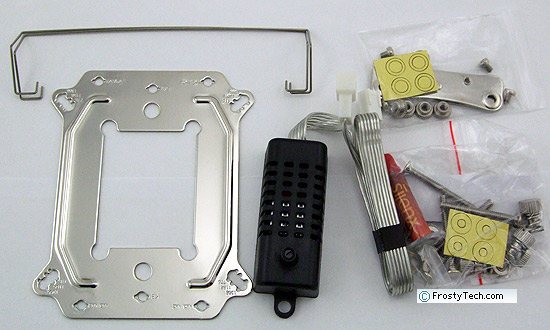 FrostyTech's Test Methodologies are outlined in detail here if you care to know what equipment is used, and the parameters under which the tests are conducted. Now let's move forward and take a closer look at this heatsink, its acoustic characteristics, and of course its performance in the thermal tests!