Standing just 88mm tall, the Glacialtech Igloo 5760 PWM heatsink is relatively compact as modern CPU coolers go. Small through it may be, Glacialtech seem to have engineered it in just the right spots to manage the demanding peak thermal loads of top-end processors like the AMD Phenom II X4 (140W TDP) or Intel Core i7 960 (130W TDP) processor. Given this cooling threshold, the Igloo 5760 PWM should be well matched against the plethora of mainstream 65W & 95W TDP chips currently available from both Intel and AMD... we'll see for certain in Frosytech's synthetic thermal heatsink comparison charts momentarily.
The Igloo 5760 PWM heatsink uses a familiar top-down approach, but departs from traditional designs in its use of three 8mm diameter heatpipes to conduct heat from the CPU to a high density array of thin aluminum fins. Most other heatsinks of similar size constraints rely upon four or five 6mm diameter heatpipes to get the job done. For such a small fin area (92x92mm), an abundance of heatpipes intersecting the fins impacts the ease of airflow.
Glacialtech's Igloo 760 PWM heatsink weighs a feathery 350 grams and comes with a single 92mm PWM fan that rotates at between 1100-2000RPM. Glacialtech ship the Igloo 5760 PWM with a pre-applied patch of thermal interface material so installation is a snap. It retails for about $28 USD.
Glacialtech Igloo 5760 PWM Heatsink

---

heatsink specsheet
manufacturer: glacialtech
model no.: igloo 5760 pwm
materials: aluminum fins, nickel plated copper heatpipes and copper base
fan mfg: coolingstar jt9225m12s002a
fan spec: 1100-2000rpm, 12v, 0.26a
fan dim: 25x92x92mm
heatsink & fan dim: 88x96x127mm
weight: 350 grams
includes: multi-socket mounting hardware, instructions

---

Compatible with Sockets:
AMD: 754/939/AM2/AM3
Intel: LGA775/1156/1366

Est. Pricing: $28USD ($28CDN)
Where To Buy?

Where Glacialtech do take a bit of short cut is with the base plate for the Igloo 5760 PWM heatsink. Measuring just 1mm thick, the copper plate (which is soldered to the flattened heatpipes and extruded aluminum stiffening base heatsink) seems a little thin for the job. Typically copper base plates are minimum 3mm thick, on average 6mm. Provided the solder joint between the 1mm plate and three heatpipes is good, it's likely the base plate will fulfill more of a heat conduction rather than heat spreading roll.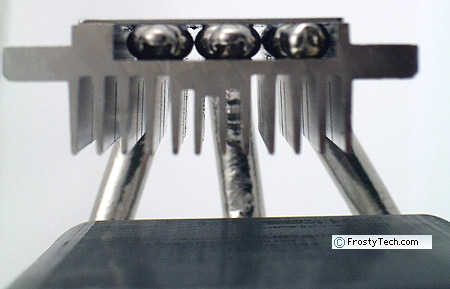 The three 8mm diameter flattened heatpipes together make up a 30mm swath, fully covering Intel integrated heatspreaders for Core 2 Duo and Core i5 processors, and mostly covering the AMD processor heat spreader. In the grand scheme of things I think the little extruded aluminum heatsink will add a little to the overall cooling capacity of the heatsink. Greater cooling efficiency will be had by conducting the majority of heat to the larger surface area of the aluminum fin array.
Base Finish and Flatness
Flipping a heatsink over to inspect the business end is often a simple indicator of overall cooler quality. More practically speaking, a heatsink is in many ways only as effective as the contact it makes with the processor - the flatter and smoother the better. Base finish is one of the criteria that Frostytech measure in the course of evaluating heatsinks, and it involves two distinct aspects. Surface Finish is the first; this is calculated with the aid of Surface Roughness Comparator that has a cross section of common machine surface finishes and their numerical surface roughness equivalents in microinches. The second is Surface Flatness. This is tested with an engineers straight edge or proven flat surface, in two axis.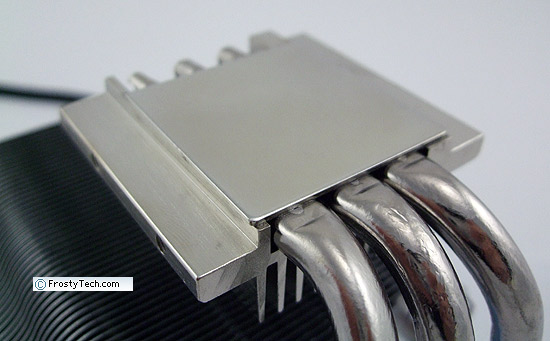 Glacialtech's Igloo 5760 heatsink has a stamped base plate made of thin nickel plated copper. The base plate is about 1.0mm thick, but has an excellent surface roughness of approximately 8 microinches. The base surface finish is polished and according to the straight edge, nearly perfectly flat in one axis and very slightly concave (due to slightly raised edges) in the opposite.
Heatsink Installation and Hardware
The Glacialtech Igloo 5760 PWM heatsink ships with three different rear motherboard support brackets and a pair of metal clips for Intel or AMD platforms. The Intel mounting brackets accommodate the full gamut of Intel sockets and screw into place with spring tensioned collared screws. For AMD motherboards, Glacialtech can get away with a standard cam-lever arm that locks into AMD's heatsink retention cage. The Intel mounting tools are a little fussy to use in the confines of a computer case while the AMD clip is easy to use and essentially tool free.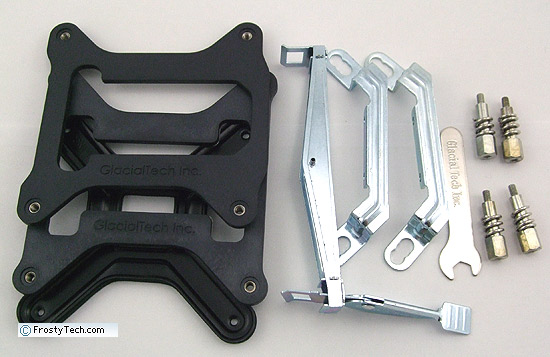 FrostyTech's Test Methodologies are outlined in detail here if you care to know what equipment is used, and the parameters under which the tests are conducted. Now let's move forward and take a closer look at this heatsink, its acoustic characteristics, and of course its performance in the thermal tests!