Although the SilenX EFZ-120HA4 heatsink appears nearly identical to the XtremeGear HP-1216B, Spire Thermax Eclipse II, and 3Rsystem Iceage 120 Boss II heatsinks... it's a popular style, clearly... each heatsink is a little different and the fans are all completely different. Common to all heatsinks of this style are five 8mm diameter exposed base copper heatpipes which form a distinctive "X" pattern in the aluminum fins. This positions the heatpipes and the heat they conduct into the path of the highest velocity air leaving the 120mm fan. From there each heatsink diverges from the common framework somewhat. In the case of the SilenX EFZ-120HA4 heatsink, we find raw aluminum fins with dimpled surface texture - a trait being carried through many of SilenX's latest heatsink models.
The SilenX EFZ-120HA4 heatsink is a full tower cooler, standing 151mm tall and weighing 836 grams. It ships with a single non-PWM 120mm SilenX 'Effizio Series Quiet Fan' mounted to the aluminum fin tower with four rubber vibration absorbing posts. The fan rotates at 800-2000RPM and as is common to this heatsink style, barely fits in place because the company holding the original design credit for this heatsink messed up its dimensions. The fin tower is about 15mm too short to properly mount a 120mm fan. It's oversight we'll talk about in greater detail momentarily.
With its single 120mm fan rotating at full speed the SilenX EFZ-120HA4 heatsink is a force to be reckoned with - moderate noise output for excellent thermal performance. At slower fan speeds you'll get good performance a nearly silent levels. The EFZ-120HA4 ships with enough rubber posts that an additional 120mm fan to be installed on the rear of the heatsink if you wish, a manual fan controller is included as well. The SilenX EFZ-120HA4 heatsink installs onto Intel socket 775/1156/1366 and AMD socket 754/939/940/AM2/AM3 processors and retails for around $35USD.
SilenX EFZ-120HA4 Heatsink

---

heatsink specsheet
manufacturer: silenx
model no.: efz-120ha4
materials: aluminum fins, copper heatpipes, aluminum base with exposed heatpipes.
fan mfg: silenx efz-12025-hsf
fan spec: 800-2000rpm, 12v, 0.36a
fan airflow: 34-102cfm,
fan dim: 25x120x120mm
heatsink & fan dim: 151x132x98mm
weight: 836 grams
includes: multi-socket socket mounting hardware, thermal compound, fan speed controller, instructions

---

Compatible with Sockets:
AMD - 754/939/940/AM2/AM3
Intel - LGA775/1156/1366
Pricing: $35USD ($35CDN)
Each aluminum fin in the SilenX EFZ-120HA4 heatsink is slightly dimpled on both surfaces. It would certainly seem reasonable that fin texturing would help brake up laminar airflow over the metal and improve heat conduction to the passing air stream. However, after several conversations with heatsink manufacturers at Computex about this technique we're beginning to question the impact texturing has at the air velocities typically encountered with computer heatsinks.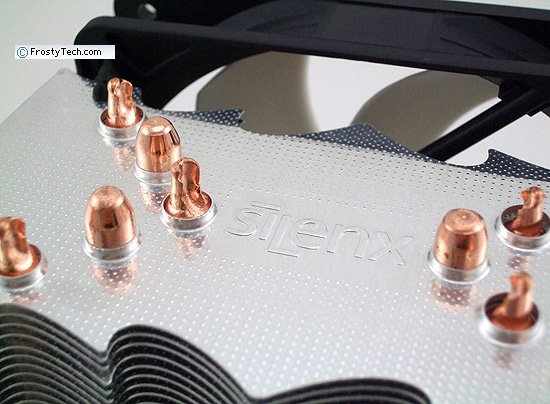 The leading and trailing edges of the aluminum fins on the SilenX EFZ-120HA4 heatsink remind us of the old Batman comics, with deeply scalloped edges angled towards the center.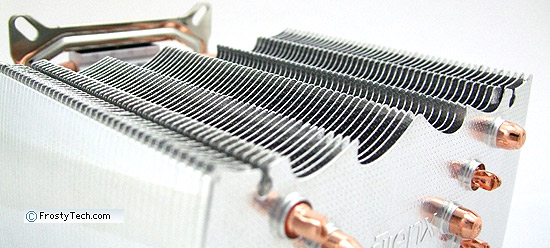 The design oversight
Common to all heatsinks based on this popular heatsink design, the aluminum tower of fins is about 10-15mm shorter than it ought to be to comfortably accommodate the four rubber fan posts. The problem is that while a 120mm fan's mounting posts are spaced 107mm apart, the slot formed by the stacked aluminum fins is only 104mm tall!
The distance between the fan post slots isn't quite wide enough either, but the main issue is that due to the insufficient height the rubber posts never sit correctly. What that means is the rubber get seriously stretched, or the little tabs work their way loose and fall out from the top or bottom of the heatsink.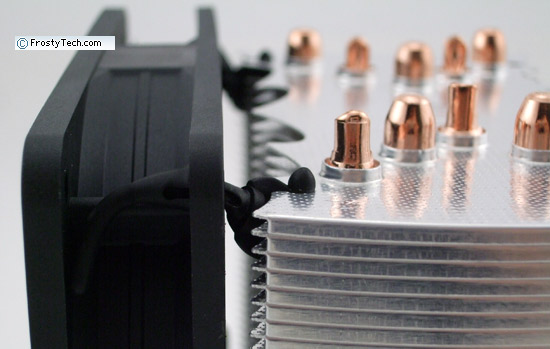 Heatsink Mounting Hardware
SilenX's EFZ-120HA4 heatsink ships with brackets for Intel LGA775/1156/1366 and AMD 754/939/940/AM2/AM3 processors. The heatsink mounts to both Intel and AMD motherboards using the permanently affixed metal bracket screwed into the heatsinks' base.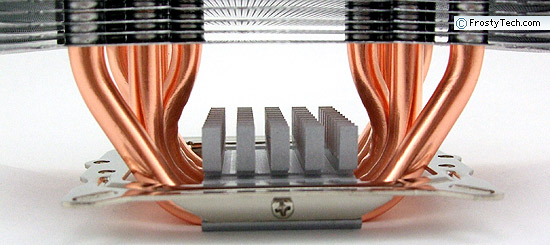 A collection of screws and spring-tensioned nuts accommodate the variety of hole patterns for the range of processors the heatsink is compatible with. Eight rubber vibration absorbing fan posts are supplied (only one fan included, two can be attached) along with a manual fan speed controller. It's an 836gram heatsink so we're happy to see SilenX providing firm mounting hardware, even though you will need to remove the motherboard to position the metal support plate.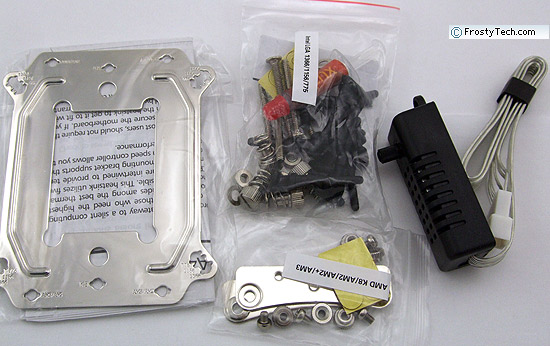 FrostyTech's Test Methodologies are outlined in detail here if you care to know what equipment is used, and the parameters under which the tests are conducted. Now let's move forward and take a closer look at this heatsink, its acoustic characteristics, and of course its performance in the thermal tests!