Equipped with an 80mm 'SilenX Effizio Series Quiet Fan', the SilenX EFZ-80HA2 heatsink makes for one compact little cooler, a heatsink small enough to use in a Media PC or compact computer enclosure. The heatsink is all but tiny compared to many of today's tower heatsinks, which is good because there aren't that many small CPU coolers to choose from anymore. Most remarkably though, the EFZ-80HA2 uses only two 6mm diameter copper heatpipes!
Tiny heatsinks have their place, but at first glance the SilenX EFZ-80HA2 heatsink really only seems suitable for cooling energy efficient or sub-85W TDP microprocessors... To find out for sure, Frostytech will stress this SilenX heatsink with 85W, 125W and 150Watt heat loads to see exactly how well it works, or doesn't.
Standing 112mm tall, the SilenX EFZ-80HA2 heatsink is equipped with a single 80mm fan that rotates at 1200-2400RPM. It has space for a second 80mm fan on the back side. At full speed the heatsink is pretty quiet, in part due to the fan SilenX have selected and in part because it's mounted on rubber posts which help to dampen vibrations. This diminutive cooler weighs 296 grams and is built around two copper heatpipes which support a compact textured aluminum fin array similar to the pattern Gelid recently fielded. SilenX's EFZ-80HA2 heatsink installs onto Intel socket 775/1156/1366 and AMD socket 754/939/940/AM2/AM3 processors and retails for around $25.
SilenX EFZ-80HA2 Heatsink

---

heatsink specsheet
manufacturer: silenx
model no.: efz-80ha2
materials: aluminum fins, copper heatpipes, aluminum base with exposed heatpipes.
fan mfg: effizio efz-08025-hsf
fan spec: 2400rpm, 12v, 0.20a
fan airflow: 12-36cfm
fan dim: 25x80x80mm
heatsink & fan dim: 112x86x66mm
weight: 296 grams
includes: multi-socket socket mounting hardware, thermal compound, fan speed controller, instructions

---

Compatible with Sockets:
AMD - 754/939/940/AM2/AM3
Intel - LGA775/1156/1366
Pricing: $25USD ($25CDN)
The fin pattern on the SilenX EFZ-80HA2 heatsink includes a small overlapping segment at the center. One fin bends out, the other curves in. With the fan removed it's easy to see the alternating fin pattern pictured below.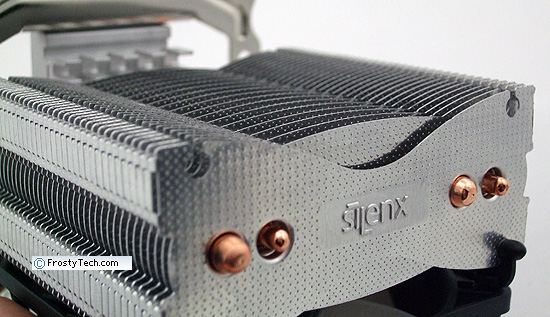 It's impossible for us to say what effect the dimpled fin texture has on the EFZ-80HA2's efficiency. On the surface it would certainly seem that fin texturing would help brake up laminar airflow over the metal and improve heat conduction to the passing air stream. However, several conversations with heatsink manufacturers at Computex have led us to question this assumption for the air velocities typically at play in CPU heatsinks.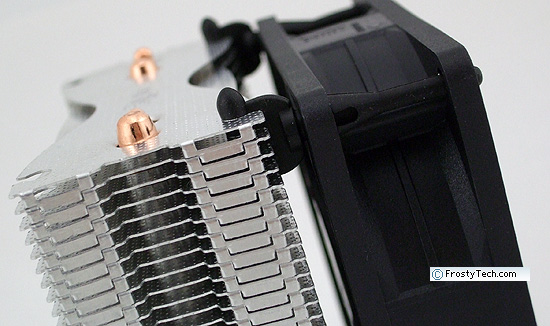 The 80mm fan is held on by its four rubber vibration absorbing posts, notches on the opposite side of the fin tower allow a second fan to be installed as well (not included).
Heatsink Mounting Hardware
SilenX's EFZ-80HA2 heatsink ships with brackets for Intel LGA775/1156/1366 and AMD 754/939/940/AM2/AM3 processors. The heatsink mounts to both Intel and AMD motherboards using the permanently affixed metal bracket attached to the base of the heatsink itself.
A collection of screws and spring-tensioned nuts accommodate the variety of hole patterns for the range of processors the EFZ-80HA2 heatsink is compatible with. A rear metal support bracket seems like overkill for a heatsink this light weight, but after the trouble of removing the motherboard to install it, at least you'll know the heatsink isn't going anywhere. Eight rubber vibration absorbing fan posts are supplied along with a manual fan speed controller.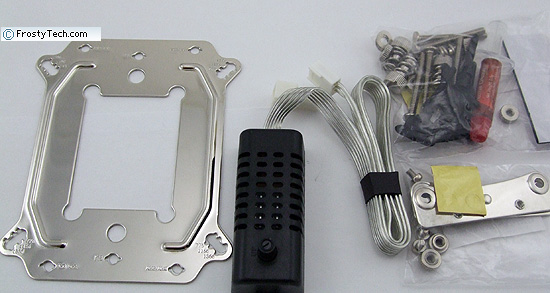 FrostyTech's Test Methodologies are outlined in detail here if you care to know what equipment is used, and the parameters under which the tests are conducted. Now let's move forward and take a closer look at this heatsink, its acoustic characteristics, and of course its performance in the thermal tests!