An interesting thing is happening with heatsinks. In fact you might have already noticed it in your own personal search for a new slab of metal to keep that special Intel or AMD chip cool. Heatsinks, particularly tower style heatsinks, are starting to all look the same.
On the evolutionary treadmill of life, heatsinks seem to be evolving into finely differentiated versions of the same thing.
At least, many the heatsinks that offer an attractive mix of high performance cooling and low noise capability are. Natural selection is of course consumer demand, but what's the usual thing that starts happening when a specific object is closely associated with qualities like performance? You guessed it - knockoffs.
In this case the Akasa Venom heatsink that Frostytech is testing today isn't a knockoff, in fact it's quite a good performing heatsink by most measures. Testing is the key to knowing. While two heatsinks may look the same, have the same general "tower-heatsink" profile, it's the little details where good thermal performance is won and lost.
The Akasa Venom heatsink stands 160mm tall and weighs just over 800grams. It's built around four 8mm diameter copper heatpipes and raw aluminum cooling fins. The Venom ships with a fancy nuclear yellow fan called the 'S-Flow' that spins at 600-1900RPM, moving around 83CFM according to the manufacturer. A single fan is all the Venom heatsink really needs, but Akasa have provided mount points and additional rubber vibration absorbing mounting posts for a second fan if you wish to install one on each side.
Akasa's Venom heatsink installs onto Intel socket 775/1155/1156/1366 and AMD socket 754/939/940/AM2/AM3 processors. It retails for in the region of $60USD through the usual suspects.
Akasa Venom Heatsink

---

heatsink specsheet
manufacturer: akasa
model no.: venom
materials: aluminum fins, nickel plated copper heatpipes, aluminum base with exposed heatpipes.
fan mfg: akasa dfs122512m
fan spec: 600-1900rpm, 12v, 0.17a
fan airflow: 84cfm,
fan dim: 25x120x120mm
heatsink & fan dim: 160x121x96mm
weight: 805 grams
includes: multi-socket socket mounting hardware, thermal compound, instructions

---

Compatible with Sockets:
AMD - AM2/AM3
Intel - LGA775/1155/1156/1366
Pricing: $60USD ($60CDN)
Exposed heatpipe heatsinks are great for the larger CPUs entering the marketplace; the AMD CPU family and Intel Core i7's in particular. The smaller Core 2 Duo / Core i5 processors don't cover all four heatpipes on the Venom heatsink in actuality. The outer two heatpipes may not work to optimal levels, while the inner two 8mm diameter heatpipes may be tasked with the majority of heat conduction.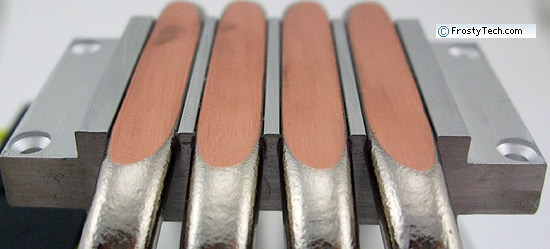 The S-FLOW fan, apart from sounding like a plumbing tool, features hydro dynamic bearings and CFD-designed impeller blades which are supposed to direct more airflow into a centralized vortex behind the fan. A nifty graphic comparing the S-Flow to an unnamed "Normal blade" fan drives the point home as only dimensionless graphics can.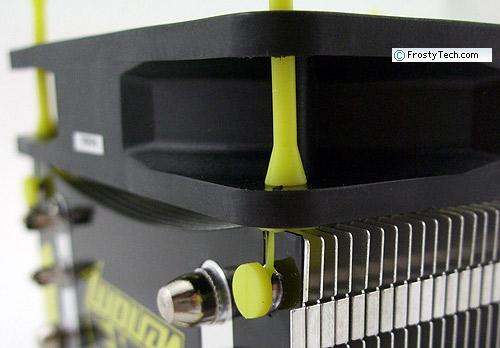 The rubber vibration absorbing posts are long enough to easily thread through both holes in the fan frame - an problem a great many thermal solutions manufacturers overlook. The rubber vibration absorbing posts slide into a cylindrical groove punched from the aluminum fins. The fit is loose enough that the fan is easily removable for installation, but not so loose as to work free thereafter.
Heatsink Mounting Hardware
Akasa's Venom heatsink ships with brackets for Intel LGA775/1156/1366 and AMD AM2/AM3 processors. The heatsink mounts to Intel and AMD motherboards using separate metal brackets that attach to the bottom of the heatsink and mesh with a metal rear-motherboard support plate. The hardware is a little more complicated than we typically like to see, but once installed the heatsink should be firmly held in place. You may need to remove the motherboard from the computer case to install the Venom heatsink, thereafter swapping out CPUs can be accomplished with the rear support plate in situ.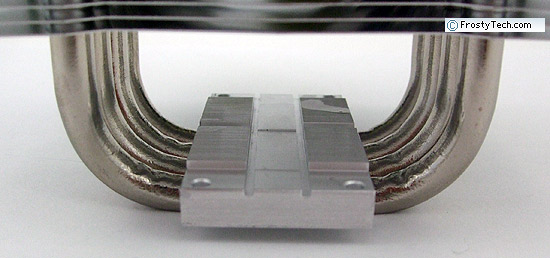 A collection of plates, brackets and thumb screws accompany the eight rubber fan posts which are supplied with the Akasa Venom heatsink.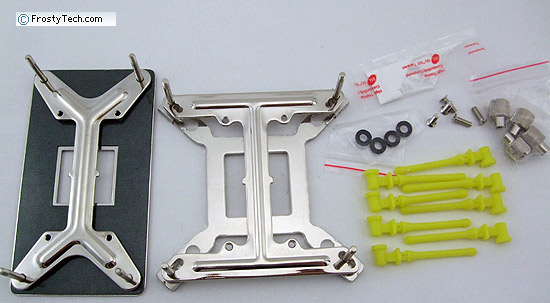 FrostyTech's Test Methodologies are outlined in detail here if you care to know what equipment is used, and the parameters under which the tests are conducted. Now let's move forward and take a closer look at this heatsink, its acoustic characteristics, and of course its performance in the thermal tests!