Looking for a new heatsink for that noisy overheating PC under your desk?
Today Frostytech is testing out Akasa's Venom Nano, a mid-size tower heatsink that incorporates the popular "heatpipe direct touch" technique. If you've never heard of this, it basically means the three copper heatpipes that conduct heat from the CPU to the aluminum cooling fins are swagged into an aluminum base and left partially exposed. The idea being that direct conduction of heat from the CPU to the heatpipes is more efficient than a sandwich of copper heatspreaders and soldered joints.
It's an approach that that's been enthusiastically picked up by many heatsink makers because it works quite well so long as the heatpipes are properly swagged in place. Sometimes they aren't,allowing the heatpipes to shift after repeated heating & cooling cycles or remounting. We'll find out how the Venom Nano fairs a little later in this review when the base is examined against an engineers straight edge.
Akasa's Venom Nano heatsink stands 150mm tall, weighs 560 grams and installs onto AMD socket AM2/AM3 and Intel socket 775/1156/1366 processors. Off the cuff though, it seems a little 'modest' for Intel Core i7 use, dito for AMD Black Edition chips. The Venom Nano seems better suited to mainstream processors as it offers a good range of quiet operation and ease of installation. Retail price should be in the neighbourhood of $35 USD/CDN through the usual online heatsink vendors.
Akasa Venom Nano Heatsink

---

heatsink specsheet
manufacturer: akasa
model no.: venom nano
materials: aluminum fins, nickel plated copper heatpipes, aluminum base with exposed heatpipes.
fan mfg: akasa dfs102512m
fan spec: 600-2500rpm, 12v, 0.35a
fan airflow: 67cfm,
fan dim: 25x110x110mm
heatsink & fan dim: 150x117x79mm
weight: 560 grams
includes: multi-socket socket mounting hardware, thermal compound, instructions

---

Compatible with Sockets:
AMD - AM2/AM3
Intel - LGA775/1156/1366
Pricing: $38USD ($38CDN)
A single obnoxious yellow 110mm PWM fan is supplied with the Akasa Venom Nano heatsink. The fan is held in place on the heatsink with four nuclear yellow vibration absorbing rubber fan posts. The fan scales in speed from 600-2500RPM and in Frostytech's real world tests that translates to roughly 37dBA to 58dBA noise levels. Unlike a lot of other heatsinks, the Venom Nano will not accommodate a second rear-mounted fan.
The rubber vibration absorbing posts slide into a cylindrical groove punched from the aluminum fins. The fit is loose enough that the fan is easily removable for installation, but not so loose as to work free thereafter.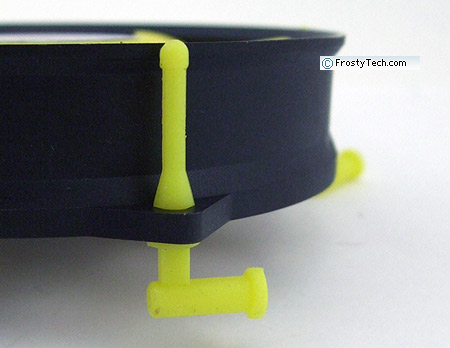 Behind the 110mm diameter fan is a small plenum formed from the fins concave profile. The aluminum fins are otherwise dead flat - no dimples, no perforations, no edge profiling, no winglets, nada.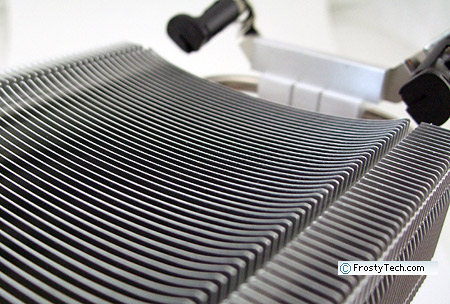 Heatsink Mounting Hardware
Akasa's Venom Nano heatsink ships with brackets for Intel LGA775/1156/1366 and AMD AM2/AM3 processors. The heatsink mounts to all Intel sockets using the single metal bracket pictured below which has grooves for the Intel push-to-click retention tabs to slide around. This is probably the best adaptation of the Intel mounting bracket we've seen and a far better option than packaging three sets of brackets to accommodate socket 775 & 1156 and 1366 motherboards.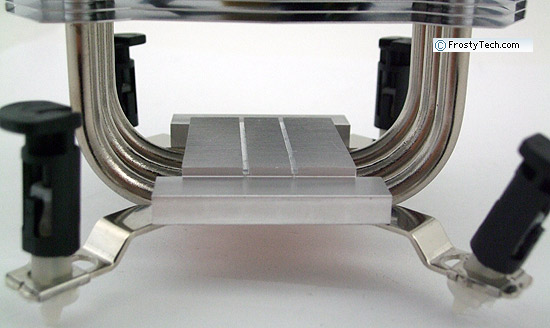 For AMD processors the installation hardware is a little more complex. A metal support bracket will need to be positioned behind the motherboard, a metal support plate attached to the heatsink base, then four spring-tensioned retention screws installed with a screwdriver to hold the 560 gram heatsink in place.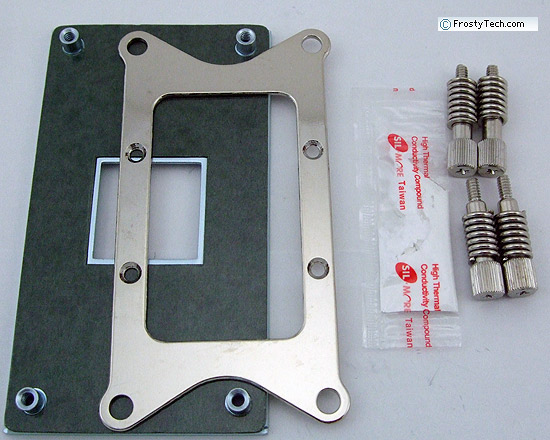 FrostyTech's Test Methodologies are outlined in detail here if you care to know what equipment is used, and the parameters under which the tests are conducted. Now let's move forward and take a closer look at this heatsink, its acoustic characteristics, and of course its performance in the thermal tests!