The Glacialtech Igloo 5751 PWM heatsink is identical to its namesake in all ways except for the fans. Where the original Igloo 5750 PWM cooler had a matched set of 20mm thick 92mm fans running in balance with respect to airflow, the Igloo 5751 PWM Frostytech is testing today approaches things differently. The two fans are 25mm thick models, with the top fan running at a fixed speed of 1400RPM. The bottom fan gets the PWM signal from the single fan cord and can vary in speed from 800-1800RPM.
Given that change the thermal test results should be interesting... what will happen when the lower fan draws more airflow than the top provides? Likewise, how will the heatsink react when the upper fan exhausts more airflow than the lower fan draws in?
Glacialtech's Igloo 5751 PWM heatsink installs onto Intel socket 775/1156/1366 and AMD socket AM2/AM3 processors, and stands a little over 125mm tall. Weighing in at 550grams, the heatsinks' two fans sandwich a 31mm section of aluminum cooling fins which are supported over the processor on four 6mm diameter copper heatpipes. Exhaust airflow is directed downwards towards a small extruded aluminum heatsink and adjacent motherboard components.
Glacialtech Igloo 5751 PWM Heatsink

---

heatsink specsheet
manufacturer: glacialtech
model no.: igloo 5751 pwm
materials: aluminum fins, nickel plated copper heatpipes, copper base plate
fan mfg: (x2) n/a
fan spec: (top) 1400rpm, 12v, 0.16a
(bottom) 800-1800, 12v, 0.25a pwm
fan airflow: 26.8cfm, 35cfm,
fan dim: (x2) 25x92x92mm
heatsink & fan dim: 126x120x100mm
weight: 550 grams
includes: multi-socket socket mounting hardware, thermal compound, instructions

---

Compatible with Sockets:
AMD - AM2/AM3
Intel - LGA775/1156/1366
Pricing: $35USD ($35CDN)
Double fan heatsinks continue to be a mixed bag for us; some work really well, others fail thermally or acoustically. It's hard to make a heatsink work well with dual fans because the airflow from each will sometimes interfere with the other. That Glacialtech have opted to use fans with the ability to run at different speeds should be an interesting lesson in fluid dynamics.
Heatsink Mounting Hardware
Glacialtech's Igloo 5751 PWM heatsink ships with brackets for Intel LGA775/1156/1366 and AMD 754/939/940/AM2/AM3 motherboard. The heatsink mounts to both Intel and AMD motherboards using a range of metal brackets pictured below.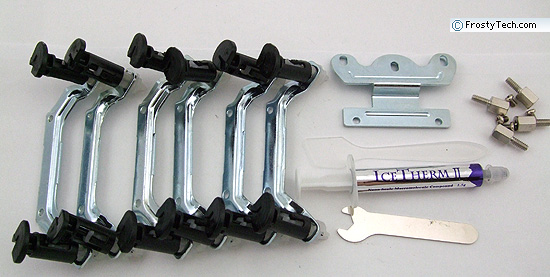 For Intel processors there are separate brackets for LGA775, LGA1156 and LGA1366. All screw onto the base of the heatsink and use Intel push-to-click plastic retention brackets so there is no need to remove the motherboard and position a metal back plate. AMD users will need to remove the plastic retention frame from the motherboard and install a few metal stand offs before the AMD brackets can be screwed into position.
FrostyTech's Test Methodologies are outlined in detail here if you care to know what equipment is used, and the parameters under which the tests are conducted. Now let's move forward and take a closer look at this heatsink, its acoustic characteristics, and of course its performance in the thermal tests!