Staying on top of the technologies that go into making great heatsinks is a never ending process of learning. Case in point; at Computex 2010 in Taiwan, Frostytech had an interesting discussion with a Korean thermal engineer about the manufacturing challenges of evenly coating and soldering heatpipes to the fins they pass through. Really crucial stuff - without a handle on it CPUs all over the world would be overheating... suffice to say, the fin-solder-heatpipe joint will make or break a heatsink in more ways than you might think.
The funny part of this story is that the engineer was describing the detailed manufacturing methods to me in Korean, which was subsequently translated to English by a non-techy marketing rep. The rep however had a difficult time translating the engineering terms and concepts... and yet lost in translation it wasn't.Within a few minutes it became apparent that the engineer and myself were discussing the ins and outs directly, even though neither of us spoke the same language! Thermodynamics, geometry, metal stamping and forming, numbers and the black science of heatsink design sketched on the back of a note pad transcend language I suppose.
In this review Frostytech is testing a novel heatsink from Beijing-based DeepCool Industries Co. called the Ice Warrior. Victorious names aside, the Ice Warrior heatsink is a 155mm tall tower heatsink that utilizes six 6mm diameter copper heatpipes and a fairly hefty copper base plate. At first glance it looks not unlike a Thermalright Ultra-120, but with two additional heatpipes. The heatsink weighs in at 1172 grams and can be used with one or two 120mm fans. Extra fan brackets are supplied but only one, 120mm PWM fan that operates at 700-1500RPM is included.
DeepCool Ice Warrior Heatsink

---

heatsink specsheet
manufacturer: deepcool
model no.: ice warrior
materials: nickel plated aluminum fins, copper heatpipes and copper base
fan mfg: deepcool (n/a)
fan spec: 1500-700rpm, 12v, 0.13a
fan dim: 25x120x120mm
heatsink & fan dim: 155x136x83mm
weight: 1172 grams
includes: multi-socket mounting hardware, fan power adaptors, thermal compound, instructions

---

Compatible with Sockets:
AMD: 754/939/940/AM2/AM2+/AM3
Intel: LGA775/1156/1366
Est. Pricing: $50USD ($50CDN)
As you might expect, the heatsink is compatible with all of today's current processors: Intel socket 775/1156/1366 and AMD socket AM2/AM3. The DeepCool Ice Warrior heatsink should retail for around $50 USD via the usual online computer stores. The novel bit about this heatsink is the rubber over moulded fan it ships with.
It's something you don't really notice at first, and perhaps even scoff at, but there's more to it than meets the eye...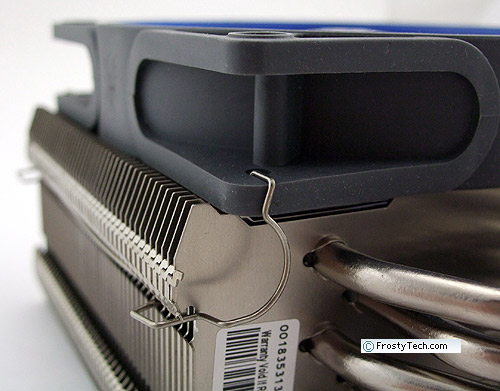 The blue bits of the of the 120mm 'UF120' PWM fan (the impeller and the inside portion of the visible frame) are made from standard rigid plastic. What makes this fan unique is the dark gray area which has been over moulded with a rubbery material. The coating is maybe a 1mm thick and serves as an interesting alternative to delicate rubber posts used by many thermal solutions manufacturers to combat vibration.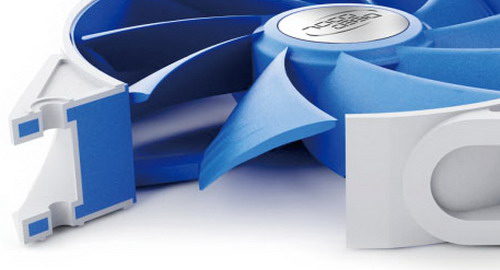 Deepcool make the fans based on the idea that the rubber fan frame will help reduce vibration noises and rattling. Now having recently opened up the side of a PC system to dust off the heatsink and noticing the seriously sagging rubber fan posts, I'm beginning to wonder if little 3mm diameter soft rubber posts were ever really the best thing to keep a 120mm fan on a hot metal heatsink in the long term... Spring wire fan clips are generally the preferred choice around the Frostytech Labs for fan mounting, but sometimes you have to make due with what the manufacturer decides.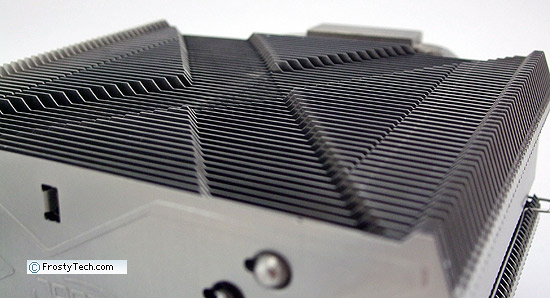 Behind the 120mm UF120 PWM fan and its rubber over-moulded frame is an X-shape cut out in the leading and trailing edges of the Ice Warrior fins.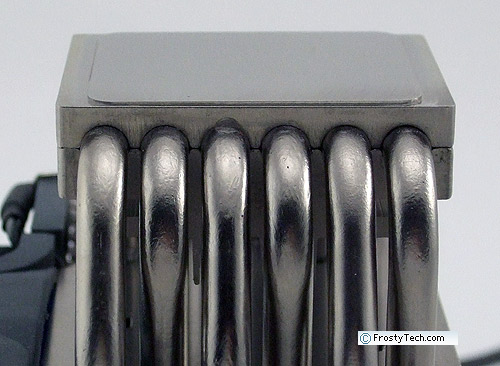 The drive to add more heatpipes to heatsinks is not likely to subside anytime soon. The DeepCool Ice Warrior heatsink has six 6mm diameter pipes, each cleanly soldered to the machined nickel-plated copper base.
Heatsink Installation and Hardware
The DeepCool Ice Warrior heatsink ships with a couple metal brackets that screw onto the base of the heatsink and accommodate the full gamut of Intel and AMD processor sockets.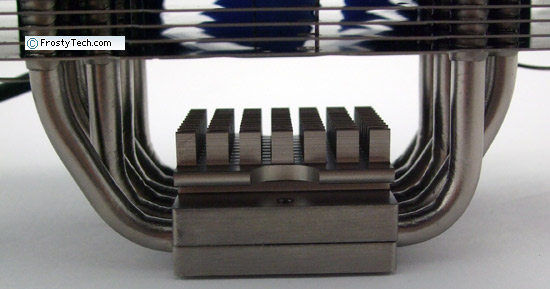 Rear motherboard support plates are first placed behind the motherboard, so unfortunately that means users may need to rip their computer system from the case if there isn't access to the back of the board. For both Intel and AMD mounting systems, small threaded nipples are then attached to the studs on the rear support brackets first. After that it's just a matter of attaching the appropriate Intel or AMD mounting bracket to the base of the Ice Warrior heatsink, applying thermal compound evenly to the processors' integrated heatspreader and heatsink mounting base, then installing the CPU cooler.
Curiously, DeepCool have selected a slightly larger metric screw than is typically used (M5x0.5) so you'll want to be careful about not misplacing any components.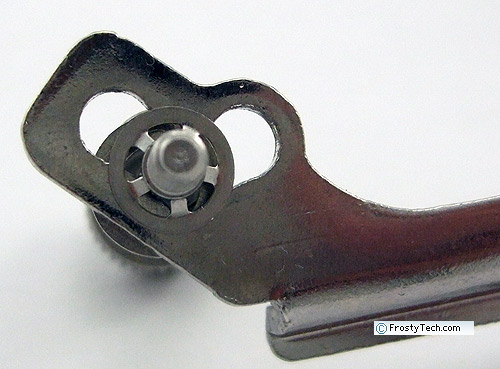 The adjustable Intel bracket rolls LGA1366, 1156 and 775 mounts into one.
Spring tensioned, shouldered screws ensure that the DeepCool heatsink will be installed with the correct amount of mounting force and not over tightened on one side or the other. Apart from mounting brackets, DeepCool ship the Ice Warrior heatsink with four 120mm wire fan clips, a syringe of thermal grease and two fan power adaptors.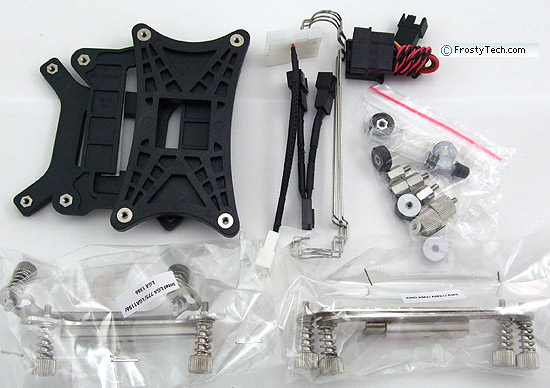 FrostyTech's Test Methodologies are outlined in detail here if you care to know what equipment is used, and the parameters under which the tests are conducted. Now let's move forward and take a closer look at this heatsink, its acoustic characteristics, and of course its performance in the thermal tests!