Zaward's Vapor 120 heatsink is another in a long list of thermal solutions to feature an exposed heatpipe mounting base. The concept is simple, but we've discussed it many times on Frostytech so let's jump ahead to the Vapor 120's truly unique attribute - fin dimples. To be specific, punctured spherical dimples.
Thin aluminum sheet metal has become the ubiquitous choice for heatsink cooling fins since the adoption of heatpipes swept the industry for PC processor cooling. The challenge is that flat aluminum is prone to laminar air flow, essentially airflow parallel to the surface of the fin. However, this type of air flow is not necessarily as efficient at conducting heat energy away from the metal to the surrounding air mass as turbulent air flow. Old style extruded heatsink designers used tricks like cross-cuts, serrated edges and scalloped surfaces to break up laminar airflow. As thin aluminum fins are punched from a flat roll, modern day designers have had to mostly work with leading and trailing edge geometries.
The latest trend in thin aluminum fin augmentation has been texturing the surface of the fin, bending small sections of the fin, changing the geometry of the leading/trailing edge, and dimpling the fin. More on this in a moment.
Zaward's Vapor 120 heatsink ships with a single 120mm PWM fan that scales in speed from 500-2000RPM, though additional brackets are supplied for those wishing to mount a second fan on the back side. The 684gram Vapor 120 heatsink stands 160mm tall and is compatible with Intel socket 775/1156/1366 and AMD socket 939/AM2/AM3 processors.
Zaward Vapor 120 Heatsink

---

heatsink specsheet
manufacturer: zaward
model no.: vapor 120
materials: aluminum fins, copper heatpipes, aluminum base with exposed heatpipes.
fan mfg: globe fan rl4b ds1202512hip-4m
fan spec: 500-2000rpm, 12v, 0.45a
fan dim: 25x120x120mm
heatsink & fan dim: 159x120x75mm
weight: 685 grams
includes: multi-socket mounting hardware, thermal compound, instructions.

---

Compatible with Sockets:
AMD - 754/939/940/AM2/AM3
Intel - LGA775/1156/1366
Est. Pricing: $35USD ($35CDN)
Small formfactor owners are going to be out of luck with this heatsink, but that almost goes without saying these days. The fan is one of Zaward's own design, featuring novel golf ball dimpled fan blades. Online retail price is expected to be around $35 USD at the usual sources (Newegg, NCIX, etc.), and as you shortly see the performance of Zaward's Vapor 120 heatsink is very good.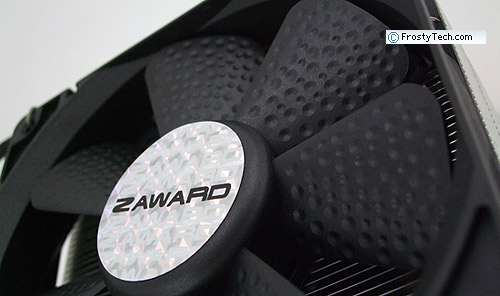 Getting back to the fins. Most heatsink makers opt for flat aluminum cooling fins, but on the Vapor 120 Zaward designers have introduced 4.5mm diameter shallow circular dimples on every other aluminum fin.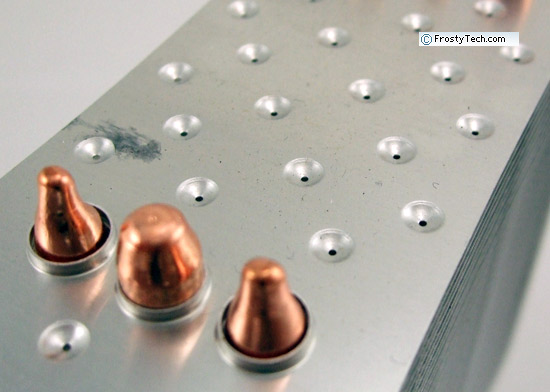 Each dimple is perforated at the bottom with a small circular hole, the manufacturer claims this will draw some air down through the dimple.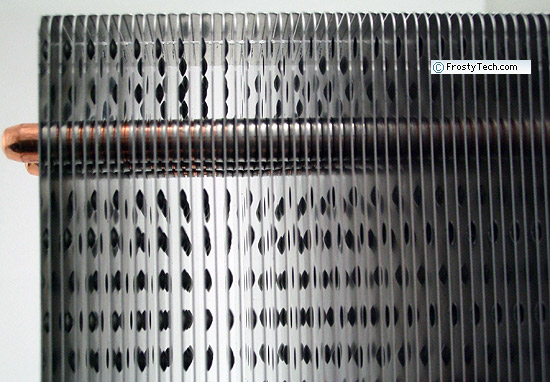 For the Engineers in the crowd, Mohammad A. Elyyan covers dimples and split dimple fin augmentation in this detailed dissertation; "Heat Transfer Augmentation Surfaces Using Modified Dimples/Protrusions". This 181-page PDF is filled with many CFD simulations to illustrate how air flows over, and around basic dimple shapes and several variations of a dimple.
The scope of this dissertation is quite vast, so if you find it too much then read over "Numerical Modeling of Transfer Mechanisms in Vortex Flows: Survey and Selected Results" from page 5 to 30. Wilfred Vinod Patrick's thesis, entitled: "Computations of Flow Structures and Heat Transfer in a Dimpled Channel at Low to Moderate Reynolds Number" is another good read as it deals with the scale of dimple sizing in relation to the velocity of airflow.
Heatsink Installation Hardware
Zaward's Vapor 120 heatsink ships with brackets for LGA775/1156/1366 and AMD K8 processors (754/939/940/AM2/AM3). The Intel bracket accommodates Intel socket 775/1156/1366 with clips that use sliding thumbscrews. The system works, but we always prefer to see spring-tensioned nuts to ensure even clamping forces.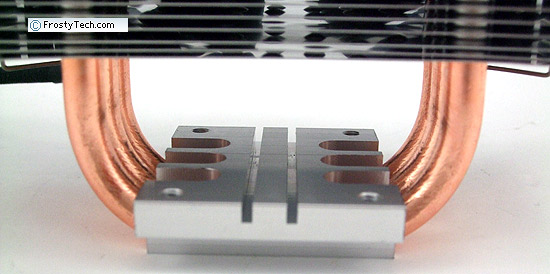 AMD processors on 754/939/940/AM2/AM3 sockets are installed in the same fashion, a metal plate screws to the base of the heatsink with an allen key, and screws/nuts are used to affix it to a metal rear motherboard retention plate. The slots in the aluminum base block are for use with another type of tool-less AMD heatsink retention bracket which is not supplied with this heatsink.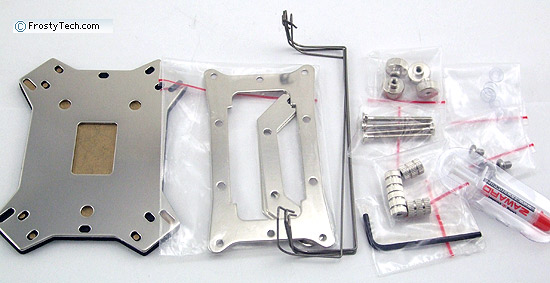 Two sets of springy wire fan clips are supplied with the heatsink, though only one 120mm fan is included. The Vapor 120 heatsink runs fine with a single fan mounted, though users looking for enhanced low noise performance may wish to install a second 120mm fan (not supplied) to help draw air through the 50mm wide array of aluminum fins.
FrostyTech's Test Methodologies are outlined in detail here if you care to know what equipment is used, and the parameters under which the tests are conducted. Now let's move forward and take a closer look at this heatsink, its acoustic characteristics, and of course its performance in the thermal tests!