I have to admit that we struggled a bit while reviewing the Dynatron Genius G950 heatsink... Here's why; Frostytech first reviewed Dynatron heatsinks in 2001, but we haven't seen much from the company for consumer desktop processors since the fall of 2005. In the four years since the Dynatron A22 heatsink, the company shifted away from its distinctive skived copper and aluminum designs and focused more on server thermal solutions.
The heatsink industry changed a lot in those four years, the net result is that we're not entirely sure what to make of Dynatron's most recent foray into consumer heatsinks.
The Genius G950 is compatible with both Intel 775/1156/1366 and AMD AM2/AM3 processor families, but none of the thermal techniques applied in its construction are revolutionary or innovative. The Genius G950 does have a base of exposed heatpipes, but plenty of heatsink designs have adopted exposed heatpipes for all the real and perceived benefit implied. In fact, examining the base of the Genius G950 we're left with the sense that Dynatron engineers may have dropped a copper base plate to make the Genius G950 retroactively conform to the exposed heatpipes trend.
That's not to suggest you should skip this heatsink. In fact the Dynatron Genius G950 does perform quite well on both thermal and noise-output fronts, particular with respect to Frostytech's 85W synthetic thermal tests. Perhaps we're just expecting some actual leading-edge innovation from a company that describes itself as "the thermal solution architect."
Dynatron Genius G950Heatsink

---

heatsink specsheet
manufacturer: dynatron
model no.: genius g950
materials: aluminum fins, nickel plated copper heatpipes, extruded aluminum base.
fan mfg: n/a
fan airflow: 68cfm
fan spec: 1000-1600rpm, 12v, 0.25a
fan dim: 25x120x120mm
heatsink & fan dim: 148x124x119mm
weight: 795 grams
includes: mounting brackets, thermal compound, instructions

---

Compatible with Sockets:
AMD - AM2/AM2+/AM3 (not 939)
Intel - 775/1156/1366
Est. Pricing: $34USD ($34CDN)
In any case, Dynatron's Genius G950 heatsink stands a modest 148mm tall and weighs 795 grams. The heatsink makes use of two independent array's of aluminum fins, positioned fore and aft of a single 120mm PWM inset fan. The fan spins by default at a speed of 1600RPM, but will run fairly effectively at 1000RPM as well. Four 6mm diameter heatpipes support the aluminum fins, which have received a simple dip along a center 64mm stretch to enhance airflow, according to the manufacturer.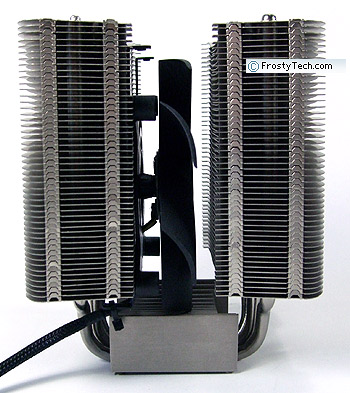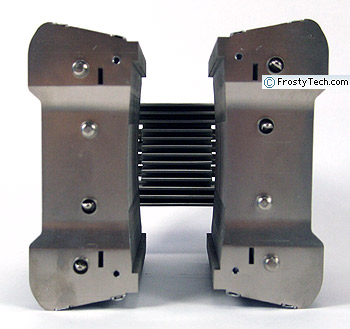 Heatsink Installation
Heatsink installation is not too problematic, though tools are required to attach the appropriate metal mounting clips to the base of the heatsink. Dynatron's Genius G950 heatsink is compatible with Intel socket 775/1156/1366 and AMD socket AM2/AM3 processors, but not AMD socket 754/939.
The heatsink comes with three metal support brackets for each of the Intel sockets, and these use the standard plastic Intel push-to-click retention mechanisms.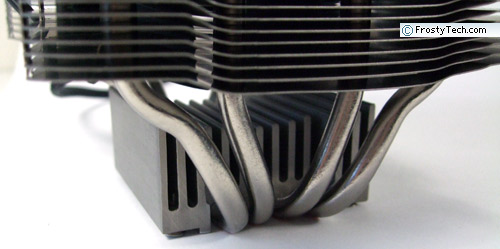 For AMD, Dynatron use spring tensioned machine screws that mesh with the rear metal support bracket supplied on all AMD motherboards. The Genius G950 heatsink weighs upwards of 800 grams, so it's good to see a firm AMD heatsink retention fixture utilized.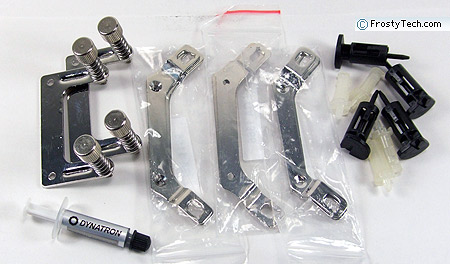 FrostyTech's Test Methodologies are outlined in detail here if you care to know what equipment is used, and the parameters under which the tests are conducted. Now let's move forward and take a closer look at this heatsink, its acoustic characteristics, and of course its performance in the thermal tests!