The Tranquillo is the second heatsink from Gelid Solutions, a Hong Kong based company born to a great extent from the ashes of the once mighty, now headphone hawking Arctic Cooling. Gelid has been continuing on in the silent cooling vein, with encouraging results.
Gelid's first thermal solution was the quiet but unremarkable Silent Spirit. The Tranquillo is a larger cooler by far, but employes the same unique dimpled aluminum fin technique and a rather unique fin geometry. When making heatsinks, the cheapest way for the factory to punch aluminum fins from the roll is in the shape of rectangles. With an eye towards mitigating the different pressure drops behind a 1500RPM fan, Gelid opt for flattened chevron shaped fin. This creates a bigger void directly behind the fan motor and little plenum space where airflow is highest.
Forgive my overzealous use of jargon and lingo... a plenum 0is simply a space for airflow (as in the void above an office drop-ceiling). A chevron is not a company, it's a triangular shape (think of a flattened upside down 'V'). Large chevron's were famously welded into the structure of this New York building to keep it from toppling over in high winds.
The Gelid Tranquillo heatsink stands 153mm tall and ships with a single 120mm PWM fan mounted. The tower-style heatsink weighs 645 grams and is compatible with Intel socket 775/1156/1366 and AMD socket 754/939/940/AM2+/AM3 processors. While you might expect the Tranquillo to be an exposed base heatpipe heatsink, it is not. Instead the four copper heatpipes are grouped closely at the base on a small copper heatspreader, and also grouped relatively closely to one another where they pass through raw aluminum cooling fins.
The heatsinks' 1500-750RPM fan is held on with a set of wire clips, a much better choice than rubber vibration absorbing posts provided the manufacturer has balanced the fan blades. Gelid's Tranquillo heatsink retails for about $35CDN ($35USD) through all the usual online e-tailers.
Gelid Tranquillo Heatsink

---

heatsink specsheet
manufacturer: gelid
model no.: tranquillo
materials: anodized aluminum fins, copper heatpipes, nickel plated copper/aluminum base.
fan mfg: n/a
fan spec: 750-1500rpm, 12v, 0.18a
fan dim: 25x120x120mm
heatsink & fan dim: 153x125x99mm
weight: 654 grams
includes: multi-socket mounting hardware, thermal compound, fan clips, instructions

---

Compatible with Sockets:
AMD - 754/939/940/AM2/AM2+/AM3
Intel - 775/1156/1366
Est. Pricing: $35USD ($34CDN)
To ensure low thermal joint resistance between the base and copper heatpipes the joints are well and fully soldered. In the photo below there is very obviously a gap between the copper and aluminum support structure (to the left, and right), but this isn't important. The goal is for as much of the heat energy to be conducted by the four heatpipes to the aluminum cooling fins above. Dumping heat into the tiny fins atop the base really isn't that advantageous.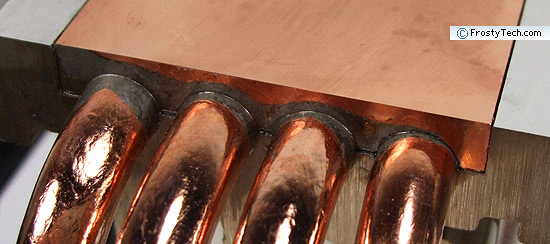 There are a few unique aspects of the Gelid Tranquillo. For starters, the sides of the heatsink are largely closed in, directing air flow through, rather than allowing it to escape out the sides where resistance is low.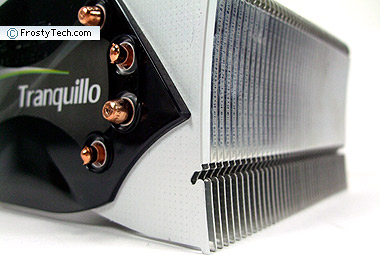 Although we can't say to what degree fin dimpling has on this heatsink's performance, it certainly would seem to help brake up laminar airflow and improve conduction from the aluminum into the passing air stream. The fin texturing technique has been applied to several recent heatsink designs with different levels of success.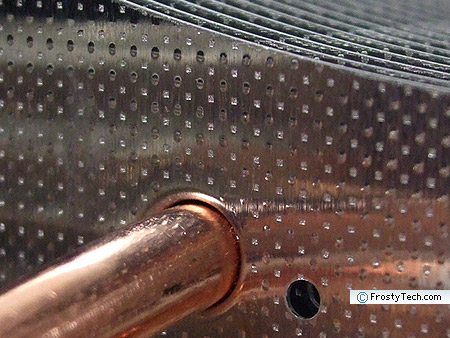 Dimpled fins have a pretty fascinating history, so if you care to read a little more please see this research paper entitled "Multi-objective optimization of a dimpled channel for heat transfer augmentation" by Adbus Samad, Ki-Don Lee and Kwang-Yong Kim from the December 2008 Journal of Heat and Mass Transfer. Mohammad A. Elyyan wonderfully covers dimples and split dimple fin augmentation in his dissertation; "Heat Transfer Augmentation Surfaces Using Modified Dimples/Protrusions", though the text deals with dimples of a somewhat larger scale. It's an interesting read too.
Installation Hardware
Gelid's Tranquillo heatsink is compatible with Intel socket 775/1156/1366 and AMD socket 754/939/940/AM2+/AM3 processors. The CPU cooler is supplied with a variety of brackets, separated into different packages. For each CPU socket small metal tabs are attached to the heatsink base, a backplate positioned behind the motherboard, then everything fixed in place with spring-tensioned screws or tool-free clip.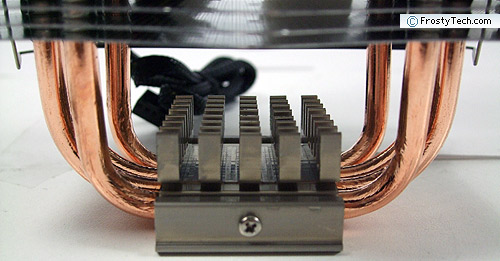 For Intel processors spring tensioned screws are used. With AMD it's the tool free spring clip that attaches to the lugs on the AMD heatsink retention frame.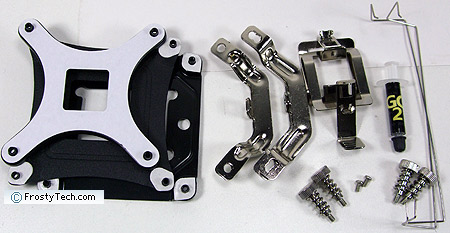 A small syringe of Gelid's house-brand thermal compound is also supplied.
FrostyTech's Test Methodologies are outlined in detail here if you care to know what equipment is used, and the parameters under which the tests are conducted. Now let's move forward and take a closer look at this heatsink, its acoustic characteristics, and of course its performance in the thermal tests!